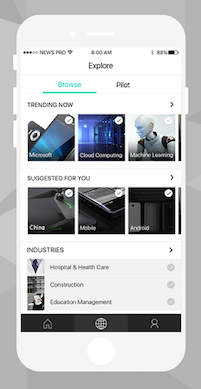 10 Cool Microsoft Garage Projects You Didn't Know About
(Click image for larger view and slideshow.)
President Barack Obama on Friday introduced an initiative called Computer Science for All. The initiative seeks $4 billion in funding for states and $100 million for school districts in the upcoming budget to make computer science classes available to more students across the US.
"In the new economy, computer science isn't an optional skill," the President said in his weekly address. "It's a basic skill, along with the three 'Rs'. Nine out of 10 parents want it taught at their children's schools. Yet right now, only about a quarter of our K through 12 schools offer computer science."
The initiative also calls for commitments from educational and philanthropic organizations, and for $135 million in computer science funding to be made available through the National Science Foundation and the Corporation for National And Community Service.
Computer Science for All represents an extension of ongoing efforts by the White House to improve the availability of, and access to, education in science, technology, engineering, and math (STEM).
[ What's ahead for your career? Read 10 Best Tech Jobs For 2016. ]
In 2014, for example, the Obama administration announced commitments by more than 60 school districts to offer computer science courses, $20 million in philanthropic contributions to train teachers in computer science, and outreach to increase the participation of women and minorities in computer science.
The President during his final State of the Union address last month called for all students to have access to hands-on computer science and math courses to make them job-ready.
Being job-ready, however, does not mean a technology job will be readily available to students entering the US workforce or that available positions will pay well.
For years, technology executives have said they face a shortage of skilled tech workers. According to the White House, more than 600,000 high-paying tech jobs in the US went unfilled last year.
Companies like Disney and Toys 'R' Us have responded to this climate by replacing American workers with less expensive foreign workers brought over through the H-1B visa program. Such labor arbitrage has prompted H-1B reform legislation. Nonetheless, it raises the questions about whether increasing the supply of technically skilled workers benefits employers more than employees.
The Economic Policy Institute has argued that the H-1B program, designed to bring skilled workers to the US, magnifies job competition and lowers wages, discouraging US students with STEM degrees from entering IT fields. The EPI claims that the the supply of highly skilled temporary foreign workers has kept IT wages flat.
The US Bureau of Labor Statistics (BLS) projects that employment in computer and IT occupations overall will grow by 12% between 2014 and 2024, faster than the average across all occupations. Over the same period, job prospects for computer programmers in particular are expected to decline by 8% because, the BLS says, "Computer programming can be done from anywhere in the world, so companies sometimes hire programmers in countries where wages are lower."
Computer science may not be optional anymore. But coding skills alone won't guarantee lucrative employment.
Does your company offer the most rewarding place to work in IT? Do you know of an organization that stands out from the pack when it comes to how IT workers are treated? Make your voice heard. Submit your entry now for InformationWeek's People's Choice Award. Full details and a submission form can be found here.