AI and Cultivating an Automation Mindset within Organizations
AI and Cultivating an Automation Mindset within Organizations
The market may be frothy about AI's potential, but panelists in a recent discussion said enterprises remain grounded and focus on ROI over buzz.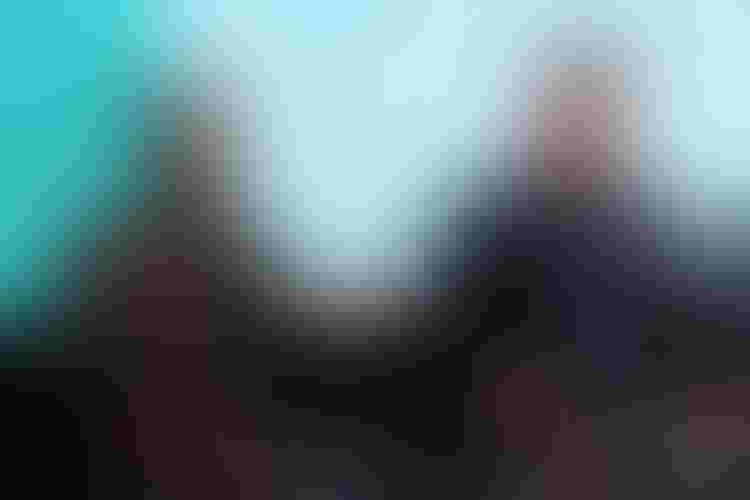 Vijay Tella (left) and Bret Greenstein (right) discuss AI's tangible place with organizations.
Joao-Pierre S. Ruth
How AI might further democratize digital creativity and access to innovation within organizations was central to a panel discussion this week at the Nasdaq Marketsite in Times Square, New York.
The conversation brought together Michael Heric, senior partner and head of global automation with Bain & Company; Vijay Tella, CEO and co-founder of Workato; Bret Greenstein, data and analytics partner with PwC US; CJ Jaskoll, head of investment & data technology, managing director New York with Neuberger Berman; and was moderated by CNBC Jon Fortt, co-anchor of "Closing Bell: Overtime."
The panel came together for the release of Tella's book, "The New Automation Mindset," and to discuss trends and perspectives on the direction of AI as it becomes entrenched in many organizations' current and future plans.
AI's Glow Up
Fortt brought up the fact that while AI is not new technology per se, recent activity has put it center stage. "The attention to it is new. Automation has been a powerful force in the enterprise for a while, but I think many of us have a sense that this AI revolution is going to accelerate it."
Tella said there may be even more to it. "There's a larger movement that has been going on," he said. "The democratization of IT." Tella also said the automation space as a whole was evolving to help drive large-scale adoption of transformation within companies and organizations. Resources such as low-code movements made technology more accessible to staff within companies, he said, but the use of AI has taken things even further. "AI blows the doors off of it," Tella said. "You don't need to be any kind of coder -- low-coder or what have you. You can just be a person with ideas."
With the possibility of code being generated for users, he said anyone with an idea can be a creator. Instead of having a small number of people in companies that are actually able to apply their ideas to creations, the entire company could move forward, Tella said. The mindset of organizations around how they will adopt AI technology, whether they will see it as part of a bigger picture or simply to automate away jobs, remains a significant factor as well.
The Job-Killer Threat
Using AI merely to reduce staff was seen as short-sighted by Greenstein. "If you look at it as just making an individual task easier or faster, you've really missed the point," he said. "It's now that AI's gotten capable enough to do a lot of the work that we do -- a piece of the work we do -- you can make it an integral part of processes and transform processes where AI and people are part of that."
Greenstein said AI is leading to a reimagining of the way work gets done.
Neuberger Berman keeps humans in the loop even as it introduces AI to parts of the firm, said Jaskoll. However, that does not mean AI makes investment decisions, sends clients emails, or other critical functions. "It's helping the human succeed, be more efficient, and add more value," he said. The investment firm is using generative AI to help find information internally, Jaskoll said, and provide easy access to answers. "We've done a very successful pilot with a lot of top-down support within our organization," he said. "We're now looking at taking it to the next level, which will be creating full applications that have integration into powerful large language models."
Making Something Tangible With AI
The sudden awareness that ChatGPT brought to this space has led to some mixed reactions, Heric said. "All of this focus on generative AI has created both confusion and huge amounts of opportunity." He said many of Bain's clients want to automate their business processes, whether it is traditional automation, traditional AI, generative AI, or a combination of those resources.
"It's created a ton of energy around, 'How do we make business processes better? How do we make them more efficient? How do we get more value and insights from that?' I think it's energized everything," Heric said.
That energy though could run the risk of becoming frothy now as most every company announces they have developed an AI platform, integrated AI into their offerings, or have plans to do so. A question from the audience about whether the AI hype cycle might be different from other hype cycles led to a sobering examination by Greenstein. "This is not new," he said. "This is a cycle that's been going on for some time with AI. What's more important is, what we're seeing already is all of us are seeing high-value use cases that are generating returns right now."
There is a lot of buzz about AI that is just noise, he said, but how enterprises make use of the technology is rather telling. "They're only using it in places where it delivers real value," Greenstein said. "This is a really cynical buying cycle and people are not throwing money at this. You might see tech companies throwing a lot of money into AI, but enterprises are only spending where the return is."
What to Read Next:
Risks and Strategies to Use Generative AI in Software Development
Big Tech Firms Promise AI Safeguards
Podcast: Ghosts Out of the Shell -- AI vs Human Hallucinations
Never Miss a Beat: Get a snapshot of the issues affecting the IT industry straight to your inbox.
You May Also Like
---