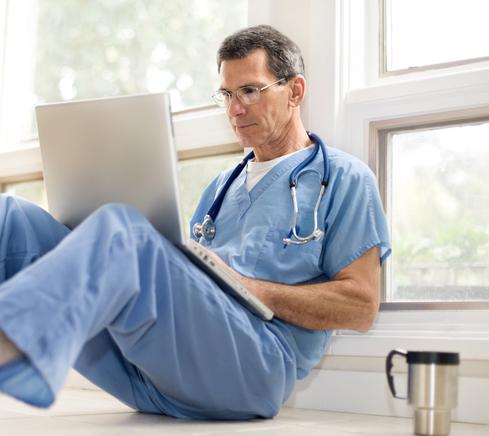 Healthcare Social Networks: New Choices For Doctors, Patients
(Click image for larger view and slideshow.)
Although the world of healthcare apps is expanding rapidly, one developer has found the way to hold onto caregivers' mindshare and dollars.
For the fifth year, mainstay Epocrates retained its hold atop the medical reference category for smartphones and tablets in Manhattan Research's 2014 Taking the Pulse US survey.
The developer, an Athenahealth service, faces new and increased competition from companies looking to break into the vast mobile healthcare (mHealth) market. Funded with venture capital and aspirations, startups and established businesses view the space as ripe for innovation and disruption. But approximately 50% of physicians use Epocrates, a tool some first employed 10 years ago.
"I've been using Epocrates forever, ever since Epocrates began," said Dr. Ryan Walley of Alabama's Redmont Pediatrics in an interview, as he recalled accessing the tool on his first Palm Pilot. "Epocrates has always been a great drug reference. That was the primary thing we physicians grew to love and the reason I think a lot of us flocked to and remained loyal to Epocrates."
[There's gold in medical device data. See Mobile Health Devices: Public Health Trend Spotters?]
The developer leverages many of the strengths associated with other mHealth app winners, as defined by a recent Research2Guidance report "mHealth App Developer Economics 2014." Other leaders in this space -- which is expected to reach $26 billion by 2017, compared with $2.4 billion in 2013 -- have extensive experience in healthcare and connect to medical databases. Currently, about 14% of mHealth apps target physicians and other medical professionals, according to Research2Guidance.
When Athenahealth acquired Epocrates in January 2013 for about $293 million, some users were concerned about the app's future. But Athenahealth maintained Epocrates' integrity, historic focus on its core user group, and drug interaction information, but expanded the app to integrate with Athenahealth's cloud-based network, said Emily Tyson, Epocrates' director of commercial strategy, in an interview.
Apps targeted at healthcare professionals face a big challenge: Medical professionals are less accustomed to paying for apps than consumers, said Ralf-Gordon Jahns, founder of Research2Guidance, in an interview. They're accustomed to getting paid for their expertise, not paying for it, he said. The free Epocrates app is available on both iOS and Android platforms. Although it's not available for BlackBerry Z10, users have found workarounds, either accessing Epocrates via the web or using side-loading apps. Premium versions, available via site licenses or individual licenses, provide users with more features, such as alternative medicines (herbal), a pill identifier, clinical tables and guidelines, and calculations and clinical criteria, according to Epocrates' website.
"I would be absolutely lost without it. If it went away tomorrow, I'd have to break out the lab coat and all those old books," said Walley, recalling a time when he looked up drug interactions on paper.
To ensure it continues developing the tools clinicians want, Epocrates works closely with physicians and other healthcare professionals, Tyson said. The company polls users and has a panel of experts with whom it communicates regularly, she noted.
In fact, apps like Epocrates improve patient safety because healthcare professionals are more likely to look up information and share data with patients, said Dr. Emma Ledbetter, medical director at St. Clare Health Mission, in an interview. The retired emergency department surgeon, who volunteers at the free clinic, works with other volunteers who may work outside of their specialty.
"One of our most dedicated nurse practitioners is a pediatric nurse practitioner, but adult medicine is not her forte. I talk to her too, but we look up a lot of meds in Epocrates," said Ledbetter. "I'm retired and I have another physician who just retired -- a family physician and a PA who just retired. This is a way for people to continue to practice medicine, but you can't do it on just memory alone. Epocrates is the way we can keep current and be assured."
The free clinic, which has an onsite pharmacy, often must substitute generic medications for name-brand prescriptions, and uses Epocrates to find duplicate drugs that meet patients' needs. Clinicians also use the app to educate patients about topics such as body mass index (BMI), diabetes, and other chronic conditions, she said.
"Occasionally, if you have Internet, you can get pictures like for skin rashes. You can pull them up and show them: 'Look, I think you have shingles.' They may never have seen them," said Ledbetter. "I call it my brain. I pull it out of my pocket on my iPod. I use it with the patients and I think the patients appreciate that."
New standards, new security, new architectures. The Cloud First stars are finally aligning for government IT. Read the Cloud Hits Inflection Point issue of InformationWeek Government Tech Digest today.