On Wednesday Google plans to introduce several changes to Google Apps that aim to enhance collaboration and content creation.
In a phone interview, Ryan Tabone, director of product management at Google, described the update as an effort to make the collaboration features in Google Apps more useful and productive.
Google Apps consists of a dozen distinct services. The update focuses on Docs, Docs for Android, Google Sheets, and Google Forms.
For Docs, Tabone said Google plans to add a button at the top of the screen, "See new changes." The idea is to make revision tracking more accessible and easier to attribute to a specific document collaborator.
"When you work with others on a particular document, the document becomes a conversation," explained Tabone. "And like a conversation, you want to know what was written and who it was written by."
Some users tag their changes using the Comments option, said Tabone, but not everyone remembers to do so, making change attribution more of a challenge. "See new changes" provides quick access to recent changes. There's also the more extensive "See revision history" option in the File menu of Docs for a more comprehensive record of changes.
Tabone said that Google, in keeping with its commitment to collaboration, also wants to refine the process by which people research, refine, structure, and distribute their thoughts using online tools. Toward that end, the company is extending its Research tool to Android devices. Research applies machine learning to make online media creation easier.
"Increasingly, we're seeing enterprises asking how to make employees more productive," said Tabone, who noted that on a mobile device it can take more than 14 steps just to insert an image into a document.
Released in 2012 for Docs, and now available on Docs for Android, Research simplifies the process of finding images or text and adding them to a Docs file.
[Read about Google's Next thermostat upgrade.]
Google Forms has been beefed up with a variety of new templates for Docs, Sheets, and Slides.
Voice input, common on mobile devices, is now built into the Web version of Google Docs through a feature called Voice Transcription. The feature is accessible from the tools menu in Chrome. Tabone said that Docs users can now dictate long-form documents in 40 languages and insert punctuation and new lines by voice as needed.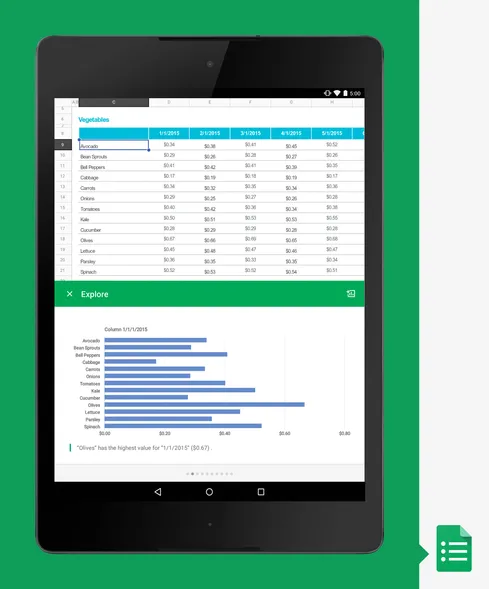 Finally, there's a Google Sheets feature called Explore that will automatically analyze spreadsheet data and generate charts from it. You simply select data in a spreadsheet and then select Explore. Google will interpret and present the data.
"There's so much overhead in learning presentation tools and structuring and capturing data," said Tabone. "This is a way to shorten that flow."