Just as Apple Watch deliveries are set to begin later this week, Google has updated Android Wear in a way that highlights how its operating system gives wearable users mobility without the burden of a companion phone.
Google is drawing attention to the Apple Watch's dependence on the iPhone. The Apple Watch is designed to be an iPhone accessory, so the wearer must have an iPhone (accessible via Bluetooth or the same WiFi network) for most functions and applications. Apple's approach has some advantages in terms of battery life, simplicity, and security, but critics have characterized the Apple Watch's iPhone dependence as its Achilles' Heel.
Android Wear devices communicate with Android phones in a similar manner but can also communicate over WiFi without being on the same network. Thus, a person wearing an Android Wear smartwatch at, for example, a Starbucks with WiFi could interact with compatible apps on his or her Android phone, even if that phone happened to be at home, miles away, with only a cellular data connection.
"Your smartwatch shouldn't require you to have your phone by your side, or be within a few feet," a Google spokesperson said in an email. "It should help get you the information you need, even with your hands full on the go."
Presently, none of the makers of the seven Android Wear watches on the market have announced support for WiFi, but news to that effect is expected in the coming weeks.
The Android Wear update delivers several other useful functions. It improves access to apps by making them accessible with a tap on the watch face. Apps can now be set to stay on-screen without slipping into battery-preserving sleep. And users can now flip through notifications and cards in their stream with the flick of a wrist.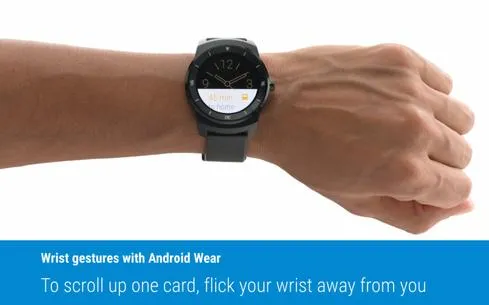 In addition, the over-the-air software update, coming first to the LG Watch Urbane, adds support for responding to messages by drawing emoji icons. Unlike the Apple Watch, which can transmit hand-drawn images, Android Wear attempts to recognize drawings so it can send the corresponding professionally-rendered emoji icon in place of the user's scrawl.
Companies selling Android Wear smartwatches such as LG, Motorola, Samsung, and Sony face a formidable foe in the Apple Watch. Last year, these hardware makers shipped more than 720,000 Android Wear devices, according to Canalys. Apple sold close to 800,000 Apple Watches in just one day, according to Slice Intelligence. And Apple's positioning of its watch as a luxury item suggests it will make far more profit from every sale, as it does in the phone market, than those offering Android Wear devices.
To some extent, the competition between Apple and Google's Android allies is limited because potential customers are likely to be tied to either Apple's or Google's ecosystem already. "I imagine that cross-shopping between Android Wear and the Apple Watch will be very minor, since the former requires an Android smartphone and the latter an iPhone," said Daniel Matte, an analyst with Canalys, in an email.
But that may not be the case for much longer. Several media outlets have reported that Google is working on an iOS app that will allow Android Wear devices to work with iPhones. A Google spokesperson said the company has nothing to announce at this time.
Attend Interop Las Vegas, the leading independent technology conference and expo series designed to inspire, inform, and connect the world's IT community. In 2015, look for all new programs, networking opportunities, and classes that will help you set your organization's IT action plan. It happens April 27 to May 1. Register with Discount Code MPOIWK for $200 off Total Access and Conference Passes.