Tablets sales have plateaued, but tablet makers may be heartened to find growing interest in the devices from businesses. That interest, however, could be constrained by newfound unwillingness to allow employees to bring their own devices to work.
According to a report from research firm Forrester, the lack of growth in tablet shipments can be attributed to several factors.
First, tablets are fairly sturdy. As report author J.P. Gownder puts it, tablets "are almost too well-built." They don't need to be replaced often, and many aren't subject to a replacement cycle influenced by wireless carrier contracts in the way that smartphones are.
Second, tablet makers haven't offered much in the way of innovation. Slight improvements in size, weight, and processor speed haven't proven enough to convince tablet owners to spend several hundred dollars every year for an upgrade that offers a similar experience.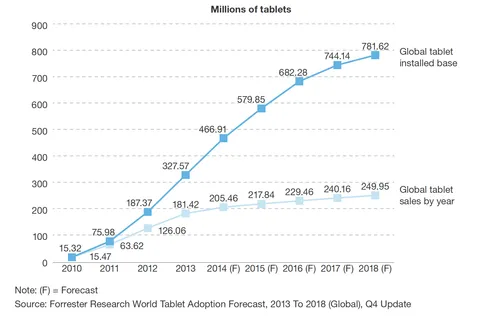 Apple's rumored iPad Pro, with a large 12.9-inch screen, could trigger a brief buying binge if it ships this year. It also could attract interest from businesses that see value in a large, high-resolution screen. But it's hard to see how such a device would undo tablet market saturation or reverse the market cannibalization driven by phones that approach the size of small tablets.
More than half of information workers already use tablets at least once a week, according to Forrester. Yet among information workers surveyed by the firm, 71% own the tablets they use for work. Fifty-five percent of those surveyed attributed their use of a personal device to the unwillingness of their employer to provide a tablet.
Forrester suggested enterprises are becoming more willing to invest in tablets. The firm expects the percentage of tablets owned by companies to increase. It projects that 20% of tablets will be corporate-owned by 2018, up from an estimated 14% this year.
On a related note, a recent report from tech industry association CompTIA finds a move away from bring your own device (BYOD). The report observes that the percentage of companies not allowing BYOD grew from 34% in 2013 to 45% in 2014 to 53% in 2015.
"Companies are finding that they can pursue mobility initiatives just as well by providing mobile devices, and employees are often happy enough to take a corporate device if it is the same thing they would choose on their own," the CompTIA report stated.
What remains unclear is how the shift toward business-driven tablet buying will affect tablet sales. Businesses may take longer than consumers to replace tablets, for example. Or they may be less willing to pay a premium for tablets.
Growing resistance to BYOD is occurring as business unit leaders are gaining more say in IT decisions. CompTIA sees corporate IT becoming more influential, even as its role shifts to deal with a broader set of stakeholders and to broker in-house and third-party IT offerings.
In conjunction with that shift, the scope of corporate mobile concerns is becoming more expansive. It's not only mobile devices that IT leaders are thinking about, it's the Internet of Things and how connected devices raise additional security, privacy, management, and monetization concerns.
Tablets, therefore, are becoming less important to businesses, even as businesses are becoming a larger portion of the tablet market. They are becoming just another device among a rapidly expanding set of connected things that need to be managed and integrated into workflows and business processes.