After acquiring AirWatch last year, VMware became the most popular Mobile Device Management (MDM) provider. Recently, BlackBerry acquired Good Technologies, VMware's closest competitor in mobile management. Now, VMware is asking BlackBerry users to let it go and move to iOS, Android, or Windows Mobile instead.
When one of the top execs of VMware starts singing "Let It Go" (from the movie Frozen) everyone pays attention. That is what Sanjay Poonen, VMware VP for End User Computing, did during his presentation at VMWorld Europe 2015 for the few BlackBerry users in the audience.
Poonen was addressing more than 10,000 VMWorld Europe attendees last month at Fira de Barcelona, when he asked the audience how many of them still used a BlackBerry smartphone. He saw two hands go up. Then he said, "I've got two words for you. In the words of my daughter's great movie 'Frozen': Let it go! Or if you want me to sing it …"
Poonen also reinforced the concept that mobile is the new desktop, and announced VMware's acquisition of Boxer. He described Boxer as a company that has developed "a mature Personal Information Management solution for enterprises that offers a container approach to mobile application management and security."
According to the VMware blog, "The combination of Boxer and AirWatch by VMware will create a world-class suite of services that will enable businesses to provide their employees with secure access to their email, content and apps."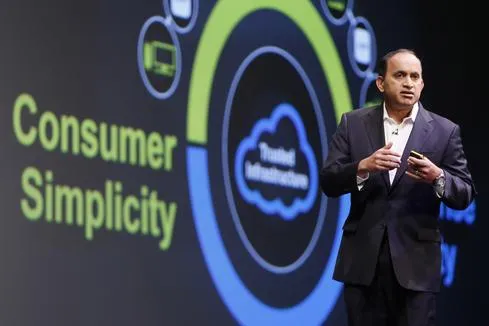 Why is it important for VMware to "kill" BlackBerry? Probably for two reasons:
BlackBerry is a complicated platform to support. VMware's AirWatch supports almost all platforms and operating systems in the mobile ecosystem. The decline of BlackBerry users makes support for its OS expensive and difficult to maintain.
With its recent acquisition of Good Technologies, BlackBerry has become a competitor. During his presentation, Poonen cited IDC research that puts Good Technologies second to AirWatch in MDM market share.
[Where will VMware fit after Dell merges with EMC? Read VMware's Value Lies In Modern Data Center Management.]
BlackBerry is now focusing its efforts on MDM and services, rather than handsets. Although it recently announced the introduction the BlackBerry Priv, its smartphone business is basically gone. With the Good Technologies acquisition, BlackBerry has an opportunity to challenge AirWatch in its core market. Previously, BlackBerry was only able to support a few platforms with its BlackBerry Enterprise Server (BES) system.
While the combination of BlackBerry BES and Good Technologies could create serious competition for AirWatch, VMware is still clearly the leader in MDM.
Another possible disruption of the market is the Dell-EMC deal. It is difficult to know how Dell (which after the deal is completed will own about 80% of VMware) will incorporate the AirWatch product portfolio in its offerings. VMware's CEO stated that it would remain public and independent.
Time will tell. But the message from VMware is clear: Let BlackBerry go!