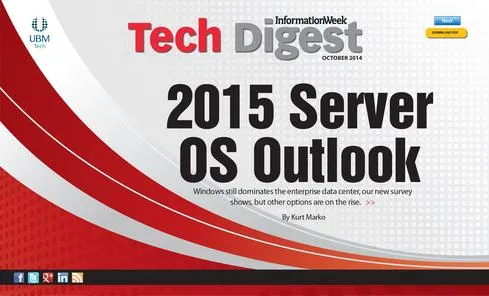 Download the entire new issue of InformationWeek Tech Digest
, distributed in an all-digital format (free registration required).
We're in the midst of technology transitions that will have profound implications for the server operating system landscape over the next product cycle, with new challenges to the dominance of Windows Server in enterprise data centers. Companies should give some serious thought to their options. Is it time to reconsider the status quo?
Linux is winning the fight for next-gen cloud-scale data centers, like those running massive consumer web apps or software-as-a-service businesses. But Windows Server still reigns in enterprise data centers, our InformationWeek 2015 Windows Survey of 330 business technology professionals shows. The reality of managing a data center means administrative and automation features and support for legacy business applications are top of mind, and that last point in particular plays to Windows Server strengths. Some version of Windows Server runs on, on average, 75% of respondents' servers, with that share projected to slip only a few points, to 72%, by 2017. And enterprise IT is embracing newer versions of Windows Server as well. Thirty-one percent of companies have Microsoft's latest Windows Server 2012 in place, and an additional 29% are testing or expect to have it running within two years. Less than a quarter have no plans. Satisfaction with Server 2012 is more impressive: 81% of those who've deployed or are testing it say they're satisfied or extremely satisfied, and a mere 7% say they're dissatisfied or extremely dissatisfied.
But don't let these upbeat findings fool you. The landscape is changing, and IT pros need to be ready.
From clouds to containers
Most immediately, enterprise IT is accepting public cloud services, particularly platform- and software-as-a-service offerings, and that puts the business focus more on application development and delivery than on operations. As developers gain influence over OS choice, deploying a feature-rich but resource-heavy OS like Windows Server as the back end for a vertical mobile app or internal SaaS-like application could prove unpopular and unwise.
The rise of open source is also an important factor. Converged data centers are often built from open source software and commodity hardware and sometimes using open source reference designs, including OpenStack and CloudStack. These let IT turn servers and their base operating environments into extensible resource pools in which applications come and go with no dependence on any particular system configuration.
Converged data centers combining commodity servers and storage and a virtualization/cloud stack can use a range of run-time operating systems, from a Windows 2008 image to a customized Linux kernel running on CentOS. In this environment, the choice of OS is dictated less by IT operations requirements and, again, more by application requirements and business user needs. Another factor is the viability of low-power server hardware that often uses alternatives to the x86 architecture like ARM cores or even MIPS (Imagination recently unveiled a 64-bit MIPS line) that aren't supported by Microsoft.
If you think such a setup is only for cloud providers, our 2014 Datacenter Convergence Survey and new ready-made rack-scale architectures, such as the Open Compute platform or VMware EVO:Rack, say otherwise. Among respondents with convergence plans, 22% expect to devote more than 20% of their fiscal-year 2014 budgets to achieving data center convergence, virtualization, and private cloud; 7% will devote more than 30%. In addition, 20% have consolidated personnel with networking, storage, and server skill sets into one integrated unit versus 30% with separate teams. Be prepared to defend the server OS status quo.
Likewise, rising enterprise acceptance of distributed databases, including NoSQL systems (Cassandra, MongoDB) as well as Hadoop and Hive are a factor to watch. The more ground they gain, the more IT must focus on how best to support them, which likely includes incorporating a Linux distribution and software stack. As we discuss in our 2014 State of Database Technology Survey, Hadoop is in production or pilot by only 13% of 956 respondents, all of them involved with their organizations' database strategies. Compare that with Microsoft SQL Server (75%) or Oracle (47%). However, big data analytics demands a high volume of writes, broad geographic distribution, and frequent upgrades. Can you run Hadoop on Windows Server? Sure. But new databases such as Mongo and Riak were built from the ground up to run on a distributed, usually Linux-based, architecture.
Read the rest of the story in the new issue of
InformationWeek Tech Digest (free registration required).