Microsoft executives took the stage March 30 to kick off the annual Build developers conference. The first of many announcements related to Windows 10, which will be getting a major update later this summer.
Windows 10 was unveiled in January 2015 and launched a few months later in July 2015. In the eight months it has been available, the OS has been actively used by more than 270 million people over 75 billion hours, Microsoft claims.
The Build keynote marked the first time Microsoft has officially updated the count of Windows 10 users since January 2016, when it reported the OS was running on 200 million devices. Microsoft plans to boost this number to 1 billion by 2018, and it seems to hope that packing the OS with new features will drive upgrades.
[Read: Why Microsoft isn't worried about losing customers to the iPad Pro.]
Terry Myerson, executive vice president of Microsoft's Windows and Devices Group, started his Build keynote with news of a Windows 10 "anniversary update" in the works for a summer 2016 rollout. We can likely expect to see the update on or around July 29, which will be the one-year anniversary of its global launch.
The update will bring a few nifty features to the OS, but Microsoft is especially focusing on inking capabilities, security measures, and Cortana.
After discovering more than 70% of people use a pen for at least one hour per day, Microsoft is broadening pen-and-ink support across Windows 10. Developers have the option to enable pen capabilities by adding a small amount of code.
It's also improving inking capabilities with the Ink Workspace, which makes it easier for users to create sticky notes, sketch drawings, and access recently used apps in which they last used the pen.
Bryan Roper, product manager for the Windows and Devices group, demonstrated some of the pen's new features and showed how it integrates with other apps. When he wrote "Call Mom tomorrow" on a sticky note, "tomorrow" was highlighted and Cortana was prompted to create an event.
The inking capabilities also extend to Maps, where users can draw two dots and then connect them to access information on directions and travel time. Information written in sticky notes can be automatically updated with online information. For example, if you write travel times, they will change as flights are altered.
Expanding the idea of inking-as-a-platform, Microsoft is also boosting the inking tool in apps like Word and PowerPoint. In Word, sloppy highlighter lines are automatically straightened. Scribbled-out sentences are deleted. In PowerPoint and across other apps, a digital ruler makes it easier to manipulate graphics.

Create a culture where technology advances truly empower your business. Attend the Leadership Track at Interop Las Vegas, May 2-6. Register now!
Security updates include the integration of Windows Hello into individual apps and Microsoft Edge, which is now the first and only browser to support biometric authentication. USAA, for example, is enabling fingerprint login on its website.
As part of the Anniversary Update, Cortana will be proactive about making suggestions throughout the day. For example, if you book a meeting during lunch hours, the assistant will automatically give you the option to order take-out or book a table at a local restaurant.
Cortana will also be available straight from the lock screen. It will be usable across all devices as well, so you can start a notification-based task (text messaging, for example) on your Windows PC and continue on your Windows or Android phone.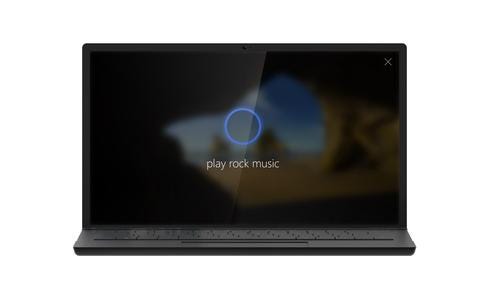 It made sense for Microsoft to begin its developers conference with a demo of Windows 10 updates. If the company wants to achieve its goal of 1 billion devices by 2018, it will need developers to create apps and boost the system's appeal.
The support for Windows 10 among developers is growing. New additions come from Starbucks and from Facebook, which is bringing both Messenger and Instagram to the new OS, said Myerson.
Finally, March 30 also marked the start of shipping for HoloLens. Developers and enterprise partners who ordered Microsoft's augmented reality headsets will begin receiving them soon.