Android devices on price but include free one-year subscriptions to Office 365.
Microsoft's agenda is ostensibly to trade upfront licensing revenue for marketshare gains, and to hope it makes money in the long run after some of those free Office 365 accounts turn into paid renewals. This strategy "probably sets the stage for how [Windows 10] OEM licensing will work, at least for the base level Windows," said Kleynhans.
Still, it's not clear if Microsoft's new models are actually gaining customers or merely fending off encroachment from Apple and Google. Sub-$200 Windows devices are partly about gaining new customers in emerging markets and at schools, for example, but they're also about persuading existing customers to buy a new PC instead of a Chromebook or iPad.
"So far it seems that Microsoft is more on a defensive move than an attack one," said Carolina Milanesi, chief of research at Kantar Worldpanel. Windows 10 won't hit the market until the second half of 2015, so the company hasn't yet shown all its cards. But the long wait reinforces Milanesi's assertion that Microsoft's plans are somewhat muddled.
Many of the company's most high-profile recent software efforts have focused on iOS and Android rather than Windows; Office for iPad was released last spring, for example, but a touch-first version of Office for Windows tablets isn't expected until late next year. Microsoft's attention to rival platforms makes sense to an extent; to make Office the productivity standard across all devices, Microsoft needs to go where most of the users are -- and for mobile devices, that's not Windows. At the same time, some Windows users have grown impatient, arguing Microsoft has neglected its own platforms while investing in cross-platform projects.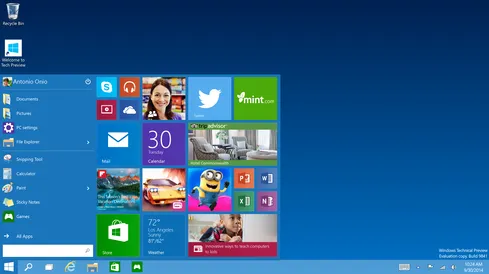 "The problem is that if you send a message to one group, you end up sending messages to others," Jackdaw Research analyst Jan Dawson said in an interview with Computerworld. "And sometimes that can backfire."
Milanesi said Microsoft is still devising revenue strategies for a future in which Windows is no longer a sacred cow. The company's core pillar "cannot be Windows given the competition from Google and Apple and [Microsoft's] weak position in mobile," she stated. "Windows needs to become a tool to draw to other areas -- Office or cloud."
Kleynhans agreed. "All of this is part of shifting Windows from the lead actor to a supporting role," he said.
Johnson echoed that Microsoft's most recent strategies have focused more on retaining Windows customers tempted by competing platforms than on gaining new users. But he said there's a more important takeaway: Microsoft is "rethinking how the Windows OS can unlock new value and revenue streams for other capabilities and features."
Microsoft needs its software and services to be available on all major devices and platforms, for example, but can still ensure that those services are best integrated in Windows. Microsoft chief experience office Julia Larson-Green said in November that Microsoft might release Cortana, the Windows Phone 8.1 virtual assistant, for other platforms, for example. In this scenario, Microsoft could limit the progress of competitors such as Siri and Google Now by giving iOS and Android users an alternative. But because Microsoft has more control over its own platforms than it does over Android or iOS, the Windows version of Cortana will likely include features that are absent in editions for other OSes.
Johnson stressed that a subscription-oriented Windows model could be empowering to users. "It will make it easier for people to tack on the features and services they need and value the most, without having to pay the entire cost upfront," he said.
Still, Johnson cautioned that Microsoft faces steep challenges. He said the company has to assess not only what people want in 2015 but also over the next several years. "That's the minimum time it takes to go from concept, to release, to broad adoption of many technologies," he stated. He noted that OneDrive, Microsoft's cloud storage platform, was released to beta testers around the same time that Dropbox debuted, and that Dropbox moved much faster to build a user base. Even if Microsoft is pointed in the right direction, he said, there is no guarantee its new technologies will become market leaders.
Apply now for the 2015 InformationWeek Elite 100, which recognizes the most innovative users of technology to advance a company's business goals. Winners will be recognized at the InformationWeek Conference, April 27-28, 2015, at the Mandalay Bay in Las Vegas. Application period ends Jan. 16, 2015.