After plunking down more than $26 billion to buy social media career site LinkedIn, it was a decidedly quieter week than usual for Microsoft, with Redmond focusing on its Edge browser and on additions to its Azure cloud platform. The latter features are designed to protect data throughout its lifecycle, from creation to the cloud -- all the way to the smartphone.
The week started off with a blog from Microsoft's Edge browser team touting the browser's speed and efficiency compared with other popular offerings, such as Google Chrome and Mozilla's Firefox. The company showed results indicating Edge on a Windows 10 machine can preserve some hours' worth of battery life.
Microsoft researchers set up a time-lapse video of four laptops running different web browsers to show Edge offered the most power-savings ability when using popular sites such as Facebook and Wikipedia. The company also released a handy chart to tout the abilities of Edge, which is replacing the traditional Internet Explorer browser.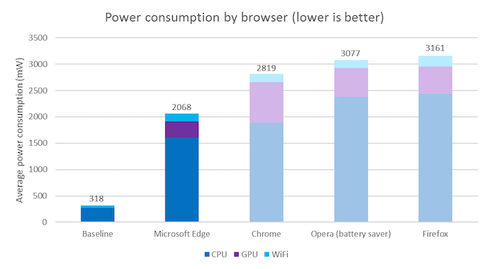 These results come about a month before Microsoft is scheduled to release the anniversary edition of Windows 10, which debuted a year ago in July. ZDNet's Mary Jo Foley wrote Microsoft is trying to get more people to adopt Edge and move off IE.
However, the other browser makers as not going quietly. The Verge reported that Opera is offering its own assessment showing its browser, not surprisingly, being the best in terms of battery life.
Aside from fighting browser wars, Microsoft decided to give its struggling mobile platform a bit of the boost. Specifically, Redmond is adding a mobile wallet feature into Windows 10 Mobile operating system. This new NFC-based technology will make it possible for Microsoft to compete against similar offerings from Apple, Google, and Samsung, but the poor reception of Windows 10 Mobile might make that moot.
On the enterprise side, Microsoft executives appeared at this week's DockerCon in Seattle to talk about the company's commitment to container technology and to tout its own Azure and Windows Server platforms. Docker Container can't run natively on Windows Servers right now, but that's expected to change soon with the release of Windows Server 2016 later this week.
Microsoft also has been touting its ability to manage containers within the Azure cloud, and has been helping developers work with the technology. Much of this is part of Microsoft's more open attitude to software, which is notably recent, especially when you consider that containers started as part of the Linux community.
If you love SharePoint and love your iPhone, you're in luck this week.
Microsoft released a version of its SharePoint software for Apple's iOS, which means users can bring their company's closed intranet with them anywhere they want and access files as needed. Much like the container technology, but on a smaller scale, this development shows the way that Microsoft is trying to grow its software blueprint by working with platforms customers want to use -- in this case iOS.
[Read about Microsoft Flow for iOS.]
For those who can't get enough Microsoft -- and who really can't -- Redmond is gearing up for its annual Worldwide Partners Conference, which starts July 10 in Toronto. The company has posted a blog to help those going to the show.
The company hasn't said much about the show, but you can expect a lot of activity around the anniversary edition of Windows 10. There likely be some talk about a new offering called Project Bletchley, which is Microsoft's name for its blockchain technology, which is starting to grow in popularity following the rise of digital currencies such as Bitcoin.
Finally this week, Microsoft unveiled Azure Information Protection, which looks to solve one of the key issues with cloud computing: Namely, what happens as data -- your data -- moves around the network and on and off of different platforms, whether it's hardware or the cloud.
The idea here is to give IT the ability to create policies and then track the data as it moves from the point of its creation, to the cloud, and then onto a device, whether a smartphone or laptop. The data is then protected as it's changed and sent back to the cloud.
Microsoft plans to deliver a public preview of Azure Information Protection in July.