by search engines in the premium version of Google+, whether third-party apps can make use of Google+ APIs, see which users have Google+ profiles, and correct the age of users who entered wrong information when they signed up.
The premium version of Google+ also gives users additional capabilities. All Google+ users in your organization can update their own profile discoverability setting; join video calls by URL or just with the Hangout name; create a Hangouts video call that is private to their domain; and start Hangouts video calls from calendar events with up to 15 people, Google said.
4. Edit Docs, Sheets, and Slides on the go
You can now access your files on the go via standalone apps for Docs, Sheets, and Slides, which Google made available gradually over the past few months. The Drive app will only support viewing and organizing your docs, spreadsheets, and presentations -- you won't be able to edit them there.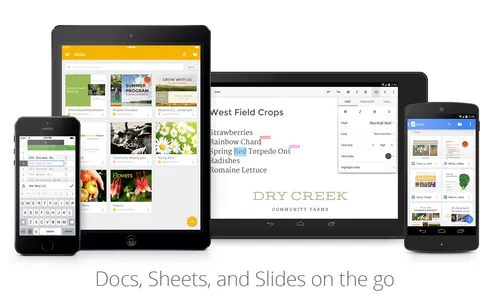 After you download the apps, you'll see your most recently edited files first, but you can search for older files, too. The apps also support working offline if you're without an Internet connection. Android users can find the Docs, Sheets, and Slides app in the Google Play store; iOS users can download Docs and Sheets from the App Store; Slides for iOS is not yet available.
5. New image features
You have two new options if you work with images in Google Docs, Slides, and Drawings. One makes it easier to revert to your original image if you applied changes you don't like; the other lets you replace one image with another while keeping the original formatting.
To reset an image, open your document, presentation, or drawing. Select the image, right click it, and choose "reset image" from the dropdown menu. Your image will revert to the original one before you made edits to it.
To replace one image with another, open your file, and select the image you want to replace. Right click and select "replace image" from the dropdown menu. Then use Google's image picker to select your next image.
Our InformationWeek Elite 100 issue -- our 26th ranking of technology innovators -- shines a spotlight on businesses that are succeeding because of their digital strategies. We take a close at look at the top five companies in this year's ranking and the eight winners of our Business Innovation awards, and we offer 20 great ideas that you can use in your company. We also provide a ranked list of our Elite 100 innovators. Read our InformationWeek Elite 100 issue today.