Recruiters and hiring managers take more than just your resume into account when searching for the perfect candidate. Your social media presence, both professional and personal, can make or break you.
A new Facebook and Twitter app called Social Sweepster aims to help you keep your social media presence professional. Through a combination of computer vision and language processing, the app combs your Facebook and Twitter accounts for pictures and posts that could adversely affect your job search.
The idea for Social Sweepster stemmed from a presentation that founder Tom McGrath, a 2013 graduate of Indiana University, attended while in college. The speaker "told everyone that he had not hired people because of what he found on Facebook and Twitter," McGrath told InformationWeek.
[Facebook's latest privacy changes include some welcome improvements. Read Facebook Privacy: 10 Settings To Check.]
This resonated with McGrath, who set out to develop an application that recognized not only potentially damaging text-based updates on Facebook and Twitter -- which many other apps already do -- but also potentially nefarious photos.
Because Social Sweepster is currently in beta, you must sign up for an invitation code. Once you receive one, follow the instructions to log in and connect your Facebook and Twitter accounts. Then choose the date range you'd like the app to scan. (Facebook can search for content as far back as 2005.)
The scan could take some time, depending on the date range you select and how much content your account has. I chose to scan my Facebook account from 2005 onward; that took several hours to complete. The app will email you when your results are ready to preview.
McGrath cautions that the app isn't perfect, but the more people use it, the smarter it becomes.
"You'll receive some false positives. It works a little like artificial intelligence," he said. "If you tell a baby, 'This is mom, this is dad,' over and over, the baby will recognize them as mom and dad. The same is true with this app: The more you say, 'Yes, this is a beer can. Yes, this is a Solo cup,' the better it gets at recognizing them."
This rang true in my Social Sweepster results, which the app divided into three categories: high confidence, medium confidence, and low confidence.
The app flagged a photo of my parents' cat in front of the liquor cabinet, for example, as well as a handful of photos that featured beer bottles and plastic cups in the background.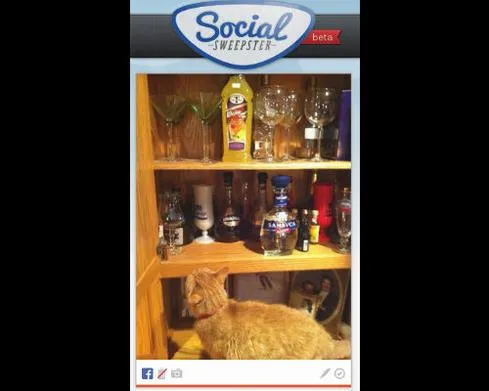 The text-based findings, which include comments on photos from your friends, were the most tedious to comb through. The app flags any mention of beer, pub, bar, shots (which usually referred to photo shots), smoke, swears, and other colloquialisms that may not necessarily be compromising enough to delete but are probably not very professional.
Each post and image that the app flags gives you three options. You can delete it from your account directly from the app, search for a similar image on Google to see if it appears elsewhere on the web, or give feedback, which asks you to identify anything unprofessional in the photo that the app missed.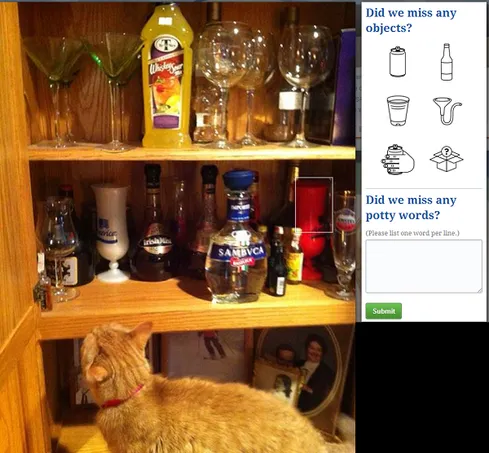 Social Sweepster flagged 175 of my Facebook posts as high confidence, 64 as medium confidence, and 499 as low confidence. I ignored a majority of my medium- and low-confidence results, since my Facebook privacy settings are fairly strict -- but for job seekers who want that peace of mind, browsing the entirety of the results is likely time well spent.
Though the app searches Facebook and Twitter accounts for free right now, McGrath said it will move to a freemium model in the future, in which users will pay a nominal fee to scan their accounts on sites such as Tumblr and Instagram.
Our InformationWeek Elite 100 issue -- our 26th ranking of technology innovators -- shines a spotlight on businesses that are succeeding because of their digital strategies. We take a close at look at the top five companies in this year's ranking and the eight winners of our Business Innovation awards, and we offer 20 great ideas that you can use in your company. We also provide a ranked list of our Elite 100 innovators. Read our InformationWeek Elite 100 issue today.