Facebook recently revamped its App Settings page, the hub where you can see which apps use your Facebook login credentials, manage your permissions, and delete ones that you no longer use.
Before the redesign, Facebook's App Settings page listed your apps based on when you last used them. Clicking each app would reveal details such as whether the visibility was set to friends, private, or public; the permissions it requires, such as access to your photos or friends list; and optional permissions, such as whether it could post on your behalf. You could also choose to delete the app if you no longer used it.
The new App Settings page includes a search function and displays your apps alphabetically with larger icons to make it easier to find what you're looking for. You can switch between the apps you logged in with Facebook and a new option -- apps you logged in anonymously.
Facebook also added a new section below your apps that details your overarching permissions for Platform apps, instant personalization, apps your friends use, and settings for devices that use older versions of Facebook.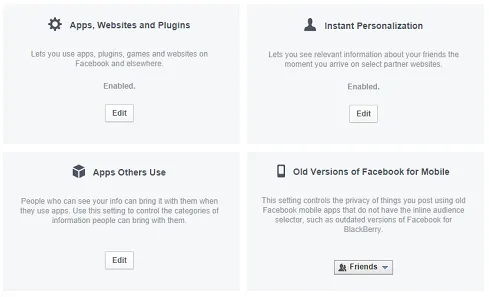 [Get a grip on your privacy settings. Read 10 Most Misunderstood Facebook Privacy Facts.]
If your Facebook account has been hacked before -- and even if it hasn't -- it's a good idea to review your list of apps for any you may not remember granting access to your information. Rogue apps and excessive permissions are often the culprit behind malware attacks and privacy and security issues.
To find your App Settings page, click the arrow icon in the top-right of your page and select "Account Settings," then from the menu on the left, click "Apps." Here's what you need to know about your app settings and how to adjust them.
1. How to edit your app privacy
Hover over the app and click the pencil icon that appears. This pop-up will display all the app's permissions, plus other details.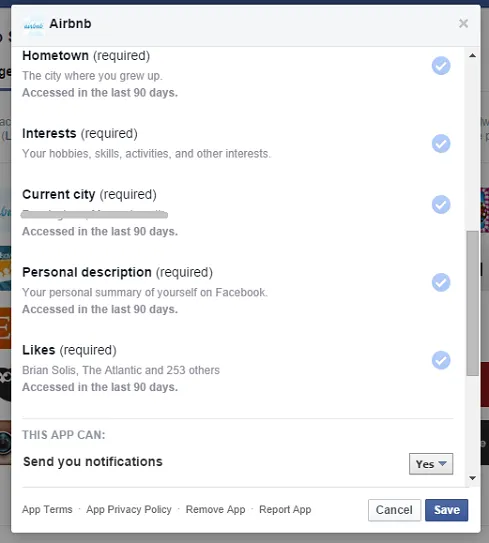 The first setting, App visibility, controls who on Facebook can see that you use this app. It does not control who can see your activity within the app or when you are tagged in the app by someone else. You can customize this setting by clicking the drop-down menu.
Next you'll find the information required by the app, which may include access to your public profile, your friend list, email address, interests, or likes, for example. You cannot edit this list of permissions. Finally, you can adjust whether the app can send you notifications.
2. How to delete apps
If you no longer use certain apps, you can delete them from your account, which will also remove it from your Favorites and the list of apps you use. Deleting apps may not remove the data you have shared with the app, however.
To delete an app, hover over it and click the X. If you want to remove your activity on Facebook, click the box. Facebook will ask you to confirm that you want to remove the app and point you to the app's Privacy Policy for more details about the data you may have shared with it.
3. Review your other app settings
Your overarching app settings are easier to understand in Facebook's App Settings page and let you quickly make changes.
Apps, Websites and Plugins: Change this setting to Off only if you don't want to log into websites or applications using your Facebook account. Turning this option off will also turn off Facebook's instant personalization feature, and will remove any apps you've logged into with Facebook or anonymously.
Instant Personalization: This setting lets certain websites access your public information, such as your name and profile picture, to tailor its experience to you, such as displaying your Facebook friends' reviews. Five websites and apps use instant personalization, including Bing and Zynga.
Apps Others Use: Browse this setting for details on the information from your profile that your friends can bring with them when they use apps. This information may include your interests, your status updates, photos, current city, education and work, and activities. Uncheck the boxes you beside the information you don't want your friends to disclose to other apps, and click Save.
Old Versions of Facebook for Mobile: If you use a device with an outdated version of Facebook, you may not have access to the most current privacy controls. Use this setting to choose with whom you want to share content when you use that device.
In its ninth year, Interop New York (Sept. 29 to Oct. 3) is the premier event for the Northeast IT market. Strongly represented vertical industries include financial services, government, and education. Join more than 5,000 attendees to learn about IT leadership, cloud, collaboration, infrastructure, mobility, risk management and security, and SDN, as well as explore 125 exhibitors' offerings. Register with Discount Code MPIWK to save $200 off Total Access & Conference Passes.