Facebook is prepping its own mobile news reader service, which will compete with the three-year-old Flipboard, according to a report. The Paper service could launch as early as the end of January.
The technology site Re/code, citing anonymous sources connected to the project, reported that Paper will function as either a standalone mobile app or a web experience for mobile devices. It will aggregate a variety of content from publications like The New York Times and the Washington Post and combine it with status updates from Facebook users. As the name indicates, users can expect its design to mimic that of print publications.
Paper stemmed from a botched redesign of Facebook's News Feed, the report said. Parts of the redesign were deployed to a small number of users in a March refresh, but Paper was spun off into a separate project spearheaded by Chris Cox, Facebook's vice president of product.
[Get a grip on your Facebook account. Read 10 Most Misunderstood Facebook Privacy Facts.]
In a March press conference, Facebook CEO Mark Zuckerberg said he wanted Facebook to be "the best personalized newspaper in the world." In December, reports indicated that engagement among users who had the new design was low, and Facebook discontinued the rollout.
The proposed redesign was dramatic. It featured multiple customizable feeds to sort your News Feed content by music, photos, games, groups, and lists. It also featured a feed to browse stories posted by entities you've Liked, such as news outlets, public figures, and sports teams.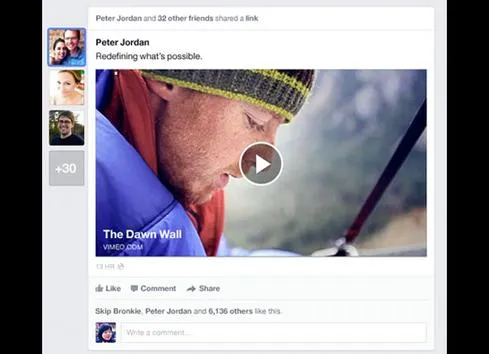 The News Feed redesign also showcased a new way to group posts from Friends on the same topic. If you had multiple Friends post or comment on a story, for example, Facebook featured the main post in your feed with thumbnails of your Friends' profile pictures. When those photos were clicked, they showed you what each Friend had to say about it. This could be one way Paper integrates Facebook posts with news.
Facebook has amped up its focus on content. In December, it announced changes to its News Feed algorithm that puts more emphasis on shared articles and deemphasize memes. It also added a box for related stories.
"The goal of News Feed is to show the right content to the right people at the right time whether it's from a close friend or a news source halfway across the world," Varun Kacholia, Facebook engineering manager, and Minwen Ji, a Facebook software engineer, wrote in a blog post explaining the changes. The update "recognizes that people want to see more relevant news and what their friends have to say about it."
Facebook's news reader app seems like a logical next step for the social network. According to a Pew Research study published in October, 30% of US adults get news on Facebook. Among Facebook news consumers who interact with news stories at least sometimes, 43% said they post or share links to news stories, while 60% said they Like or comment on the stories.
Senior editor Kristin Burnham covers social media, social business, and IT leadership and careers for InformationWeek.com. Contact her at [email protected] or follow her on Twitter: @kmburnham.
Can the trendy tech strategy of DevOps really bring peace between developers and IT operations -- and deliver faster, more reliable app creation and delivery? Also in the DevOps Challenge issue of InformationWeek: Execs charting digital business strategies can't afford to take Internet connectivity for granted.