Beyond AIM: Top Instant Messaging Clients For Business
Beyond AIM: Top Instant Messaging Clients For Business
Instant messaging has all but replaced the phone as an office tool. We take AIM, Google Talk, ICQ, Jabber, Yahoo Instant Messenger, and Windows Live Messenger for a spin and give you the lowdown. When it comes to communicating in the enterprise, desktop IM clients are a great way to go about business. Gone are the days of walking back and forth between offices and desks. Business users are starting to realize that while e-mail is incredibly useful when asking clients questions, it's woefully inept when information is required instantly, or informally among colleagues.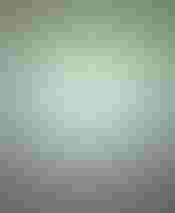 AOL's AIM offers lots of features that just don't fit in a business environment. (click for image gallery)
And that's where instant messaging comes in. Services like Microsoft's MSN Web Messenger, AOL Instant Messenger (AIM), and others provide users with an outstanding way to communicate quickly and efficiently without all the lag time that's experienced when communicating via e-mail.
That's why we've decided to take a look at six prominent desktop IM clients to determine what kind of benefits they offer and find out which is the best for businesses and their clients and suppliers who want to have instant communication.
AOL Instant Messenger (AIM)
aim.com

AOL Instant Messenger (AIM) is the most popular instant messaging platform in the United States, but it's also one of the least useful to businesses. Unfortunately, while the client seems ideally suited for consumers, it lacks much of the appeal a business user would expect.
Overall, AIM is designed well (we looked at version 6.8). It features an easy to use buddy list and adding friends to that list is as simple as inputting their names into an "add" feature or messaging them and clicking an "Add Buddy to Buddy List" button.
That said, the absence of practical business features AIM provides is disappointing. Sure, it allows you to engage in video chatting, and you can communicate with co-workers/friends/clients (buddies!) via mobile phone thanks to its text messaging integration, but the program's focus is on personalization and making it more about you than any real business functionality. It wasn't designed to be a business tool and it shows.
Do employees really need another piece of software to tempt them with games and music when they should be working?
AIM is a fine service for people who want to chat, but don't care about business-friendly features like encryption and additional security layers that ensure the chat isn't being read by a third party. And although it's simple to use and chatting with friends is easy, AIMis for play, not for work.
Google Talk
google.com/talk

Google may be the most prominent search company in the world, but the company is known for more than search. Sure, it has garnered attention for its corporate ethos, and grand plans. But it's also known for the many Web-based applications that have come out of its labs. Some of them, like its popular e-mail client, Gmail, are good enough for business use. Google Talk, based on the Jabber protocol, is another.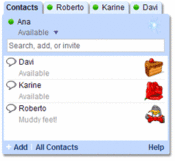 Google Talk's use of tabbed browsing is outstanding. (click for image gallery)
Google's IM client is well designed and much like every other Google service, it's made to achieve simplicity and fast service. It also features a handy voice-mail feature, which allows users to leave voice-mail messages for recipients who are away from their computers. Like AIM, it provides group chat functionality, the messaging version of a conference call.
But other than that, Google Talk is awfully simplistic. It offers little by way of security -- entire chat conversations are saved by default -- and it doesn't offer a whiteboard or other business extras to make it a really solid business tool.
If security isn't a concern, Google Talk is simple and easy to use and might be suitable for some businesses. But if security is an issue (and shouldn't it be?) and you're looking for something beyond rudimentary chat features, stay away from this client.
ICQ
icq.com
ICQ is one of the least-commonly used IM clients in the world, but it's tops in Russia and Germany. And with a list of features that wouldn't appeal to businesses, along with a design that would undoubtedly make some cringe, it's simply not a candidate for the enterprise.
ICQ is designed poorly. It's too flashy and to be quite honest, it's ugly. I just don't like it. And when you compare its features to those offered by competitors, it becomes blatantly clear that you're not getting anything new. In fact, the service features chat recording, voice and video chat, and a slew of games that are just as poor as those you'll find on AIM.
As for security, it's lacking. Like Google Talk, ICQ saves all conversations. But if you like tabbed browsing, you'll be happy to know that it has made its way to this app. I found this feature the most useful; it saved me from juggling multiple chat windows, which saved me some time.
Its search functions are also fine, but aside from that and the tabbed browsing, from a business perspective, ICQ falls flat. I'm hard-pressed to find any reason to recommend this service to business users. Jabber
jabber.com

Jabber (acquired by Cisco last year) is an ideal IM platform for any company that wants to create its own service. Because it is an open source app, it can be modified and customized to the needs of a particular business.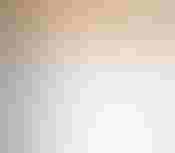 Perhaps the most useful aspect of Jabber is the fact that it can be customized. (click for image gallery)
There are dozens of versions of Jabber. We don't have room to discuss them all in detail here, but let's look at the ways in which Jabber distributions are similar and examine the ways a company can exploit those for its own benefit.
Unlike the other services, Jabber prides itself on not "monitoring" conversations by default. In fact, its entire IM platform can be kept on a company's server and controlled entirely by that respective company's IT department. That puts security under one roof, and not in the hands of a third party.
Perhaps the most useful aspect of Jabber is the fact that it can be customized. If conversation saving and search aren't priorities, they can be omitted. Even better, if you want to add group chat, a whiteboard for collaboration, and the ability to transfer files, that's possible, too. And since it's totally open source, you can even decide how long chats can last, where they can happen, and how they occur. You have full control.
Akeni makes a Jabber distro that looks a lot like AIM and MSN Messenger, but puts an emphasis on security. The company's Enterprise Instant Messaging Server offers 128-bit encryption, and is VPN- and firewall-friendly. Messages can be logged to databases and searched and auditing in accordance with your company's policies.
It should be noted that most open source software doesn't provide the kind of customer service you would expect from the other services. (Akeni offers a hosted IM solution.)
Jabber claims that its community of experts can provide support -- and they can -- but if you tailor Jabber to your own liking, you'll have to figure out how to address the unique issues yourself.
Regardless, Jabber is the best tool out there for any company seeking to deploy an ideal instant messaging service. Aside from Akeni, there are many other open source IM clients. One other of note is Spark, built specifically for the enterprise. Windows Live Messenger
messenger.live.com

Microsoft's Windows Live Messenger, also know by its former name, MSN Messenger, is your run-of-the-mill IM client. It offers basic chat, group chat, voice and video chatting, and a few other features that some might find compelling (especially if they live in Canada, France, and the United Kingdom -- three countries where MSN Messenger is the leader.)


Windows Live Messenger offers the basics, but little more for business users to get excited about. (click for image gallery)
All in all, there isn't much to get excited about in Messenger. Sure, it's designed relatively well and you'll be able to find all the functions you'll need to add friends, communicate with others, and engage them in a video or voice chat, but other than that, there isn't much to like if you're specifically looking for business functionality.
If you're simply looking for chat from a major vendor, Windows Messenger is a great place to start, thanks to its simple design and basic features. But if you want more business-focused functionality, Windows Live messenger just won't cut it in the office.
Yahoo Instant Messenger
messenger.yahoo.com

Yahoo Messenger is a fine IM service that sports the type of cutesy features you'll find in AIM and ICQ, but also boasts some useful extras that shouldn't be overlooked when you're trying to find your company's ideal IM service.
Let's face it -- working with Jabber might be great if you have someone on your team who knows his or her way around its open source code. If you don't, you'll want an IM service that offers much of what you're looking for without all the hassle.
Overall, I was impressed with Yahoo Messenger's design. It's simple, yet elegant, and it makes adding friends (or business contacts), engaging in group chats, and using some of its extra features such as SMS IM and call forwarding simple.
Yahoo Messenger features personalization and all the extras that companies don't need, but it also offers file transfers, the ability to chat with contacts on other IM clients, and an extremely useful IM conferencing feature, which allows employees to get into one big chat room and use the client's voice features to communicate. It's an ideal way to create a conference call with folks around the office.
I was impressed with Yahoo Messenger. Each of its major features worked extremely well and I liked how simple it was to switch from simple chatting to an IM conference. And although it's designed with mainstream consumers in mind, it wouldn't be a poor choice to deploy in the enterprise. The Future Of IM

Is this all there is to IM? Most of the services share the same functions and a few stand out to provide something different. Maybe that's because social networking tools Facebook and Twitter have introduced millions to other outlets and styles of communication.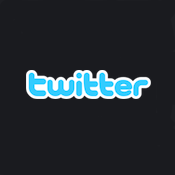 The micro-blogging tool Twitter allows users to connect with each other in IM fashion. (click for image gallery)
Twitter offers a micro-blogging tool that allows users to connect with others in IM fashion and communicate in 140 characters or less. Facebook also has an IM feature. While both services blur the lines between work and play, and may be considered serious competitors to dedicated IM services, neither Twitter nor Facebook, in its current iteration, is designed for the enterprise.
When it comes time to deploy an IM service in your company, you first need to evaluate your desire to have everything you hope for in a tool. Do you want whiteboard support, conferencing, control over security, the ability to customize? Do you have the development resources to tinker with open source code? If so, Jabber might be your best bet.
But if you want basic instant messaging without all the extra features that bog down AIM and ICQ, check out MSN Messenger or Yahoo Messenger. Each offering will get the job done.
Never Miss a Beat: Get a snapshot of the issues affecting the IT industry straight to your inbox.
You May Also Like
---