The world knows by now that there is a dearth of top tech talent to fill key jobs in businesses worldwide. That means companies have to look beyond the usual sources: competitors and universities.
The U.S. military, for example, represents a trove of potential prospects that could be invaluable to civilian companies, most of which have already trawled the top tier computer science and engineering schools, which cannot produce enough graduates to fill this void.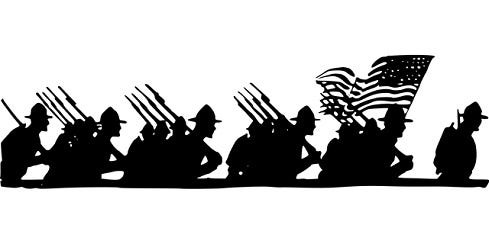 The Army, Air Force, Navy, Coast Guard, and Marines are huge buyers and users of technology and thus employ enlisted people and officers who are trained to run and maintain it. Managing servers, storage, and software is clearly a transferable skill.
Thus, there are thousands of experienced men and women coming out of the U.S. armed forces, many of whom have skills in information technology and related fields. These veterans could come in handy for many civilian employers.
That's why many companies run recruitment and training programs for veterans of the U.S. Armed Forces. And, most host recruitment events on or around Veterans Day for this purpose.
Get 'em while they're young
Would-be employers that go for veterans may want to tap into a more youthful cohort as well, which is why many companies in tech and beyond are funding ways to boost science, technology, engineering and math (STEM), and computer skills for students in middle and high schools.
Such programs are offered at Design Tech High School also known as d.tech, in Redwood City, Calif. This is a public charter school dedicated to teaching students to solve real-world problems using design thinking.
The school, which selects about 135 students per year via lottery, has a "Design Realization Garage" with 3-D printers, laser cutters, and other advanced gear for designing and building prototypes of physical goods. Students also take quarterly breaks for hands-on electives like coding, 3D design, yoga, and more with professionals and experts in the community.
Then there is San Francisco's Holberton School of Software Engineering, launched in 2015 and supported by a raft of tech and venture capital firms (not to mention Priyanka Chopra). Holberton provides promising high school students with instruction, internships, and mentorships with all tuition fees deferred until the grad lands a paying job. If, in the unlikely event that does not happen, fees are waived.
Companies also back coursework and educators in other schools with sometimes stellar results. Take Zachary Dinch who, while a student at Trinity High School in Washington, Penn., gained proficiency in the SQL database language via Oracle Academy coursework.
Now a freshman at Princeton University, he is a first-generation college student.
"I can't say I got into Princeton because of Oracle Academy but you really do have to find ways to distinguish yourself as part of a very qualified applicant pool," Dinch said.
And, these pre-college programs can be updated on the fly to reflect changing demands in the industry. If the demand for networking experts declines and that for cybersecurity pros rises, coursework can be changed to reflect that, for example.
These non-traditional training and recruitment efforts can be viewed through a philanthropic lens: Company sponsors help high schoolers gain useful skills that will make them more attractive to prospective employers. But, on a more self-interested level, they also give corporate backers access to fresh young minds and graduates who just might become employees, filling needed roles.
As for the efficacy of such programs? For many it's too soon to tell since most have been around for just a few years.
But one recruitment pro says anything companies can do to get their hands on qualified prospects before anyone else is a good thing.
All companies should emulate what Nike does with sports talent, says David Greenwald, president and founder of i2i Placement, a San Francisco Bay Area recruitment firm. "If you want the best you have to go after people before others do."
Corporate sponsorship of non-traditional tech hires, either via high school or as veterans, can provide recruiters with access to a wider array of talent, before rivals can spot it.
Barbara Darrow, who has reported on business technology for more than 20 years, is now a senior director of communications for Oracle Corp.