On any given day, an IT director might think that their biggest challenge is a buggy HR application, or a cloud services bill that could choke a horse, or maybe a business unit manager who doesn't understand why IT can't perform miracles.
But face it, the biggest and most persistent challenge for that IT director is being able hire and retain great talent, and then going through the same process again when retention efforts fall short.
A panel of experienced IT execs and workforce experts -- supplemented by audience suggestions -- offered plenty of advice on how to manage the talent challenge on the opening day of Interop ITX 2018 yesterday at the Mirage in Las Vegas. There was plenty of good advice about money, metrics, feedback, recruiting, eliminating unconscious bias, and, of course, food for the IT staff.
In the end, the underlying message surrounding most of the talk about employee retention was summed up by panelist Fred Kwong, CISO for the Delta Dental Plan Association, who said, "Bring an authenticity and understanding of what their needs are." He and other panelists detailed more than a dozen ways in which to gain that understanding, such as "skip-level meetings" where managers regularly sit down with staffers two or three levels below them in the reporting structure, periodic surveys on career goals, inclusion, and promotion planning.
It turns out that Kwong wasn't even focusing on retention with his observation. He was responding to a question about helping employees find new jobs, even outside the company. The easy thought would be that it is counter-intuitive, actually contributing to the talent crunch. Instead, he takes the long view, understanding that he might be able to hire that same employee at a later date for a job better suited for the skills.
The discussion was part of the IT Leadership Summit, one of seven all-day programs focused on topics such as cybersecurity, IoT, AI, networking, machine learning, and innovation. The schedule of summits and workshops continue on Tuesday, with a full slate of breakout sessions running throughout the week.
Maureen Berkner Boyt, founder of The Moxie Exchange Movement, highlighted how corporate efforts to make the world a better place make a difference when recruiting and retaining employees, most notably today's younger generation, noting, "It used to be that problems were solved by the church, now it's companies and tech that solve them." So, organizations that make efforts to address hunger or access to clean water are appealing to workers.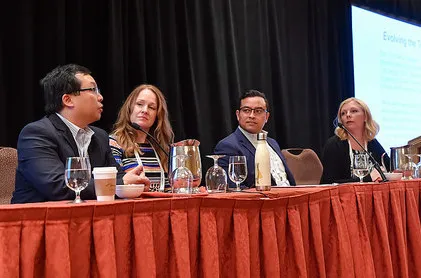 Boyt also focused on the issue of unconscious bias on the part of hiring managers during the panel discussion and in an earlier session. Part of addressing that bias is during the hiring process, with companies ensuring that all interviewers clearly understand the role and skills requirements for the job being filled, use a common evaluation and scoring approach, and even eliminate the traditional small talk from interviews with candidates.
Panel moderator Ester Frey, senior manager, talent acquisition at Amazon, emphasized the importance of employee surveys in her company. "This is different from an employee satisfaction survey. It's finding out what is important to people and make sure that we are providing the right things to them."
The bottom line when it comes to dealing with people, according to Frey, is "investing in them.".
Eduardo Ruiz, senior director of information technology for Association of Schools and Programs of Public Health, was happy to note, "Actually, we do retention quite well." He said that as of last year his organization had an average tenure of 8 years.
Part of staying invested in the IT staff within that organization is rooted in the fact the association reassesses its IT structure every three to four years, looking not only at what skills are needed but where people want to take their careers. "One of the reasons we've had such good luck with retention is that nobody is in the same position where they started," he said.
In addition, the association has been proactive in offering flexibility -- such as supporting employees who need to care for aging parents -- and responding to the changing needs of its workers, including building a lactation room when the workforce went through a baby boom.