When you lead IT at a company that has never done a customer-facing app and your brief includes developing new applications for customers to use, you have a lot to think about.
For Isaac Sacolick, CIO of market research firm Greenwich Associates, one of the things to consider was finding a development platform to fit the company's talent, development discipline, and budget. The answer he came up with included as little hand coding as possible. The move to low-code app development ultimately transformed the IT organization, as well as numerous business processes throughout the company.
In a telephone interview with InformationWeek, Sacolick explained the scope of the business problem originally presented to him. As a market research firm, representatives of Greenwich Associates "show up at a bank and tell them what their market share is, what customers say about their services and products, and then talk about how they can grow their market share," he said. In order to improve on the company's core customer experience, Sacolick said, "we've been building products out and building our internal services."
Sacolick came into the Greenwich Associates CIO post about 18 months ago. His past experience includes a stint as CIO of media company McGraw-Hill.
[ Don't lose your best workers. Read How To Retain Top IT Talent. ]
He said the issues he had to deal with on the Greenwich Associates project included far more than simply getting a product out the door. "Some of the techniques and practices I brought here are about telling a company that's never done any customer-facing apps how to bring agile and even DevOps to bear on those applications," he said.
A Digital Transformation
Developing the applications not only meant creating code, but building an entire business process around an agile framework. Doing so involved identifying and including the elements to support a digital transformation. "I also had to develop the internal processes, and I've seen a lot of processes done through meetings and email, workflow done through spreadsheets, and it makes the business less transparent than it needs to be," Sacolick said.
Sacolick said there are many advantages to transparency when you're in the middle of a transformation process. Transparency, he said, reduces resistance to change and resentment stemming from uncertainty. And while you're dealing with the organizational and cultural issues, you can begin to make decisions around the right tools for the job.
The tools are important for reasons beyond the needs of the software development staff. "If you're using tools with a poor user experience, it's going to take you longer to achieve what you want and it's going to be much harder to get user adoption," Sacolick said. And in the case of the initial project, "I needed to get information out of the system quickly. I needed to deploy the tools very quickly and cheaply," he said. The right tools made it possible. "I was able to use a low-code platform to get the product out in a couple of weeks."
Sacolick didn't see the process he instituted as a one-off for a single project. "I've used the idea three times now. What ended up happening is that I had more interest from different departments asking how they could use the tools to do the same sort of thing themselves," he said. And unlike some CIOs, Sacolick was happy to help business units begin to do their own development work.
Not that the business units instantly understood everything involved in application development. "Business units aren't used to concepts like version control and lifecycle management," Sacolick said. "You need to have a business analyst and someone who knows how to test this thing." Further, in order to get the business units to adopt proper processes, "You have to show where the problem is, show the solution, and have a center of excellence that employs the process," he said. "That's what CIOs have to undertake when they do this."
The right process can work in concert with the right tool to make sure the application complies with company standards. "Governance is, in some ways, a practice that is partially enabled by the tool and needs to be partially enabled by IT in processes outside the tool," Sacolick said. "Even if you're writing in Java, you need to enable version control and the other disciplines required."
Without version control and the other tools of proper governance, Sacolick sees potential problems no matter what programming languages or development disciplines are in place. "We all have different business intelligence tools out there. If you let them sit and run long enough, more and more single-use or limited-use reports get developed and you end up with a repository of hundreds or even thousands of reports, and no one knows who's using the reports or how good the data is," he said. "That can happen if things are built by IT, in SharePoint sites, or any other technology."
The Right Tools For The Job
Sacolick has found using the same tools and processes in business units and IT has simplified application development across the company and allowed business units to learn from one another. "We're using this in the business units but also in IT. We're doing two things in two different platforms," Sacolick said. "We use Quickbase as an app dev environment, and it started with portfolio management."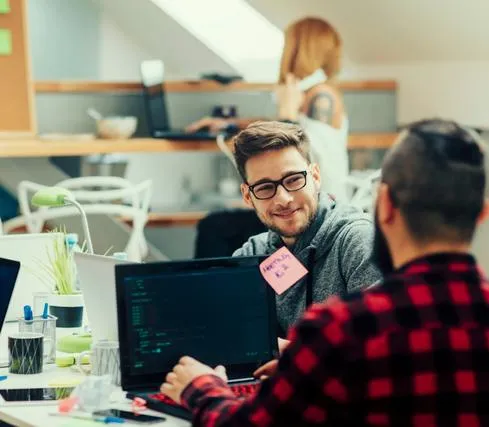 "We did a portfolio review for a unit yesterday and went through a dozen projects in about an hour's time. We didn't just look at them, we talked about how we could close them out a little earlier," he said. "Now we're looking at this budgeting app that allows me to track the budget on a very granular level." The app was shared with the finance department mid-year.
Sacolick said budgeting was once a process involving many versions of spreadsheets and countless email messages. "Now, instead of shipping spreadsheets back and forth, [the finance department has] transparency into my application," he said. "Now they're asking about using this any time we're using an outside vendor, and re-applying it there."
The same factors are at work as other business units become more productive while reducing the load on IT. "Our other example is around reporting. Rather than IT building and managing reports out of our CRM and ERP, we're trying to get users to build and manage their own reports," Sacolick said. "Every year there's a need for new reports. Now, instead of having IT do it, the business can do it quickly and easily on their own."