Microsoft has announced the general availability of Word, PowerPoint, and Excel across Android smartphones. This rollout marks the end of a five-week preview period.
Delivering Office to Android devices is an ongoing process. In mid-May, Microsoft debuted the public preview of Office for Android smartphones. The launch followed a year of development efforts to transform Office from a desktop app suite to a cross-device platform.
During this preview period, Office apps were tested on more than 1,900 Android smartphone models across 83 countries. Based on feedback from thousands of users, Microsoft made it easier to connect with third-party storage platforms like Box and Google Drive. It also simplified the process of navigating commands within each app.
[Windows 10: Free For All Insiders?]
The Android-compatible editions of Word, Excel and PowerPoint were designed to pack familiar features of Office in a more compact device. For example, navigation and menu options are at the bottom of the screen to eliminate hassle in reviewing and editing documents.
Android smartphone users who download the Office apps will benefit from a few nifty updates:
Mobile presentations. PowerPoint for Android phones provides the same animation, transition and design capabilities as the desktop app. An inking feature lets you emphasize certain points while presenting.
Quick document access. You can use your phone to open, create, edit, and save documents you were working on from the cloud. Access goes beyond OneDrive to include files stored in Box, Dropbox, and Google Drive.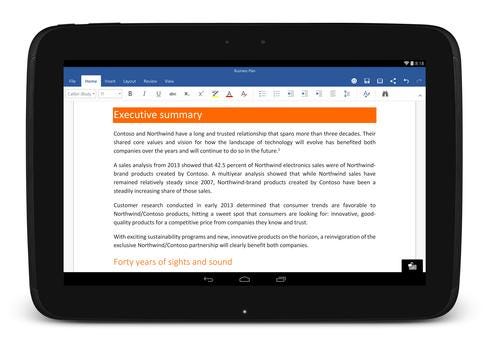 Edits on the go. The Office design makes it easier to review and comment on documents when you can't be at your computer. You can track changes and view insights provided by other collaborators on different projects.
Further, Microsoft has partnered with more than 30 OEMS across the globe including Sony, Samsung, and LG to pre-install Office for Android apps on their devices.
Android tablets received the full version of the Office suite in January 2015 following a three-month preview period that generated more than 250,000 downloads of Word, PowerPoint, and Excel across 500 device models.