When will SAP S/4Hana, the vendor's next-generation application suite, be available and what components will it include? And what can customers who are not interested in S/4Hana expect in the way of updates and new capabilities?
Those details weren't quite clear at SAP's S/4Hana launch event this week, but in a follow-up interview with InformationWeek, Bernd Leukert, SAP's executive board member in charge of products and innovation, clarified product availability dates, licensing terms, and what customers can expect if they want to stick with the current Business Suite.
The S/4Hana Public Cloud offering, including finance, logistics, inventory management, sales, distribution, procurement, materials management, and other simplified apps, will be available in February. That's one month sooner, and a more complete ERP offering, than we reported on Wednesday, based on interviews with a lower-level executive.
[ Want more on this topic straight from SAP's chairman and co-founder? Read SAP's Plattner: How S/4Hana Simplifies ERP. ]
When will this beta offering be production-ready? "As with any cloud vendor, that will depend on the feedback from customers -- it could be one week it could be four weeks," Leukert told InformationWeek in a phone interview on Wednesday. "We're already taking this approach with quarterly releases of SuccessFactors and Ariba functionality. We wait for feedback, and usually within four weeks, it's fine for production use."
The S/4Hana Public Cloud offering will be favored by companies that prefer standard, "plain vanilla" applications. As with most SaaS apps, S/4Hana Public Cloud will be configurable, but customers that want to continue to use company-specific customizations or legacy interfaces would opt for private-cloud managed services. This offering of S/4Hana will be available by SAP's May 5-7 Sapphire conference, Leukert confirmed.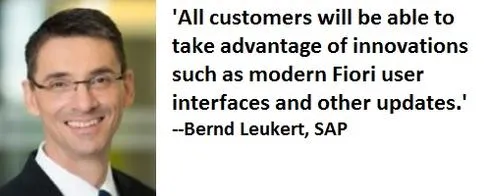 SAP is, indeed, forking development of the Business Suite, but Leukert said that the company will continue to bring innovations to customers who prefer to run on-premises software on conventional, third-party databases such as Oracle, IBM DB2, or Microsoft SQL Server. Thus, with the next release of the Business Suite, expected in October, S/4Hana customers will get the simplified, S/4Hana versions of on-premises apps. But all customers, he stressed, will get updates such as new Fiori user interfaces and other updates.
"We continue to work with our user groups, and quarter by quarter we go through the list of new requirements to gauge interest in capabilities that we need to deliver to all customers," Leukert said.
On licensing, Leukert said that Business Suite customers are entitled to use S/4Hana apps; they need only add a Hana platform license in order to make the switch. Customers that had already converted to Business Suite on Hana will be upgraded to S/4Hana licenses at no charge, and they will be able to choose which simplified apps and updated interfaces they wish to use.
Leukert's comments clear up a lot, but what has yet to be fleshed out -- and what will influence the pace of S/4Hana adoption -- is exactly when and which industry-specific functionality will be offered.
Also still in question is how and when cloud apps, such as SuccessFactors, will be brought into S/4Hana. On this front, SAP offered the following statment: "Our public cloud apps, such as those from SuccessFactors and Ariba, are part of the S/4HANA product. S/4 HANA does not replace that portfolio of cloud solutions, but rather integrates with it and expands it."
This statement doesn't explain how SuccessFactors or Ariba might be integrated in private-cloud or on-premises S/4Hana deployments. We've asked SAP for further clarification, and we'll keep you posted (in the comments section below or in future coverage) on what to expect and when.
Cathy Bessant leads Bank of America's technology and operations group as the bank scraps back from financial and regulatory disaster. Her formula: Steady, reliable performance over glitz. Get the Chief Of The Year issue of InformationWeek today.