Looking for a way to keep your customers happy and feeling safe, your bosses relaxed and confident, and the rest of your company's teams protected from major mistakes? Just as a solid accounting system ensures and demonstrates that a business is being well managed, a data governance program is a necessary element of any business today that deals with data. And that's basically all businesses.
Companies today are starting to really understand that, according to Donna Burbank, Managing Director of Global Data Strategy and a speaker at the Interop ITX event in Las Vegas in May, a vendor-neutral conference for IT practitioners and leaders. Burbank told InformationWeek in an interview that data governance is getting more attention and respect from the business side of companies today, and that's a good thing.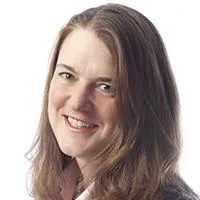 "Companies are finally starting to 'get' data, for lack of a better term," she told me. "They understand how data affects their business models." Companies such as Amazon and Uber are highly visible examples of companies that are really data-driven, and many others are following their examples because data is important, whether it is big data or traditional data.
"Governance is really your accounting department for data," Burbank said. When governance is done well, it's really based on collaboration around data. For instance, everyone has to agree on how we calculate total revenue for North America. In terms of data, everyone must agree on how we define North America. Business leaders today are now recognizing that such definitions are important to ensure quality data, and quality data is important to a strong modern business. Data governance is getting a new level of respect from business leaders beyond the IT department.
"We really are in a transformational time," Burbank said.
Burbank believes the change comes from the following four factors:
Business opportunities that have emerged today confer more value on data and data governance.
Regulation of data is driving the need. Organizations that didn't "get" it are being forced to get it now by government regulations and audits that require businesses to understand their data.
Business people today are more interested in the data.
Technology has advanced to a degree that has enabled more people to see the value of data. For instance, perhaps the data could live in the cloud. Or perhaps the business could use big data.
"It's at the intersection of all of these where we help customers and where data governance can help," Burbank said.
Greater attention to data has put the spotlight on issues such as consumer privacy concerns, data quality, and other issues that data governance can help manage. Yet sometimes the idea of creating a governance program for huge volumes of data can be overwhelming to companies. Some companies may have hundreds of databases, and IT and business leaders may not know where to start with a data governance program.
New regulations such as the European Union's General Data Protection Regulation is forcing companies to think about these issues, and many companies are taking the approach of adopting the most stringent privacy regulations in order to simplify their compliance across an international customer base. That's because Germany may have different laws than France or Spain. Meanwhile, Brexit has added a new level of complexity to the mix. Across the ocean, the US consumer privacy laws offer the least protection to individuals. Creating a data governance program to keep the most customer information and still comply with every nation's laws is a tremendously complex undertaking. Plus, laws can change.
But Burbank has a message for IT and business leaders who may be overwhelmed by their data governance management.
"Pick one thing," she said. "Don't try to bite off too much."
And remember that data governance can save you from embarrassing and costly mistakes, like one made by a company who sent email renewal notices to all the contacts in the marketing database, including prospects who were not customers.
"Simple things like that are part of business rules, and they can have embarrassing consequences if you don't have the business terms right."
Burbank will provide Interop ITX attendees with more easy-to-follow advice and help with data governance during her session, Navigating Data Governance in an Era of Global Uncertainty. Don't miss this important session that could help you protect your company's customers and reputation from serious harm.