Harnessing the Power of the Cloud
Harnessing the Power of the Cloud
Organizations must establish a clear cloud strategy anchored in both quantitative and qualitative migration drivers from a business, technology, and operational perspective.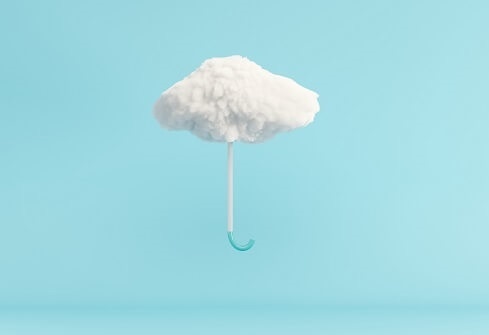 HappyAprilBoy via Adobe Stock
The power of the cloud offers two distinct paths for organizations: They can choose to simply move part of their application and data estate to the cloud or undertake an organizational reinvention more broadly through the cloud.
The former entails a constrained outlook that views the cloud as simply one enabler of business among many, while the latter proposes embracing cloud as the primary vehicle for business reinvention.
The stark divergence between these two sets of ideologies impacts a wide range of decisions, from the executive engagement model to the intentional focus on trust and controls.
A recent report from PwC found that while 78% of leaders have adopted cloud in most or all parts of their business, only 10% are seeing the full impact from the embrace.
CIOs Critical to Cloud Execution Plan
"A cloud-empowered organization adopts the complete arch of various cloud technology factors in totality to drive and shape its business," explains Cenk Ozdemir, PwC cloud and digital lead.
From his perspective, there are multiple functions at the start of cloud transformation projects that require C-suite collaboration to be successful. "C-suite leaders are more likely to be in sync with key business functions at the earliest stages of planning, budgeting, and requirements gathering," he says.
Beyond working together when scoping out cloud transformation projects, ongoing collaboration with finance and tax departments helps companies get a better handle on how cloud changes an organization's financial model.
"Together, CIOs and finance leaders can try to balance the scalability on-demand resources provide with any unplanned-for costs when not done strategically," Ozdemir says.
Suresh Thirunavukkarasu, chief product officer at Nerdio, says in most enterprises, CIOs ensure cloud ROI with alignment across the C-suite and board.
"Without proper alignment and collaboration across the C-suite, CIOs will struggle to develop and maintain exemplary architecture with governance and control for all application types and users, the financial model for cloud consumption, and talent with new cloud skills," he says.
Thirunavukkarasu adds cloud adoption for new or existing applications is not the sole responsibility of CIOs.
"It is a company-wide digital transformation initiative with support and accountability from all C-suite leaders to transform the business with comprehensive cloud services and a consumption-based pricing model," he notes.
Develop a Comprehensive Cloud Strategy
Thirunavukkarasu says enterprises must develop a comprehensive cloud strategy, prioritize execution plans, and align across the company leaders to ensure a high return on investment and significant value to the business from the cloud migration.
"For example, cloud providers offer a consumption-based, cloud-delivered PC for users to work from anywhere and securely access any applications," he says.
Enterprises can use this technology today with proper alignment and support from cross-functional teams to modernize the workplace and client applications while delivering high ROI.
He warns that with the cloud-first approach, enterprises have blindly migrated their current applications without modernizing and using cloud-native capabilities and services and controlling and optimizing cloud costs. "As a result, enterprises have yet to gain agility and cost savings from cloud migration," he explains.
For some legacy applications, for example, the public cloud is not ideal, and enterprises are better off keeping them in-house or obtaining a support from the application provider or managed service provider.
Ozdemir agrees there are multiple pitfalls that organizations can run into during their cloud journey, starting with selection of applications to be migrated.
"Organizations need to develop an objective decisioning framework to validate the potential candidacy of fit-for-cloud applications," he says. "Such a framework must encompass business, technology, operational, human resource and cost dimensions."
Another issue Ozdemir sees are unrealistic and in most cases, unverifiable cost objectives related to cloud migration.
"Most often the cost dimension is chiefly viewed within the confines of the application to be migrated," he says. "However, the wider implications of vendor licensing and support on cloud, application re-engineering, delivery optimization, cyber hardening and people upskilling are only peripherally considered without the required level of due diligence."
Cloud Cost Management Strategies
Thirunavukkarasu points out in the last few years, many companies focused on high growth and time to market versus profitable growth. "They took a decentralized approach, allowing individual groups or users to migrate applications and consume cloud resources without accountability," he says.
In the current economic condition, these companies have changed their focus to gain complete visibility and control over cloud costs. "They have also created a central organization to plan, budget, negotiate, monitor, and continuously optimize cloud spending," he says.
Ozdemir explains that cloud cost management is a complex topic and will increasingly get even more complicated as cloud services evolve and further permeate the IT landscape.
"The primary reason for this complexity is that there is no hard-lined boundary for cloud any longer," he says. "The rate of service evolution on part of the cloud service providers has accelerated whilst the corresponding pricing structure has rapidly become more nuanced."
This means there needs to be particular attention given to forecasting of consumption patterns on an ongoing pattern to not over or under commit to cloud contracts with cloud service providers.
"Moreover, cloud costs invariably constitute more than the direct costs associated with the migration itself," he says.
Discovering Hidden Cloud Costs
The indirect and hidden costs are often layered under additional vendor licensing fees, the need for cyber hardening on cloud, the cost of re-tooling staff, the overhead of enacting a new delivery model and the corresponding organizational change management effort among other things.
Finally, a lack of organizational expertise to effectively understand the distributed nature of their prospective workloads in the cloud hinders a good understanding of the true cost of migrating to the cloud.
"It is against this backdrop that cloud cost management is critical to realizing the anticipated value of cloud," Ozdemir says.
He points out an overwhelming number of executives find a wide gap between the anticipated and the realized value of cloud.
"While there are many drivers for this chasm, the lack of an effective cloud cost management strategy and a corresponding measurement and monitoring framework is one of the primary contributing factors to this," he says.
What to Read Next:
Q&A: US Patent and Trademark Office's CIO on Cloud and DevSecOps
Cloud in 2023: From Customer Transformation to the Metaverse
Cloud Financial Management: Getting a Little Help From AI/ML
Never Miss a Beat: Get a snapshot of the issues affecting the IT industry straight to your inbox.
You May Also Like
---