AI, Data, and Crypto in Play at Fintech Innovation Lab Demo Day
AI, Data, and Crypto in Play at Fintech Innovation Lab Demo Day
AI and machine learning are familiar to startups that graduate from this program, but recent developments have cast such technologies in a new light.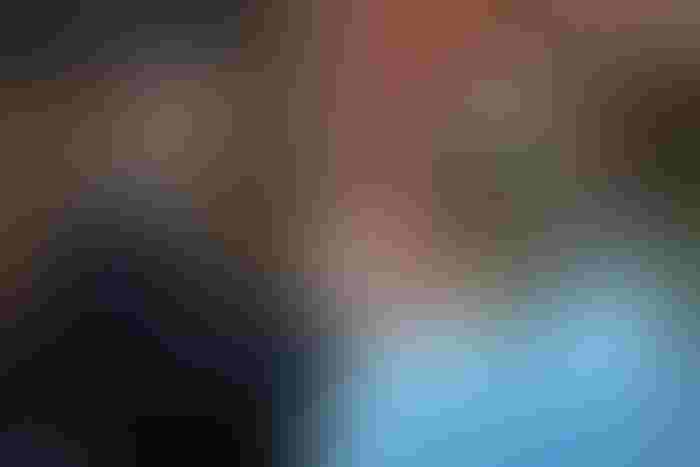 Alex Miles, CEO of Breathru, at the FinTech Innovation Lab Demo DayJoao-Pierre S. Ruth
The startups featured last week at FinTech Innovation Lab's latest demo day in New York included ideas related to synthetic data, trade compliance for crypto, predictive cybersecurity, and financial health.
The lab got its start in 2010, co-founded by the Partnership Fund for New York City and professional service company Accenture. Startups in each cohort are selected with input from senior executives from financial institutions -- which include Bank of America, Mastercard, and Barclays -- partnered with the lab, then receive mentorship and guidance to accelerate their plans.
Before the pitches began, Maria Gotsch, CEO of the Partnership Fund for New York City, shared some insight with InformationWeek about the latest class. Though AI is a hot topic now in the private sector and among regulators, she said it was common to see some version of AI used by startups at the lab over the past five years.
There is a tendency among startups to explore spaces, such as AI and cryptocurrency, which are still being defined by industry and regulators. That can make a crypto trading compliance tool, for example, of interest to financial institutions, Gotsch said, as the space becomes more defined. "Once those parameters get set, they're going to need a tool like that."
The use of data has also been a priority most every cohort, she added. This year's class includes Diveplane, which uses AI in conjunction with synthetic data at a time when the use of AI is under scrutiny and debate. "That's a big hot button with regulators," Gotsch said. "The parameters of the scope of AI are still to be worked out."
Diveplane offers a way to create synthetic data, she said, to explain data that goes into AI models.
There were also startups in the latest cohort focused on inclusivity and ESG, Gotsch said, which are newer areas for the lab. "That speaks to a trend of that being an area of focus for large institutions," she said.
Why Accenture Supports the Lab
The centrality of technology to financial institutions has accelerated over the years, including in crypto, AI, digital experience, and other areas, said David Parker, global financial services industry practice chair with Accenture. "We think these are enduring companies," he said. "We firmly believe that every financial services institution is a technology company at its heart."
Naturally it is not just altruism that drives Accenture or other enterprises to take an interest in what startups develop. Many financial institutions look to such innovation spaces to map out their next steps.
"There are things that are mission critical to these institutions that are part of this program," Parker said. "If they don't have handle on what's happening, what's next -- they're going to miss the boat. In some cases, with some of these technologies, it could be existential for them."
The 10 companies that graduated from this year's cohort are featured in the slideshow that follows.
Never Miss a Beat: Get a snapshot of the issues affecting the IT industry straight to your inbox.
You May Also Like
---