Schumer Touts New York as an Innovation Hub, Wants AI Guardrails
Schumer Touts New York as an Innovation Hub, Wants AI Guardrails
The Senate majority leader spoke along with leadership from IBM and Tech:NYC about the role of AI as the next step in the New York innovation hub.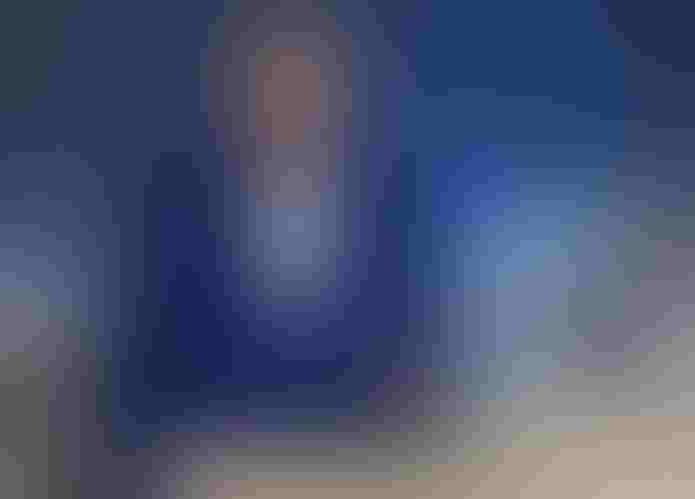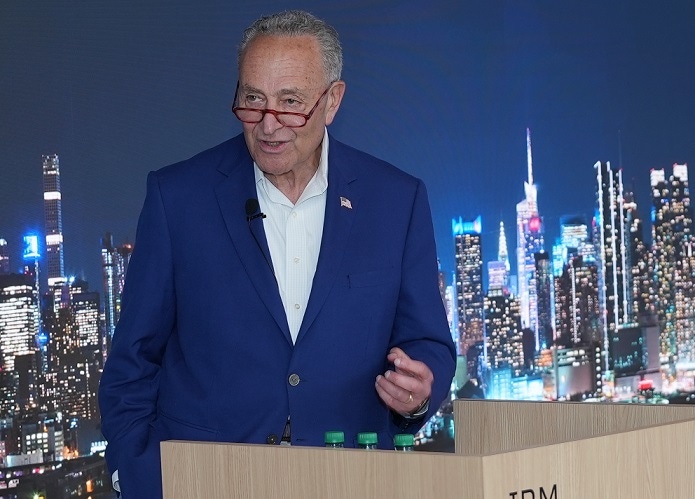 Senator Chuck Schumer speaking in New York City.
Just as Austin has been a popular hub for startups of late, in New York, partners from academia, government and business are collaborating to further the state's position as a hub for innovation. The next step is to further incorporate artificial intelligence (AI) in the New York tech center.
In a speech at the IBM event "A Conversation with Senator Chuck Schumer," the Senate majority leader expanded on the bipartisan SAFE Innovation Framework on AI and spoke about his vision for an innovation hub in New York to test out AI technology. SAFE stands for security, accountability, protecting our foundations and explainability.
"New York will play a leading role in what the AI framework will look like," Schumer said. "We have eyes on us."
"Business has a role to play as does government," IBM CEO Arvind Krishna said in remarks on Monday at IBM's New York City Innovation Studio.
Tech and Academia Highlight New York Innovation Hub
Krishna noted how state universities in New York such as SUNY Albany along with community colleges are part of a New York tech innovation center.
Innovation hubs are also located at educational institutions that include New York Institute of Technology and Cornell Tech on NYC's Roosevelt Island.
Schumer cited Micron Technology in the Syracuse area as playing a key part in the New York tech center. The hub also includes the Yorktown Heights, New York, IBM campus.
In his talk, Schumer highlighted some innovation efforts in New York that happened after the CHIPS and Science Act became law in 2022. It led Micron Technology to announce a $100 billion investment to build a semiconductor fabrication facility, a megafab, in Clay, New York.
"It will be the largest memory chip plant in the United States and perhaps in the world," Schumer said.
Meanwhile, Albany, New York, is close to becoming a major hub for semiconductor R&D, according to Schumer.
"If we can bring the National Semiconductor Technology Center there, we have a damn good chance of doing that," he said.
A public-private consortium of government, business, and educational institutions, NSTC will be an innovation hub for semiconductor technology. Schumer notes that ASML and Tokyo Electron also have a presence in upstate New York.
In addition, GlobalFoundries was able to relocate its headquarters to Saratoga County, New York, and build a second semiconductor fab, Schumer added. GlobalFoundries employs about 2,500 people in Malta, New York, and has invested upwards of $15 billion in the location, the company reported.
"My goal, my dream, is to make New York and upstate New York, one of the centers of high-end manufacturing and semiconductor manufacturing, and [we are] well on the way to that," Schumer said. "So many other companies are locating there as well."
According to the July 2022 "New York's New Jobs Engine" report by the Center for an Urban Future and Tech:NYC, a trade group for the tech sector, New York City added 114,000 tech jobs over a decade, an increase from 80,020 jobs in 2010 to 193,929 in December 2021.
As of July 19, Tech:NYC had 5,347 jobs listed at its 716 member companies.
"Why I'm so bullish on New York and AI is because the tools that companies like IBM and others are building are going to inevitably copilot other industries," Tech:NYC President and Executive Director Julie Samuels told the audience at the IBM event. "And that's all going to happen here."
Expanding the Innovation Hub With AI
Schumer described AI as the "next frontier" for New York's innovation center. That would comprise AI research and development as well as job creation. As of 2020, New York had approximately 13% of the AI workforce in the United States, according to NYC.gov.
"That's more than double our share of the population," Schumer said. "It gives us a huge edge to become one of the leading AI hubs in the nation, and the ripple effects across the rest of New York's economy -- finance, advertising, education, medicine could be colossal."
IBM's Thomas J. Watson Research Center in Yorktown Heights, New York, comprises a key part of the AI innovation hub in New York, Schumer noted.
"They are shaping the future of AI through scientific breakthroughs and foundation models," Schumer said.
IBM is working with Tech:NYC to help build a talent pool for tech in the state, Krishna noted.
"We want to leverage Tech:NYC to really work with the other startups and the other companies in the region to be able to further their goals," Krishna said in an interview. "So, this is more about cooperation. It's not about a business advantage for us, per se, but if it is more of a talent pool, more of a vibrant ecosystem, we benefit."
Krishna said a key part of IBM's role will be a focus on cybersecurity skills training. Meanwhile, Tech:NYC sees IBM playing a role of mentorship in the innovation hub, according to Samuels.
"IBM is a Tech:NYC member and, you know, part of how the ecosystem works, and part of how Tech:NYC works is the larger companies are very engaged and they're committed financially but also as mentors to help us grow the next generation of entrepreneurs," Samuels told InformationWeek.
Pushing for AI Guardrails While Encouraging Innovation
At IBM's event, Schumer discussed the SAFE Innovation Framework, in which he calls for encouraging and not stifling innovation and fair competition. However, he also advocates for guardrails to protect the IP of companies.
This fall, Schumer will co-organize at least nine AI Insight Forums with a bipartisan group that also includes Sens. Martin Heinrich (D-N.M.), Mike Rounds (R-S.D.), and Todd Young (R-Ind.). Areas of focus will include copyright, intellectual property and liability; high-risk AI applications and bias; national security; and privacy.
"Congressional hearings won't work," Schumer said.
Schumer said the federal government must take a proactive role in discussing AI because the private sector is unable to protect the industry from bad actors, whether they are domestic or foreign. As the government explores the role of AI, "innovation must be our North Star, plain and simple," Schumer said.
Krishna told InformationWeek that IBM supports Schumer's efforts to encourage innovation while also implementing guardrails.
"In terms of the specific topic today, AI and regulation, we strongly believe in the message that Senator Schumer has, which is, how do we encourage innovation while putting some guardrails in place because stopping innovation will be the worst thing in the world," Krishna said. "Letting only a few companies or a few algorithms control artificial intelligence serves nobody's good."
Going forward, guardrails will need to not only stop bad actors but also protect innovation in AI, according to Schumer.
"If AI innovation is not done safely, if they're not adequate guardrails in place, then it could stifle innovation or even halt innovation altogether," Schumer said.
New York can be a hub for experimentation in AI to strike a balance between innovation and safety, according to Samuels.
"We have to come up with a framework that allows the technology to drive the companies to build and grow here, but also do it with an eye toward safe and responsible uses," Samuels told us. "We are cautiously optimistic that Congress can do this at a national level, so we don't end up with a bunch of states creating a patchwork of regulation."
New York has a big part to play in shaping what the AI regulations will look like going forward, according to Krishna.
"I think there's so much innovation in the use cases that are going to happen here in New York City and New York State, whether it's across finance, government, technology companies, that it behooves all of us to really play a role in shaping what the regulations are going to be," Krishna said.
What to Read Next:
AI, Data, and Crypto in Play at Fintech Innovation Lab Demo Day
Payments and Productivity Tools Dominate Techstars NYC Demo Day
Never Miss a Beat: Get a snapshot of the issues affecting the IT industry straight to your inbox.
You May Also Like
---