Apple Monday announced CarPlay, a tool that brings key iOS 7 features to the dashboard of select cars. Apple has scored support from a number of auto manufacturers, which have promised to deliver CarPlay-compatible vehicles later this year. The idea is to give iPhone users access to the features they want in their car in a manner that is safer and easier than picking up their phone when behind the wheel.
CarPlay is a two-part system, requiring technology to be included in both the car and on the iPhone. According to Apple, Ferrari, Mercedes-Benz, and Volvo will be the first carmakers to put CarPlay-enabled vehicles on the road. The cars will need a touch-enabled infotainment center, as well as Bluetooth for wireless integration with the device. CarPlay will be added to all iPhones through a system update to iOS 7 due later this year. With CarPlay, iPhone owners will be able to use the car's touch screen or Siri, Apple's voice-activated assistant, to interact with their phone.
Features are limited to a small selection: messaging, mapping, and music.
[California drivers can now use their smartphone's map without fear of a ticket. Read Driving While Mapping: California Case Sets Smartphone Precedent.]
Drivers can access Siri via the voice control button on the steering wheel. Siri will let drivers access their contacts to initiate voice calls, return or answer incoming calls, or dial into voicemail. Siri will listen to voice commands and read incoming messages as well as dictate messages spoken by the driver. Apple didn't qualify what "messages" means, however, so it's not clear whether that refers only to the built-in SMS application, or if CarPlay will be able to access WhatsApp, Google Hangouts, Facebook Messenger, Skype, email, and other messaging services.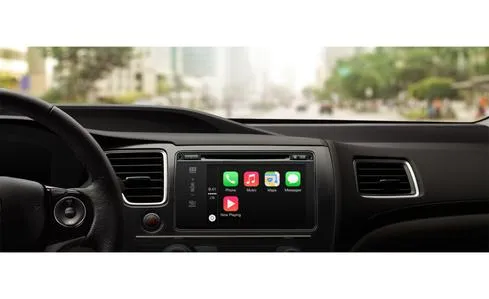 As for navigation, CarPlay gives drivers access to Apple Maps, which may or may not be a good thing. Though Apple Maps is much improved since its launch, it lags Google Maps in terms of accuracy. (Let's not forget it stranded Australian drivers in the desert back in 2012.) Even so, CarPlay can reach into iPhone owners' contacts, emails, and text messages to find addresses and provide routing instructions. CarPlay keeps tabs on traffic conditions in real time and can offer ETAs. Siri will provide spoken, turn-by-turn directions, and CarPlay will display the real-time maps on the dashboard. One potential benefit: Apple Maps should have relatively up-to-date information on roads and points of interest. In-car systems provided by manufacturers can become outdated.
Also on the CarPlay feature list is integration with the iPhone's music player. Drivers will be able to listen to all their music, podcasts, audiobooks, and iTunes Radio through on-screen menus or Siri. Unlike messaging, Apple said CarPlay will also be able to access some third-party music apps, such as Spotify and iHeartRadio, which expands the appeal a bit for those looking to stream their favorite playlists rather than spin what's on the device.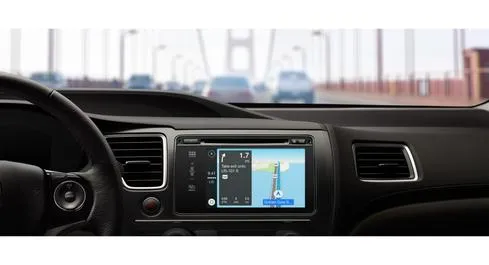 Apple left plenty of questions unanswered. Does CarPlay rely on the iPhone's wireless connection, the car's wireless connection, or both? If there's no Internet connection, will Siri work in an offline mode? Will CarPlay be expanded to support more iPhone features or more third-party apps? Is there a forthcoming SDK, or will it all remain under Apple's tight control? What about commercial vehicles? Perhaps Apple will reveal more details at its Worldwide Developer Conference in June.
If you're not in the market for a Ferrari or a Mercedes-Benz, don't fret. Other carmakers have lined up to offer CarPlay, including BMW Group, Ford, General Motors, Honda, Hyundai Motor Company, Jaguar Land Rover, Kia Motors, Mitsubishi Motors, Nissan Motor Company, PSA Peugeot Citroën, Subaru, Suzuki, and Toyota Motor Corp.
Apple CarPlay works only with Lightning-enabled iPhones, which limits it to the iPhone 5s, iPhone 5c, and iPhone 5. It won't work on the iPhone 4 or 4S.
Engage with Oracle president Mark Hurd, NFL CIO Michelle McKenna-Doyle, General Motors CIO Randy Mott, Box founder Aaron Levie, UPMC CIO Dan Drawbaugh, GE Power CIO Jim Fowler, and other leaders of the Digital Business movement at the InformationWeek Conference and Elite 100 Awards Ceremony, to be held in conjunction with Interop in Las Vegas, March 31 to April 1, 2014. See the full agenda here.