LinkedIn's "Who's Viewed Your Profile" section is one of the social network's most popular features. This year, it's undergone a handful of changes to help users capitalize on job leads and other professional opportunities.
In February, LinkedIn redesigned it and added more detailed analytics about who checks out your profile, including the industries they work in and their job titles. A few months later, the social network launched the "How You Rank" tool, which taps into how much traffic your profile generates compared to your connections and others from your company.
This week, LinkedIn enhanced the section's analytics, which now includes the actions you took that led to a jump in engagement. This may include making various updates to your profile, endorsing a connection, joining a group, or adding more connections.
"If you are trying to attract new clients or business leads, you can see how many potential partners looked at your profile after you joined an important industry group," said LinkedIn product manager and engagement lead Sachit Kamat. "Or, if you're looking for a new job, you can look at your insights graph to see whether adding a skill to your profile or endorsing a peer gave you a bigger bump in views by recruiters."
[Ready to take your LinkedIn success to the next level? Read LinkedIn Tips: 10 Smart New Moves.]
LinkedIn's "Who's Viewed Your Profile" page provides you with more than just a peek into who has checked you out. Here are three new ways you can use this section to improve the quality of your contacts, fine-tune your profile, and make the most of new connections.
1. Follow LinkedIn's lead
Find the Who's Viewed Your Profile section under the Profile tab at the top. Below the graph of your profile views and the people who have viewed your profile is a section that details steps you can take to attract the right people to your profile.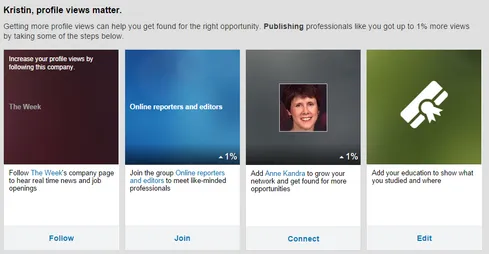 These actions might include following a particular company, joining specific groups, connecting with particular people, or adding more information to your profile. You can dismiss any suggestion by hovering over the card and clicking the X.
"If your primary reason for using LinkedIn right now is to position yourself as a thought leader, you can use the personalized tips or activity overlay to determine which actions you are taking or could take to make the biggest impact when it comes to attracting industry influencers to your profile, rather than just recruiters or hiring managers," Kamat said.
2. Use profile views as a warm intro
If you notice a profile view from someone you admire professionally, have shared interests with, or who is from a company you're interested in working for, send them a message to introduce yourself, Kamat said.
"When someone views your profile, it's a great opportunity to reach out and introduce yourself," Kamat said. "Perhaps they work at a company you're interested in partnering with or working for, or maybe they're part of a conference you're interested in speaking at. Whatever the reason, a simple view to your profile could be the warm introduction that kick-starts a valuable relationship."
3. Deep-dive into analytics
The "Who's Viewed Your Profile" analytics have a number of levels you can dive into for more insight into the people you attract.
For example, click on a data point in the chart showing your weekly views -- perhaps one where you saw a spike in activity. The statistics in the bar below the chart will update to show you how viewers found your profile, whether they're from a particular company, and their titles. Click any of these for more information.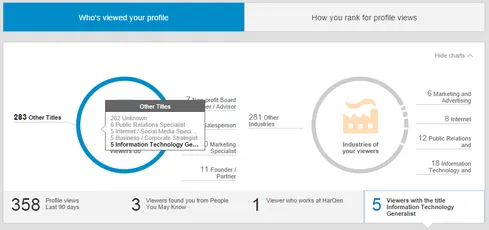 "Use this information to make informed edits to your profile," Kamat said. "Perhaps you're attracting recruiters from CRM software companies, but you really want to be attracting professionals from accounting software companies. This is a solid indicator that maybe it's time to reevaluate the information on your profile."
Two actions Kamat advises you take include re-evaluating your skills section and adding more appropriate keywords to your profile to ensure you attract the right people.
"Layering who is looking at your profile over the actions you have taken lets you focus on the actions that are most relevant to your professional goals, maximizing the engagement your profile receives," Kamat said. "In turn, this increased engagement can lead to more opportunities for you."
Just when conventional wisdom had converged around the cloud being a software story, there are signs that the server market is poised for an upset, too. Get the 2014 State of Server Technology report today (free registration required).