Salesforce introduced two important evolutions of Pardot business-to-business marketing automation capabilities on Thursday, unveiling Intelligent Engagement Studio for marketers and announcing the imminent release of Sales Cloud Engage, a tool that lets salespeople launch micro B2B campaigns.
Intelligent Engagement Studio will be the core of the next release of Salesforce Pardot, the cloud-based B2B marketing automation suite that Salesforce picked up through the Exact Target acquisition. While Exact Target became the Salesforce business-to-consumer Marketing Cloud, Pardot, which Exact Target purchased less than year before its own acquisition, is the B2B marketing option within the Salesforce Sales Cloud.
[ Want more on marketing? Read Oracle ID Graph Helps Marketers Target Customers Anywhere. ]
Intelligent Engagement Studio, which is set for release in the second half of this year, introduces a Campaign Canvas visual design interface for building prospect-nurturing programs and workflows. The visual approach makes campaign design work easier, according to Salesforce, and it offers more than 100 predefined behavior triggers that can be used to determine workflow routing.
"Prospects are now interacting with forums and social channels, they're reading reviews, and they're downloading reports or apps before they ever interact with a sales rep," said Adam Blitzer, senior vice president and general manager of Salesforce Pardot, in a phone interview with InformationWeek. "Companies should look at those behaviors as clues as to how and when customers want to engage in a buying process."
Unfortunately, far too many companies aren't looking at those clues because their B2B marketing system is a silo, Blitzer said. Salesforce Pardot not only captures and scores this kind of behavior, it passes it along to sales reps -- through Salesforce, Salesforce1 mobile apps, or email -- using those 100-plus behavioral triggers to pass leads to the right salespeople at the right time.
The Campaign Canvas also offers in-line reporting, so individual tasks in a nurturing workflow will turn green, yellow, or red depending on their current performance levels. If an email campaign's open rate falls below a user-defined threshold, for example, it will trigger an alert to marketers and a prompt to try a shorter subject line or different content.
"Marketing reporting is typically separated from execution, so you get a jumble of numbers, and you have to toggle between systems to make sense of the data," said Blitzer. "This system shows you the performance data in line, and it suggests actions to take based on your book of best practices."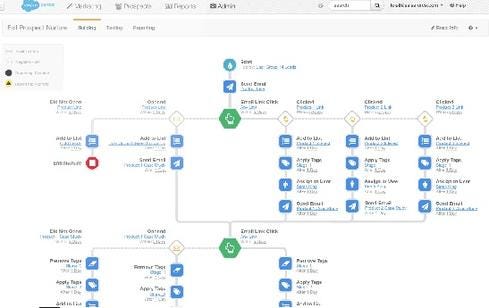 The second part of Thursday's announcement is Sales Cloud Engage, which was originally previewed last summer as Salesforce1 Sales Reach. The goal of the offering is to give salespeople self-service access to approved marketing content in Salesforce Pardot so they can create micro-campaigns, track responses to those campaigns, and get notifications when prospects interact with campaign content, such as downloads, event invites, or videos.
Salespeople will be able to invite prospects to join communities, and they will be able to do all of the above through their Salesforce1 mobile apps.
"The power users of marketing automation systems are marketers, but we want sales reps to be able to send their own campaigns that are personalized and tracked," Blizter said, noting that for every one marketer there are often 20 to 30 sales reps who need support. "With Sales Cloud Engage, marketers can empower their sales reps by making templates available that they can access in the Sales Cloud."
Pardot has had some degree of integration with Salesforce since becoming a partner in 2007. The company has now been part of Salesforce for nearly two years. Pardot, according to Blitzer, is the number one choice for B2B marketing automation on the Salesforce platform.
However, the company has rivals in such systems as Eloqua, Marketo, and others.
Whether starting from scratch or considering an upgrade from another system, the question for marketers is how deeply entrenched they might be on rival platforms versus just how much deeper integration might be with Salesforce Pardot.
"There are a lot of good choices for Salesforce customers, and there always will be, but we have access to the technology before it comes out. We're part of the Sales Cloud team, so our R&D teams work together, and we focus 100% on Sales Cloud, whereas other companies have to split their focus," Blitzer said.
Salesforce Pardot is an optional add-on to the Sales Cloud, priced per organization based on three available tiers of service and volumes of customer contacts. Pricing starts at $1,000 per month for up to 10,000 contacts. Sales Cloud Engage is expected to be generally available April 23 and will cost $50 per user, per month.
Attend Interop Las Vegas, the leading independent technology conference and expo series designed to inspire, inform, and connect the world's IT community. In 2015, look for all new programs, networking opportunities, and classes that will help you set your organization's IT action plan. It happens April 27 to May 1. Register with Discount Code MPOIWK for $200 off Total Access & Conference Passes.