Product Process
Product Process
Innovation and regulatory demands spur growth of product life-cycle management The Food and Drug Administration's decision last week to require food makers to disclose the amount of trans fats in their products is going to set manufacturers scrambling to revise the formulas of some of their best-selling munchies by January 2006, when the labeling law goes into effect. They might do well to follow the lead of RPM International Inc., a holding company for chemicals manufacturers that has learned a thing or two about how to revise product formulas most efficiently when faced with new regulations.
RPM International, whose companies make products such as Rust-Oleum paint and Dap caulking, faces hundreds of thousands of dollars in potential fees, thanks to a levy California imposed this month on products that release volatile organic compounds into the air. RPM is using product life-cycle management (known as PLM) software from Formation Systems Inc. as it revamps formulas to reduce gradually the amount of volatile organic compounds its products emit, and so reduce the company's liability. By centralizing all product data, "we can immediately run a report to see who uses what and how much," CIO Paul Hoogenboom says. PLM software supports collaboration among product designers, sourcing professionals, and engineering and manufacturing staff for cost-analysis of replacement materials, optimizing new formulas, and automating purchase approvals to make sure altered products get to market fast.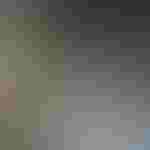 Life-cycle management products help RPM's manufacturing companies stay competitive, CIO Hoogenboom says.



Photo of Paul Hoogenboom by Roger Mastroianni

ARC Advisory Group expects the market for PLM software and services to grow from $6.3 billion this year to $14.1 billion in 2007. Automotive and other discrete manufacturers have been using PLM variations for years to help introduce products, with a heavy emphasis on computer-aided design and product-data management (see "Revving Up," April 1, 2002). The leaders in the PLM market, EDS and IBM, in conjunction with its partner Dassault Systemes, sold about $3 billion worth of PLM software and related products last year, mainly to the auto industry.
The pressure to cut costs, innovate based on customer demands, reduce time to market, and adhere to a changing slate of regulations is broadening the appeal of PLM technology to more industries, particularly heavily regulated ones such as consumer packaged goods, pharmaceuticals, and life sciences. Those industries were responsible for about 15% of all PLM license revenue last year. They're attracted by PLM software's ability to link together all the people (including customers and suppliers), databases, and processes required not only to design, build, and deploy products but to maintain and improve them, as well. For instance, such software lets companies loop in post-sales data or updates on the latest government mandates.
Product life-cycle management applications tuned to vertical markets are on their way. Formation Systems last week disclosed a partnership with Accelrys, a Pharmacopeia Inc. subsidiary that makes research software. They plan to develop a PLM package aimed at pharmaceuticals companies. This week, Agile Software Inc. will launch a vertical suite of PLM technology aimed at helping medical-device makers improve processes for securing FDA approvals and addressing document-compliance issues. Agile plans suites for pharmaceuticals and consumer packaged-goods companies later this year.
The enterprise resource planning vendors won't be left out. Oracle says life sciences is one of four markets it's focusing on with its first full-featured PLM product, introduced last month. SAP sees a tremendous opportunity for PLM technology among process manufacturers and, by year's end, plans an application built on top of its NetWeaver integration technology to blend data from other enterprise systems with product data, says Stephan Schindewols, VP of PLM.
EDS added to its automotive and aerospace TeamCenter PLM line in the spring with a process-manufacturing offering for the consumer packaged-goods industry, while MatrixOne Inc. unveiled Specification Central for consumer packaged-goods, medical-device, and life-sciences companies. Procter & Gamble Co. had a hand in the development of both those products. When P&G went looking for an off-the-shelf package a couple of years ago, there wasn't one for its industry, so it teamed with EDS and MatrixOne to build vertical software on top of their existing platforms. Today, P&G runs a worldwide PLM system that manages about 400,000 specifications, including product formulas, packaging information, processes used to make products and test raw materials, and regulatory compliance for all the countries in which it does business.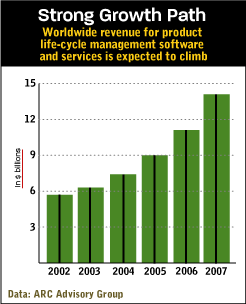 Previously, the company relied on more than 30 systems around the world to maintain this data, including E-mail and even paper. So developers of a new shampoo, for instance, didn't always know that a dye they planned to use had already been through the months-long testing process the FDA requires as part of a different product-development effort. The new system, used by some 11,000 employees, is "a good window into exactly what we're producing, where we're producing, the packaging we're using, and where products are going to be sold," says Dan Blair, director of worldwide technical standards and systems at P&G.
P&G cut from 1,000 to 10 the number of dyes it uses for molded bottles and parts, delivering about a 20% savings on dye costs. It also saved about 15% of the costs for adhesives used on products such as diapers by cutting the number of adhesives used from 54 to three and refining the processes for applying them. Getting that kind of payback is critical, as a large company can spend millions of dollars on a PLM project, says Kevin O'Marah, an AMR Research analyst. PLM helps ensure that P&G's packaging artwork meets labeling require- ments around the world, too.
RPM International also has to adhere to international and stateside labeling rules, such as California's Proposition 65, which governs the labeling of consumer products that contain toxic chemicals. The manufacturer subscribes to more than 370 lists for regulation updates, which it imports into its life-cycle system. There it maintains a companywide master list and cross-references that against 35 ERP systems running in its portfolio companies in the United States and Europe, keeping business-unit decision makers up to date. "It's one of our key tools for how we proactively stay ahead of the curve," Hoogenboom says.
In a tough economy, it's more important than ever to stay ahead of the curve when it comes to customer needs. For years, Huber Engineered Materials, a maker of products such as silica and silicates that add abrasiveness and flavor to toothpaste, had a tried-and-true formula: make new products, then find the market. But with an ever-shrinking time line from product introduction to commoditization, the company had to change. "You're forever serving big customers, and they're always trying to use their power to push prices down, and the way to resist that is to continually have a new stream of products come out," says John Takerer, VP of strategy and growth at Huber Engineered Materials, a division of J.M. Huber Corp.
The company set a goal of having a quarter of its revenue come from new products by 2005, up from 13% today. To get there, Huber invested in PLM software from Sopheon plc called Accolade, which helps companies connect product strategies to sales and marketing. Pfizer Malaysia-Singapore last week said it will use Accolade to ensure that the knowledge it gains from development projects gets reused.
Other companies also use PLM to more efficiently serve customers. Mane, a $280 million-a-year French maker of flavors and fragrances, needed a searchable library of its 14,000 formulas in order to do a better job developing samples for its food-company and perfume-maker clients. So Mane is going live with a deployment of Formation's Optiva PLM software in September; the initial rollout will be at the company's research and development facilities in Mexico, at a cost of nearly $1 million for software, hardware, training, and services.
But it's worth the cost. Once the system is live, it will feature automated workflow, so that when a sales rep enters a customer's request, it will alert the correct R&D team. Being able to check a request against that database will prevent the company from developing flavors or fragrances it already has, says Gilbert Besnard, Mane's international information systems manager.
The future of product life-cycle management software may be far-reaching. EDS is looking closely at the pharmaceuticals market, because the mapping of the human genome is expected to cause an explosion of data at drug companies, says John Howaniec, president of EDS's PLM industry solutions. PLM will be the right tool to help maintain that data and accelerate drug discoveries, he says. That's innovation everyone could benefit from.
Continue to the online sidebars:
Never Miss a Beat: Get a snapshot of the issues affecting the IT industry straight to your inbox.
You May Also Like
---