Mary Meeker: Internet Growth, Smartphone Sales Slow Down
Major digital trends in Meeker's report this year include the overall slowdown of internet growth, the evolution of web search, and the effects of messaging apps and digital assistants.
Mary Meeker, partner at Kleiner Perkins Caufield and Byers (KPCB), compiles and publishes data on top digital trends in her annual Internet Trends report.
Meeker's accounts spotlight the most influential trends and statistics shaping the future of technology. Her data has become hot reading material for industry watchers.
This year, Meeker's report addresses a broad range of global tech trends, including the evolution of internet growth, digital advertising, transportation, messaging apps, web search, smartphone adoption, and digital assistants.
[Read: Xiaomi snaps up 1,500 Microsoft patents, preps for global expansion.]
Here, we take a closer look at some of the key trends published in Meeker's "2016 Internet Trends" report.
Internet Growth
Overall, global internet adoption has started to lag. The growth of online users remained flat at 9% year-over-year. About 3 billion people were connected online, a number that equates to 42% of the global population.
Internet growth is supported by rapid adoption in India, which now has 227 million people online. The number surpasses the current US total. That makes India the second-largest global user market after China.
Meeker notes it's difficult to boost the number of new internet users because developed markets are so highly penetrated. Many people who are still offline live in places where connectivity doesn't exist, a problem that tech giants like Microsoft and Google are working to address.
Smartphone Sales
Global growth of smartphone sales has also slowed, Meeker found. The Asia-Pacific market is currently the largest for smartphone growth, with an increase of 18% growth between 2005 and 2015.
In terms of operating systems, Android is gobbling up marketshare even though the price-per-unit has fallen. Between 2009 and 2015, Android grew 77%. In comparison, iOS grew 2% during the same time period.
The Human-Computer Interface
Voice-based interfaces are becoming more popular, since they provide faster, easier, and more personalized communication than typing. This is setting the stage for a new future of human-computer interaction.
The computing interface is slowly changing from keyboards to a combination of microphones and keyboards. Meeker found one in five US-based Android searches on mobile apps are voice-based searches, and the number is growing.
Transportation
The evolution of human-computer interaction will also affect transportation. Today's cars already have embedded or tethered connectivity to support services like CarPlay and Android Auto. In the future, cars could be capable of vehicle-to-vehicle or vehicle-to-infrastructure communication.
Meeker points out the US has potential to reestablish itself as a global hub for the auto industry. With so many American companies (like Google, Tesla, and Uber) working to disrupt the auto industry, the US has several key players working on the future of auto tech.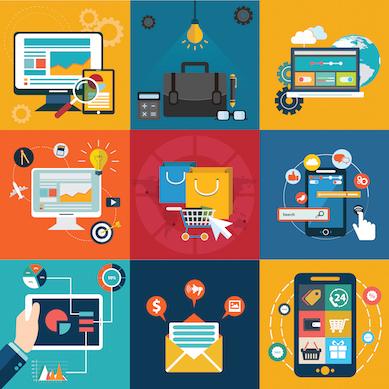 How We'll Communicate
The growth of video and image communication continues to skyrocket among consumers, advertisers, and creators, Meeker reports.
More people, especially those in younger generations, are using their smartphone cameras to tell stories creatively. Facebook and Snapchat take the lead for video views, with 8 billion and 10 billion views per day, respectively.
Text-based messaging also continues to grow. WhatsApp is the market leader in this space, followed by Facebook Messenger and WeChat. Messaging is evolving from basic social conversation to more expressive communication, said Meeker, and messaging apps are becoming the new home screen.
Digital Advertising
Growth of internet advertising has accelerated in the US. Google and Facebook dominate this sector with 76% marketshare, and their control is growing.
Most growth has been on mobile devices, which have seen a 66% increase in online advertising compared with 5% on desktop. Despite its popularity, Meeker's data indicated most advertisers continue to invest in legacy media over mobile. The missed opportunity amounts to about $22B in the US alone.
Kelly Sheridan is the Staff Editor at Dark Reading, where she focuses on cybersecurity news and analysis. She is a business technology journalist who previously reported for InformationWeek, where she covered Microsoft, and Insurance & Technology, where she covered financial ... View Full Bio
We welcome your comments on this topic on our social media channels, or
[contact us directly]
with questions about the site.