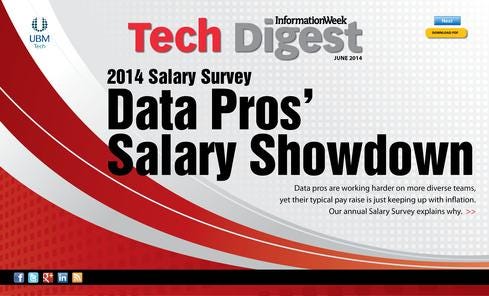 Download the entire 2014 Salary Survey issue of InformationWeek Tech Digest
, distributed in an all-digital format (registration required).
Optimization. It's a big reason organizations hire business intelligence and advanced analytics professionals and supporting data integration and data warehousing experts. We've tracked IT salaries for more than a decade, and the bad news for workers in these (and other) IT categories is that they themselves are now being optimized.
It's not that they're being put out of their jobs. Far from it. Data-savvy talent is scarce. As a result, many orgs are spreading this expertise as broadly as possible. Centralizing advanced analytics talent is one way to share: Where these experts used to focus on just one area, such as risk analysis or customer segmentation, our data shows that they're now likely to be part of teams that engage with multiple business units. The result: Companies are getting more mileage out of their talent.
That's not bad news, as it means that data-savvy employees are taking on diverse challenges -- something curious, data-oriented people seem to thrive on. What is bad news is that salaries for most BI and data warehousing jobs are merely keeping up with inflation. For the 301 staff- and 253 managerial-level intelligence/analytics professionals in InformationWeek's 2014 US IT Salary Survey, staffers report a median base salary of $87,000 and a median increase of 1.9%, and management base salaries are at a median level of $110,000 with a median increase of 1.7%. Data integration/warehousing staff report a strong median base salary of $100,000, but a median change of 0%.
Integration/warehousing managers drew a healthier median increase of 2.8%, with a median base salary of $120,000. For our full InformationWeek Salary Survey of 11,662 IT professionals, median staff base salaries are up to $88,000 in 2014 with a median reported increase of 1.4%, while median management base salaries rose to $112,000 thanks to a slightly healthier but still modest median increase of 2.0%.
Whether you're an employer trying to save a few bucks -- or an employee looking for higher compensation -- the pressure is on to drive data-driven decision-making into the business. Data-savvy individuals who can understand and serve business requirements are eminently employable. Here's a look at how BI/analytics, integration/data warehousing, and data science teams are being organized, how employers are hiring, and the traits they're looking for.
For full salary data and analysis, check out our special coverage.

Make the most of it
It should come as no surprise that many IT salaries are stagnating. We're living through a tepid economic recovery with slow job growth. The modest increases seen in our survey reinforce the perception that companies are doing more with the same or even fewer resources. In fact, analytics expertise is now routinely applied to the HR challenge of keeping a lid on salaries. Analytical workforce planning applications, for example, help companies maximize revenues in relation to labor costs. According to a just-released study by PwC Saratoga, metrics and analytics unit revenue per full-time equivalent increased for the second year in a row in 2013, from $370,399 to $404,058.
But employers don't hold all the cards. Turnover and hiring are both on the upswing, the PwC Saratoga study found, and here, too, companies are using predictive analytics in their candidate-selection process, according to PwC. In fact, advanced analytics technology and techniques are being embraced more broadly than ever. Retailers (88%), financial services (91%), telecommunications companies (93%), and healthcare organizations (94%) are all highly likely to have dedicated analytics teams, according to research by SAS. But with the exception of financial services, where analytic methods are entrenched, more than half of the teams in retail, telecom, and healthcare have been established within the last five years. Healthcare is the newest adopter, with 55% of firms in this industry establishing dedicated analytics teams just within the last two years.
There's evidence, too, that these analytics teams are centralized rather than focused on specific functions. In retail, for example, 48% of teams are centralized, 18% have a hybrid structure, and 28% are decentralized, according to SAS.
To read the rest of this story on salaries for data pros, download
the new issue of InformationWeek Tech Digest (registration required).