It's Time to Reinvent Your BI Strategy
It's Time to Reinvent Your BI Strategy
Four trends are changing the face of business intelligence, according to a new report by Forrester Research. Here's the analyst's take on the shift along with ten suggested best practices for forging an up-to-date strategy. Business intelligence (BI) sits at the top of the IT priority list for many enterprises. Enterprises that haven't paid enough attention now see a need to act, and those that have kept up with BI want to consolidate their siloed implementations.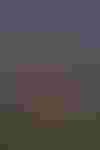 Boris Evelson

How do you get started? Enterprises face many choices, and they cannot begin with vendor selection. Tasks like data governance, matching requirements with logical architectures, and picking an experienced architect and implementer should be at the top of the list.
This synopsis of Forrester's recent report, "It's Time to Reinvent Your BI Strategy," offers an abbreviated look at the paper's insight on four trends and ten best practices you should look toward to reshape you BI strategy.
BI: No Longer Just About Reporting
Forrester defines BI as a set of processes and technologies that transform raw, meaningless data into useful and actionable information. The crowded market segment of BI often gets mislabeled, can be very complex, and constantly changes. The BI market pulses with alternative approaches, contradictory technologies, and hundreds of vendors that constantly move to consolidate, innovate, and leapfrog one another. Enterprises at the beginning of a perilous BI journey need guidance and help untangling the web of BI complexities.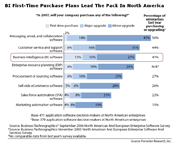 BI First-Time Purchase Plans (click image for larger view)
For first-time purchases, BI applications actually lead the pack of application software priorities with 13 percent of enterprises planning a purchase in 2007 (see "BI First-Time Purchase Plans" chart). Here's why:
Enterprises can't just focus on being efficient anymore. Squeezing more efficiency from operational applications such as ERP, CRM, or SCM no longer helps enterprises to stay competitive. BI-enabled applications are needed for business processes and business operations to become more effective. For example, workflow and rules can be used to efficiently process a customer credit application, but BI analytics can effectively segment a customer population and target credit offers to specific customer segments for a better response and improved cross-sell and up-sell ratios.
Explosive data growth demands serious attention. Digital data volumes — both structured and unstructured — are growing by 30 percent per year. The kind of lightweight spreadsheet-based BI applications common today won't be enough for reporting on and analyzing mountains of data tomorrow.
The New BI Architecture and Ecosystem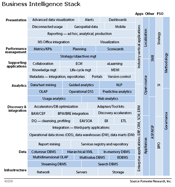 Business Intelligence Stack (click image for larger view)
Reporting and analytics — or the so-called "presentation" layer of BI — is just a small part of the BI stack. Real, successful, industrial-strength BI implementations need to account for and include many more layers (see "Business Intelligence Stack" diagram). Because no vendor offers all of the components (or at least best-of-breed components) in a single unified offering, enterprises face difficult integration challenges.
Not only must organizations integrate these 40-odd components, they also need to choose which type of vendor best suits their business, technical, and operational requirements (as outlined in the "Business Intelligence Vendor Categories" chart and the "How-to-Choose" chart).
BI Opportunities Outpace Organizational Abilities

Business Intelligence Vendor Categories (click image for larger view)
Business processes have become automated enough for business users to start thinking ambitiously. Opportunities for BI innovation and differentiation appear at every turn. To protect your BI investment, Forrester believes you should watch and consider the following major market trends:
Convergence of structured and unstructured content analyses. Modern analytics blends unstructured data with traditional structured data to give users the ability to detect patterns and run what-if scenarios. Consider retail customer segmentation: The old way meant combining customer sales with customer and store demographics. Today retailers on the cutting edge realize that adding comments and complaints from e-mail and call centers will significantly enhance their segmentation analysis. You could always pore through text manually and code it along criteria you developed, though few ever do because of the time and effort it requires. BI calls for these connections to be automated, so analysts can focus on turning insight into action instead of hunting through multiple mail systems, phone systems, and enterprise applications.


How to Choose (click image for larger view)
Combining data with process awareness. BI and business process management (BPM) have always addressed a common need separately, bringing people and information into alignment.
BPM might make processing a customer credit application less expensive, but analytics can use sophisticated customer segmentation to increase cross-sell and upsell ratios in real time during a customer interaction — when it counts. Expect solutions to combine data and process dashboards, event-based actions triggered by data conditions that initiate a business process, and traditional BI layers (reports, dashboards, and analytics) responding seamlessly to business processes across multiple systems.
Entry of relational database alternatives. The relational database management system (RDBMS) was originally designed to execute small transactions, not to examine large volumes of data with BI queries. Over the years the technology has caught up, but RDBMSes still have to shoehorn two personalities into one body. Alternative DBMS models (see "DBMS Type Fit," chart) will increasingly enable BI for two big reasons: 1) removing the bias between structured and unstructured data, and 2) OLAP query processing.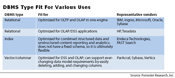 DBMS Type Fit (click image for larger view)
Explosion of dimensions to support future BI analysis. Traditional cross-tabular reporting quickly becomes useless once you exceed more than a few dozen dimensions, no matter how sophisticated the "slicing and dicing" interfaces are. One possible approach is so-called "guided analytics," where users can rapidly mix and match dimensions interactively. Another is visualizing patterns graphically, giving users a big-picture view of extremely large data matrices for identifying trends; SAS JMP and Spotfire lead here.
10 Best Practices for Kicking Off Your BI Strategy
Don't let multiple components, vendor categories, requirements to integrate, pressure to watch out for multiple trends, and emerging technologies discourage you. Putting together a successful BI strategy and implementation requires more art than science. The following best practices can help to avoid common pitfalls.
1. Choose a senior C-level (non-IT) executive to sponsor and champion data governance organization — someone who understands that without measurement (meaning, BI) there is no management.
2. Proceed to creating and empower data governance and data stewardship organization.
3. Conduct analysis of the current state as a starting point of the BI strategy journey.
4. Define logical and physical data requirements, which will serve as the basis and will drive the rest of the BI architecture.
5. Identify all types of users involved in the BI initiative. Remember: Not all users are created equal.
6. If appropriate to your organization culture and environment, start with an industry-standard analytical data model.
7. Make sure that all BI stack components (not just the obvious ones) are addressed in your BI strategy vision and architecture.
8. Pick a reputable systems integrator partner with extensive BI strategy and implementation background.
9. Make sure that the strategic road map is divided into "baby step" tasks, with concrete deliverables no more than a few weeks apart.
10. Pick high-value, low-cost, low-complexity targets for the first few iterations to ensure initial success and momentum.
For Forrester's in-depth advice on carrying out these ten best practices, with detailed charts on architectural pros and cons and decision latency, download the free, 18-page report (registration required).
Boris Evelson is a Principal Analyst at Forrester Research and a leading expert on business intelligence. For more information, visit www.forrester.com.
Never Miss a Beat: Get a snapshot of the issues affecting the IT industry straight to your inbox.
You May Also Like
---