Innovation in healthcare technology takes a lot more than a good idea.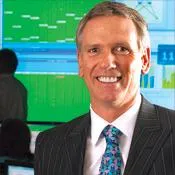 UPMC CIO Dan Drawbaugh
Consider telemedicine. Not only must a patient and doctor agree that a video session is OK to replace an in-person visit, but so must the insurance company that pays for the session, the government bodies that regulates it, and the hospital that supports it.
The complexity involved is a big reason healthcare provider the University of Pittsburgh Medical Center thinks it can help create breakthrough IT products. And it's why UPMC has set up a more than 120-person Technology Development Center to refine technology that UPMC can use in-house and market to other healthcare providers and payers. The goal is to make UPMC in-house IT a profit source.
"Almost everything I'm doing I'm thinking, 'Can I make it into a commercial product?'" says UPMC CIO Dan Drawbaugh.
I'll be interviewing Drawbaugh live on InformationWeek.com on Tuesday (December 3) at 2:00 p.m. EST/11:00 a.m. PST, and you can listen to the on-site radio program and join in the discussion via text chat. We'll discuss UPMC's model for tech product development, Drawbaugh's views on cloud computing in healthcare, the role of technology in healthcare reform, and more. I'll also ask him about Healthcare.gov, and take questions from listeners via the on-site text chat. (UPMC is the No. 1 company in this year's InformationWeek ranking of the most innovative users of business technology.)
UPMC isn't creating health tech products from scratch. It nearly always partners with a technology vendor to develop something new. The strategy is for UPMC to bring its specific knowledge about the healthcare industry, letting clinicians try emerging technology and offer their feedback to shape development. The vendor brings technology and market expertise.
UPMC sometimes takes an equity stake in startup tech vendors it works with, or it creates a joint venture to develop a product if it's working with a more established vendor.
Which technology areas does UPMC see as the most promising? Drawbaugh points to analytics, where UPMC has partnered with Oracle, IBM, and Informatica. Another is technology to manage the risks that healthcare providers take on as part of healthcare reform, since how much they get paid to do a surgery will depend in part on how well a person does after that surgery.
Please bring your own questions, which you can type in on the site as you listen to the interview. Register for this radio chat session here. (If you're already a registered InformationWeek member, skip to the bottom of the form and sign in with your login.) We hope you'll join us on Tuesday, December 3, for the first of what will be a series of radio chats with accomplished CIOs.