How Many Clouds Does Your Organization Really Need?
How Many Clouds Does Your Organization Really Need?
If the outlook is scattered clouds, you may be overdoing things. Learn how to determine your organization's optimal number of clouds.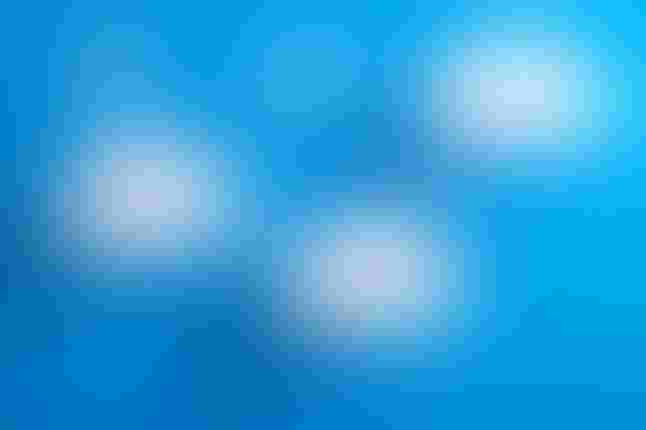 simon bratt via Alamy Stock
At a Glance
Cloud Simplicity Over Complexity

Runaway Cloud Deployments

Cloud Providers and Differentiated Capabilities
So many clouds, so many cloud choices. Back in the early 20th century, General Motors bragged, "a car for every purse and purpose." Today, there seems to be a cloud for every possible use case.
Cloud proliferation is a growing concern. The cloud's advantage is simplicity and agility, and multi-cloud has become the preferred state to optimize the cloud experience, observes Bryan Thompson, vice president of HPE GreenLake cloud services. "However, with too many clouds, enterprises trade simplicity for management complexity and higher costs."
A Danger in the Clouds
A specific cloud can offer unique functions, but becoming overly reliant on those capabilities may actually introduce complexity and inadvertently create a more costly cloud infrastructure, Thompson notes. "Multiple clouds can create an inconsistent management, integration, and performance experience that necessitates unique tooling and processes for each cloud," he warns.
Runaway cloud deployments can also lead to reduced productivity and growth. "Most businesses run what they consider killer apps, which pay the bills," says Leo Leung, vice president, Oracle Cloud Infrastructure and Oracle Technology. "Those applications should operate on a cloud optimized for that sort of work."
In the pre-cloud era, IT leaders might pick one software stack for databases, another for desktop applications, and yet another for graphics production. Leung suggests that today's enterprises should look at which cloud is best for each critical workload. "Picking one cloud for everything is riskier than adopting the right cloud for the right job," he notes.
The Numbers Game
The number of clouds an enterprise uses isn't as important as having clouds that meet current workload needs. "If you have 100 applications that follow two patterns of characteristics, then you likely need one or two clouds," Thompson says. "But if you have thousands of applications with distinct requirements, or need a proprietary cloud service, then you should consider more clouds."
IT leaders should look at their most important applications and select the best cloud for each, Leung advises. He notes that multiple researchers have discovered what most enterprise leaders already know: They need more than one cloud. Oracle's 2023 survey of 1,500 global IT leaders, for instance, found that 98% are using or plan to use at least two cloud infrastructure providers. Nearly a third of those respondents -- 31% -- said they already use four or more clouds. The verdict is in, Leung says. "A company may use two, three, maybe even four clouds, but not just one."
Seeking Efficiency
Every great athlete knows that efficiency requires discipline. "The more flexible an enterprise is in terms of how they deploy workloads, the less disciplined and consistent their execution will be, which can make it more difficult to establish protections for cost, security and reliability," Thompson explains. "If you're using infrastructure as code, and you've hardened the code on a single deployment, that's very efficient and simple for the enterprise to manage [in terms of] deployment and reliability."
Besides selecting the right cloud for each application, IT leaders may wish to also keep their options open should the status quo suddenly change. That may seem contradictory, but it's actually common sense, Leung says. "If one cloud, for example, stops supporting their needs, they should be able to move to another."
Additionally, most large enterprises will likely still require that at least some particular sensitive applications must run in-house or on-premises. Such organizations should look for a cloud provider with services that work well in a hybrid deployment model. "The notion of a distributed cloud, where cloud services can be deployed in any location, with a variety of operational strategies to meet regulatory needs, has become a reality, Leung states.
Final Thoughts
Both public and private clouds should be essential tools in an overall IT game plan. "Your cloud strategy should optimize workloads for TCO, security, performance and locality, while delivering an exceptional customer experience," Thompson recommends.
The public cloud arena has morphed radically in the last decade, Leung states. "What was once a one-cloud-fits-all arena, there are now multiple reputable and capable public cloud providers, each of which provide robust basic services as well as differentiated capabilities for certain applications."
Enterprises performing cloud assessments should carefully consider all of their options and make an informed choice, Leung advises. "The multi-cloud era reflects the pre-cloud enterprise IT landscape, which depended on tech from multiple vendors running on premises," he observes, noting that enterprises have always relied on heterogeneous solutions. "With multi-cloud, 'best of breed' is back."
Never Miss a Beat: Get a snapshot of the issues affecting the IT industry straight to your inbox.
You May Also Like
---