Verizon CEO Talks 5G, Drones, and Compute at the Edge at CES
Verizon CEO Talks 5G, Drones, and Compute at the Edge at CES
Keynote speaker on the first night of tech conference laid out possibilities that are opening up through the new broadband cellular standard.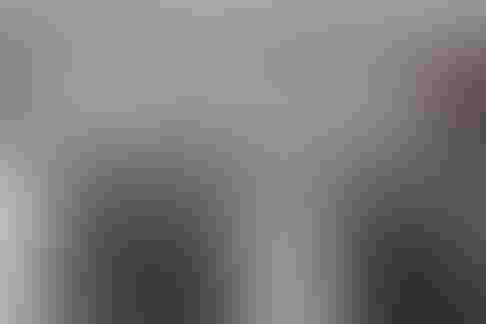 Image: DW labs Incorporated - stock.adobe.com
In the opening day keynote for the virtual CES conference, Verizon CEO Hans Vestberg laid out how the communications giant expects 5G wireless connectivity to be a catalyst for transformation.
The move to the higher capacity broadband standard has been trumpeted by others as the beginning of a new frontier with huge amounts of data moving wirelessly. Vestberg said the speed of 5G would reveal new possibilities that transform the world from playing video games to receiving deliveries.
"Mobile edge compute will allow businesses to get things done more quickly and easily," he said. Vestberg talked up the upload and download speeds of Verizon's 5G Ultra Wideband network, which he said sees peak throughputs of at least 10 times faster that the 4G standard and more than 4 gigabits under ideal conditions. The extremely low lag of 5G, Vestberg said, could eventually make extremely delicate procedures such as remote surgery possible.
He also expects the new broadband standard to ramp up the population of connected wireless devices. "In the future, 5G could support more devices than ever before," Vestberg said. "Up to one million per square kilometer." The wireless connections could also be support on devices moving more than 500 kmph, he said, allowing users to maintain signal on highspeed vehicles such as commuter trains, aerial drones, or self-driving cars.
This may further accelerate how and where computing gets down. "Mobile edge compute," Vestberg said, "places unprecedented levels of computing power right at the edge of Verizon's 5G network." Such efforts are not being undertaken alone. In October, Verizon announced it teamed with Microsoft to offer a private 5G mobile edge computing solution to enterprises.
Also last year, Vestberg said, Verizon and AWS deployed public 5G mobile edge compute in Boston, Dallas, San Francisco, Atlanta, New York, Miami, Las Vegas, Denver, Seattle, and Washington, DC. "What does this mean?" he asked. "Taking processing out of expensive hardware, putting it into the cloud exactly where and when it's needed the most."
Vestberg expects there to be a democratization of computing resources through 5G and overall evolution of the technology landscape. "It will give large enterprises the ability to operate in real time," he said. "It will also make small phones and laptops more powerful than ever." This could give small business and stores access to technology that Vestberg said was once only available to large companies and major research institutions.
Different types of enterprises and organizations have been making plans to leverage 5G networks. For example, NFL Commissioner Roger Goodell joined Vestberg's keynote to talk about how the football league would make use of 5G to support its engagement with fans to stream data, stats, and video of the games. That includes bringing the new broadband standard to the Raymond James Stadium, where Super Bowl LV is scheduled to be played in February.
Other organizations that want to leverage 5G include Ghost Robotics, which develops robots that may have applications in enterprise, rescue, and military roles -- particularly to keep humans out of harm's way. "Think about a firefighter," said CEO Jiren Parikh. "Burning building. Robot goes in, can sense the fire and the gases." He said Verizon's 5G network is crucial to the capabilities of his company's robots. "As these sensors capture more and more data, and processing is taking place in the cloud, we have to have a very high bandwidth network that can transmit enormous amounts of information."
Commercial use of drones might also see a boost from the further development of 5G. Verizon acquired Skyward, a drone operations company, in 2017. During the keynote, Verizon announced a collaboration of its resources with UPS to explore the delivery of retail products via drones. Carol Tomé, CEO of UPS, said the package delivery and management company launched UPS Flight Forward, an aerial drone subsidiary, in 2019 and has since operated more than 3,800 successful deliveries via drone. "We continue to test new concepts that make this technology more accessible and effective for specialized deliveries," she said. That include deliveries in the medical sector for lab specimens and medications.
"Autonomous mobility, supported by advanced technologies like 5G and drones will be more critical in the future," Tomé said. As UPS Flight Forward continues to ramp up, she said the company will need the capabilities of the new bandwidth standard to support and securely manage multiples drones simultaneously. "To do this at scale, alongside Verizon and Skyward, we will need the power of 5G," Tomé said.
For more on 5G and computing at the edge, follow up with these stories:
The Inevitable Rise of Intelligence in the Edge Ecosystem
Nokia Enterprise Talks 5G Driving Industry 4.0 Acceleration
Exploring Edge Computing as a Complement to the Cloud
Never Miss a Beat: Get a snapshot of the issues affecting the IT industry straight to your inbox.
You May Also Like
---