Google Voice Rises To Replace GrandCentral
Google Voice Rises To Replace GrandCentral
New to the service will be the ability to receive SMS text messages sent to your Google Voice number on a mobile device, and sending messages from your Web-based Google Voice inbox. Google Voice


Google Voice
(click for larger image)

Google's online voice-mail and call management system GrandCentral will be reborn on Thursday as Google Voice, with several new features.
The service will remain in private beta for existing GrandCentral users for a few more weeks. But after that, Google expects to open Google Voice to the general public.
In an interview at Google's San Francisco office, Craig Walker, senior product manager for Google's voice products, described Google Voice as a service that can help organize chaotic communication channels.
Google Voice, in keeping with Google's mission to organize the world's information, provides a single phone number that routes incoming calls to six of the user's phones at once. It also provides a single online in-box for voice-mail messages.
"A telephone number should be personal to you," said Walker. "And with everything in one inbox, you now have only one voice mail to check."
Google Voice inherits GrandCentral's many features, including the ability to screen calls as if in a room with an answering machine, to record calls and access those recordings online, to block unwanted callers, and to receive notifications of voice mail via e-mail or SMS.
It includes various personalization features, such as the ability to set how calls to one's Google Voice number are routed, based on time or caller. It also allows personalized greetings, per user or group, and the ability to personalize the ringing sound that callers hear while waiting for you to answer.
Google Voice also features GrandCentral's WebCall Button, for connecting a would-be callers phone to yours using a Web-based button, the ability to initiate a call from your online address book, and visual voice mail.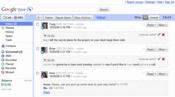 Google Voice

Google Voice
(click for larger image)

Earlier this week, Reuters reported that Google has settled a patent lawsuit over the visual voice-mail patent owned by Klausner Technologies.
Google Voice adds several new features: automated transcriptions of voice-mail messages, the ability to receive SMS text messages sent to your Google Voice number on a mobile device, and the ability to send SMS messages from your Web-based Google Voice in-box.
"Now that voice mail is text, everything is searchable," said Walker. He also noted that voice-mail recordings can be embedded in any Web page, a feature that's sure to provide countless hours of amusement as embarrassing messages receive public airing.
Walker acknowledged that Google Voice's automated transcriptions aren't perfect. The service indicates that by varying the shading of transcribed text, with darker words representing a higher level of confidence in the accuracy of the speech-to-text transcription. At some point, Google will probably tune its voice-recognition algorithm to recognize words in other languages and accents, but for the moment, voice-mail transcriptions are intended for speakers of U.S.-inflected English only.
Perhaps the most broadly appealing new feature of Google Voice is the ability to place free domestic calls in the United States and low-rate international calls to select countries. Walker demonstrated a call to the United Kingdom that was billed at 2 cents per minute, through Google Checkout. That's comparable to the price Skype charges to call the United Kingdom from the United States.
In addition, Google Voice provides easy conference calling. People simply call your Google Voice number and you can add them to a call in progress.
According to Walker, Google doesn't have a current plan to monetize the service. His mission, he said, was to make Google users happy. Google Voice may also make some telecom companies happy by increasing the use of billable SMS messages.
However, just as ads have found their way into other Google properties where they hadn't existed previously, ads may find a home in Google Voice in a year or two.

Learn more about unified communications at TechWeb's VoiceCon Orlando, March 30-April 2. Join us (registration required).

Never Miss a Beat: Get a snapshot of the issues affecting the IT industry straight to your inbox.
You May Also Like
---