Intellectual Assets Warrant A Second Look
Intellectual Assets Warrant A Second Look
Intellectual Assets Warrant A Second Look The most important assets for many companies aren't machinery or raw materials but their intellectual assets. They're as important as that "capital" and "means-of-production" stuff Karl Marx obsessed over--maybe more important.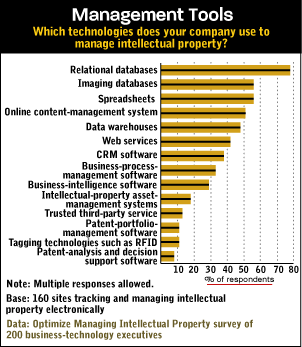 A survey by InformationWeek's sister publication, Optimize magazine, found that 44% of 200 business-technology executives say their IT organizations are more concerned about intellectual-property management than they were a year earlier. Nearly all the rest say their concerns are about the same.
How can businesses manage and safeguard intellectual assets? Most can't be locked in a vault. Nearly four-fifths of companies tracking and managing intellectual property electronically use mainstream relational databases to manage those assets. But some property is in the form of pictures, drawings, and other images not easily stored in relational databases, so more than half--56%--also rely on imaging databases to maintain those assets.
More than half also rely on spreadsheets such as Microsoft Excel to manage intellectual property, which means that spreadsheets are scattered about on employees' desktop computers rather than being centrally managed. That makes those assets more susceptible to theft or loss. Not many companies use applications that are specially designed to manage specific areas of intellectual property, such as asset management (18%) and patent-portfolio management (11%).
What's your IT workforce doing to better manage and protect the company's intellectual assets? Share your tactics with us at the address below.
Rick Whiting,
News Editor
[email protected]
Rollout Payoffs
What benefits has your company derived from tracking, archiving, tagging, or managing properties electronically?
Managing intellectual assets electronically provides better visibility of the company's intellectual property, according to 54% of the surveyed executives. They also cite improved protection from theft, increased accountability, and improved ability to share information companywide and with partners, and use those assets for regulatory compliance.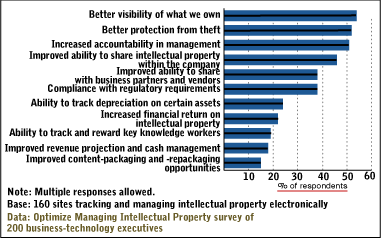 Administrative Mapping
Does your company have a master plan or blueprint for managing intellectual property?
Realizing something is important and of value is one thing, but developing and executing procedures and policies to protect and make use of it is more of a challenge. Some executives aren't prepared to manage intellectual assets, reports the Optimize magazine study. Only half of survey respondents have a master plan or blueprint for handling intellectual property. Thirty-six percent have no plan, while 14% are developing one.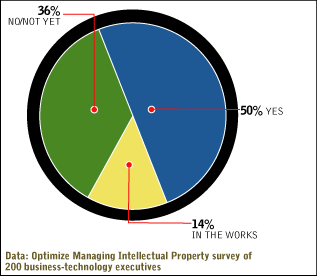 Favored Approaches
Which best describes the management of intellectual property at your company?
Management of intellectual property is generally being done on an as-needed basis. Electronically tracking and managing some intellectual assets but not others is the management style of nearly 60% of executives surveyed. Another 21% say they aren't managing electronically at present. Of the study's 200 participants, only 22% have extensive programs that track, archive, tag, and manage their companies' intellectual assets.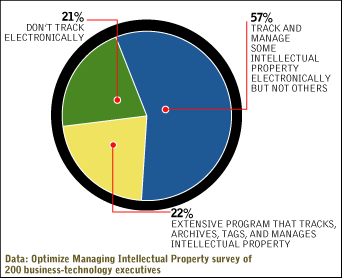 Mastery Lacking
How would you grade your company's mastery of intellectual-property management?
The executives generally agree that there's room for improvement when it comes to their mastery of intellectual-property management: Forty-one percent grade their efforts as decent and 31% call them mediocre. While only 13% consider their mastery excellent, the good news is that only 11% put themselves in the ineptitude category and 4% consider their efforts a total failure.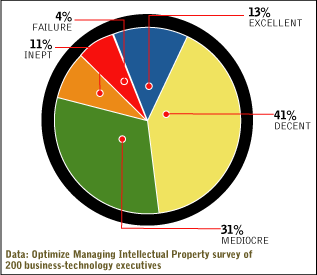 Never Miss a Beat: Get a snapshot of the issues affecting the IT industry straight to your inbox.
You May Also Like
---