HP ProBook 4720s Notebook Packs Full Keyboard, 17-Inch Display
HP ProBook 4720s Notebook Packs Full Keyboard, 17-Inch Display
You might not want to carry it around all day, but with its 17-inch display, full-sized keyboard, and six-hour battery life, HP's six-pound-and-up ProBook 4720s notebook provides affordable desktop-class power and productivity. You might not want to carry it around all day, but with its 17-inch display, full-sized keyboard, and six-hour battery life, HP's six-pound-and-up ProBook 4720s notebook provides affordable desktop-class power and productivity.For the several weeks, I've been trying out an HP ProBook 4720s Notebook PC.
HP's ProBook 4720s offers desktop-caliber power: you can get it with an Intel Core i3, i5 or i7 CPU, four to eight gigabytes of RAM, and a 250GB, 320GB or 500GB 7200RPM SATA II hard drive. It has a 17.3-inch diagonal LED-backlit HD anti-glare display -- big enough to look at most of a document while having other smaller windows open and visible alongside. It has a full-sized keyboard including a separate numeric keypad, and a generously wide touchpad. Compared to smaller notebooks and netbooks, these add up to a machine that's easy to be productive and comfortable working on.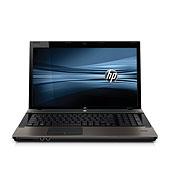 At starting weight of six and a half pounds, and 16.17 by 10.49 by 1.11 inches, this is the largest and heaviest notebook I've tried within the past several years; the various ThinkPads, ToughBooks and others I've had the pleasure of trying out have been mostly in the three-to-four pound range. It's not uncarriable -- I toted it around for a few hours at a recent local trade show -- but I wouldn't want to unnecessarily schlep it all day at a trade show. (It's also slightly too big to fit completely into any of the notebook/sidebags I've got.) But it's light and manageable enough for travel, e.g., to take for a day of meetings, a week at a client site, or to commute with. Impressively for a machine this size and power, the eight-cell battery lasts for around six hours, as claimed. Given its desktop-class processing and memory, the ProBook had, of course, no trouble running Windows 7 and a bunch of concurrent apps, juggling a few hundred photos, et cetera. You'll have no trouble running Microsoft Office, a browser, and whatever else you do on your desktop machine. And the display and sound are the best of any notebook I've tried to date (tested by watching an episode of a TV show that, due to storm-related power outage, our DVR couldn't grab). The features are what you'd expect in a business/prosumer machine of this size, class and price. The ProBook 4720s has a separate graphics card -- ATI Mobility Radeon HD 4350; a DVD/CD burner (there's even a Blu-ray ROM option). And the types and quantity of ports you'd expect in machine this big, including both VGA and HDMI, three USB slots and a USB/eSATA combo, and an ExpressCard slot in addition to the obligatory SD slot. According to Lora Gaige, HP's Product Marketing Manager at HP for the ProBook 4720s, the main market for this machine is SMB professionals looking for something affordable and stylish who may also want to do multimedia -- watching, and lightweight creation. E.g., accountants, engineers, designers -- the 17-inch widescreen makes it good for working on spreadsheets, doing at-the-desk presentations, and the like. Security/reliability features include HP 3D DriveGuard, which protects the hard drive against sudden drops and shocks; drive encryption; with the optional built-in webcam, facial recognition; and an optional fingerprint reader; a spill-resistant keyboard with drains, protecting against minor spills. One self-administrative feature that SMBs will appreciate, in case there's a software problem that using Windows' Restore Point or other tools won't resolve: the HP Recovery Manager (accessed by pressing the F11 key during boot-up) recovers the system to the original factory configuration. Like many of the new notebooks, the ProBook 4720s looks more stylish than older notebooks, with a brushed-metal cosmetic look. The closest thing I have to a negative about this machine is that the display is so wide that moving the cursor with the touchpad takes several swipes (a good reason to use an outboard pointing device, like a trackball), and -- like all touchpads -- it's all too easy to accidentally brush it and switch focus to the wrong window. Using the "Configure PC" button on HP's configuration page (oddly, going through the regular "How to Buy" links, I couldn't find an i7 model or max out the RAM), pricing for an HP ProBook 4720s went from $784, up to $1,779 maxing out on all the hardware options (i.e., excluding accessories, software, warrantee, etc.). Even without the $250 Blu-ray, it's easy enough to push the price into the $1,500 range. Again, this isn't a machine you'd walk around with all day unnecessarily. But if you simply need to take a computer from place to place, and get a lot of work done where a larger display and full-sized keyboard make a differnce, you won't go wrong with HP's ProBook 4720s notebook. Don't Miss: The Ultimate In Mobile Storage Security
Never Miss a Beat: Get a snapshot of the issues affecting the IT industry straight to your inbox.
You May Also Like
---