Big Tech Forging Partnerships to Further AI Development Strategies
Big Tech Forging Partnerships to Further AI Development Strategies
Players such as LG AI Research and Google Cloud are finding others to partner with in the continuing race for AI supremacy among major tech companies.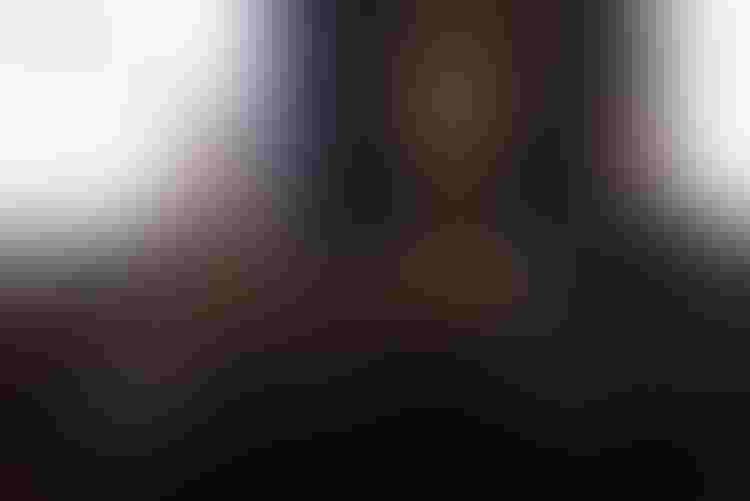 Edward Lee (left) and Francis Oh (right) discuss the plans for the LG AI Research -- Qraft collaboration.
Joao-Pierre S. Ruth
Deep within the halls of the New York Stock Exchange last Thursday evening, LG AI Research and Qraft Technologies signed an agreement to further LG's efforts in AI applications as well as the creation of financial instruments. It was the latest, but not the only recent collaboration on AI to come to light in tech. Just days prior, Google Cloud and Virtusa announced their own partnership to create a global Generative AI Center of Excellence.
These separate announcements are very different in their details but show that large technology developers are looking to partners with specialized or niche expertise to advance plans to exploit the increasingly competitive AI space.
LG AI Research's work with Qraft will focus on furthering mutual development in machine learning, data analysis, and natural language processing. Their first project will be in the development of an ETF (exchange-traded fund).
Meanwhile, Google Cloud's and Virtusa's plan will include joint research and training to develop solutions that can help enterprises adopt AI tech. That collaboration will also include an investment by Virtusa to train more than 2,000 engineers to work with AI tech from Google Cloud. More is expected to be revealed about the Virtusa and Google Cloud collaboration with the upcoming Google Cloud Next conference.
Hwayoung (Edward) Lee, vice president lead of the AI business development unit with LG AI Research, and Qraft's APAC (Asia-Pacific) CEO Francis Geeseok Oh discussed at last night's LG -- Qraft signing some of the reasons for the collaboration.
"We always had a mission to transform investment through AI," Oh said during the press conference. He explained that Qraft had been developing solutions, such as an AI-generated investment portfolios and AI-powered risk prediction, to serve the financial markets and saw AI as a means to address a host of needs in that sector. "We believe a great amount of mix has to come together for AI and the financial market," Oh said.
Lee said LG AI Research is a think tank and central research organization within the parent LG group. AI, he said, is being pursued as a resource across many of LG's companies for such needs as quality assurance, the creation of new materials, and data-driven business decisions. That also included predicting demand from distributors and forecast warehouse levels for companies such as Home Depot, Lee said.
Now LG and Qraft want to see what their joint work with AI can offer the financial markets. "When you input the history of a stock price, the AI model [could] predict the stock price for tomorrow," Lee said. Naturally LG has been developing its own large language model, Exaone, to rival ChatGPT. One of the differences with Exaone is it shows references for the answers it provides, he said.
Oh said there are some differences in approach that LG and Qraft have that led to a partnership with the hopes of mutual benefit. "For Qraft Technologies, currently we are only using structured data," he said, which includes financial market data such as macroeconomic variables. LG, Oh said, captures such information as sentiment from use from the market, which could be used to improve the accuracy of predictions. "We found it would be a great complement," he said.
Lee said this will be LG's first foray into the US financial market. "We are going into the financial market because there is a wealth of data out there," he said. "It's the best way to prove the promise of the times as forecast." Lee said the joint AI ETF project is expected to be a starting point for further exploration of collaboration with Qraft into provide resources to investment and wealth management.
What to Read Next:
Age of AI: Why Organizations Need a Chief Ethics Officer
Does Your IT Organization Need an AI Team?
Business Leaders: Asking the Right Questions About Generative AI
Never Miss a Beat: Get a snapshot of the issues affecting the IT industry straight to your inbox.
You May Also Like
---