Ascent Conference Insights: Bots, Data, and SaaS Culture
Ascent Conference Insights: Bots, Data, and SaaS Culture
Suggestions on how automation can be leveraged and ways to use SaaS more efficiently peppered conversations with Zendesk and Hugo.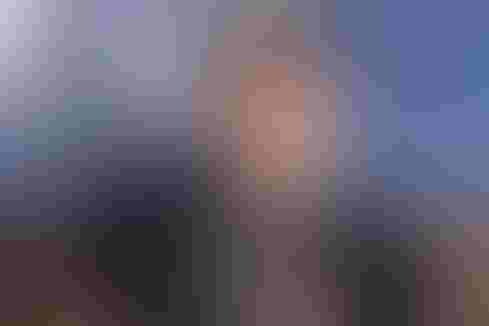 Jeff Titterton, CMO at Zendesk<p>Image: Joao-Pierre S. Ruth
The range of ideas presented at this month's Ascent conference in New York made it clear that everyone, from startups to enterprises, remains hungry for ways to improve their technology strategies. Ascent's focus is to bring together senior tech leaders from across the East Coast to collaborate and drive change though they do look across a wide geography for their featured lineup. Speakers included executives from Zendesk and Hugo, who offered advice on figuring out how to use automation to make customer relations more efficient and what to consider when faced with a menagerie of software in-house that might cause confusion.
Jeff Titterton, CMO at Zendesk, shared some insights on how technology drives customer expectations, which continue to escalate, and how automation can speak to such demands. Zendesk develops customer service software and Titterton said organizations should strive for seamless conversations with their customers regardless of the platform or device they use. He also encouraged companies to offer choices in how customers communicate with them, including putting bots and self-service to work to resolve some questions. "Self-serve is a huge thing that customers want," he said. "At Zendesk, we study 45,000 customers, who opted in, on user behavior so we can create benchmarks."
Zendesk's studies showed that those customers increasingly did not want to speak to a human and preferred to self-serve, Titterton said, but if they did speak to a representative, they wanted it to be quick and frictionless. "Bots play an interesting role there because what they are really good for is answering really simple questions," he said. When more complicated questions arise, Titterton said it is essential for the system to be designed to smoothly move customers from bots to a live representative. He also suggested companies should build their services around customer data to better understand their relationship and to remove friction. "The best way to avoid customer service costs is to never have to have them contact customer service," Titterton said.
For organizations with a different set of concerns, specifically the plethora of software their teams tap into, Darren Chait believes they should take a nod from a certain sea creature. He is COO and cofounder of Hugo, and spoke briefly about what SaaS culture says about an organization. Hugo is the developer of a software solution that shares connected meeting notes among team members. "By looking at the tools your company uses," he said, "we know everything about you. We can tell your views on transparency, how you share information, and how remote-friendly you are."

Darren Chait, COO and cofounder of HugoImage: Joao-Pierre S. Ruth
By Chait's reckoning, the average company uses 130 different SaaS tools. He said such implementations can lead to fragmentation of data as documents wind up in multiple endpoints. The prevalence for information silos, which Chait said arise as more than 90% of SaaS tools are department specific, leads to knowledge fragmentation. Further compounding the confusion, he said, is the increasingly remote working population with teams sometimes operating in different time zones. Such factors mean SaaS culture can positively or negatively influence the business, according to Chait.
He suggested that organizations focus on three points to get a better grasp on how SaaS is implemented to ensure it provides an advantage rather than become a hinderance:
Decision making. "The fastest moving teams operate like an octopus," Chait said, "tentacles that operate with independence." He noted that each arm of an octopus has its own small brain guiding its actions with a central brain to coordinate. "High velocity teams need to make decisions in this way." Teams can make decisions at the team level in a decentralized sense to move quickly, he said, but applying a unified strategy requires a centralization. Chait said that means SaaS tools should allow the team to operate independently yet remain connected at an organizational level. "Slack's done a great job of doing that but what about the rest of your tools?" he asked.

Transparency. Some organizations operate under a "need to know" basis when it comes to certain information, but Chait said this can become a stumbling block. "That doesn't make sense anymore for the way we work," he said. "Transparent, open culture brings out creativity and engagement, and generates ideas." Chait said SaaS tools can be used to give enable engineers a better understanding of the organization's customers as they fix bugs and build features. On the flipside, SaaS tools can help marketing gain a better perspective on how their messages might be received and what investors may think. The trick is to drive a default position of openness, he said, to allow information to be shared widely beyond immediate teams. "I want the whole company to feel engaged with the problems we're solving and generate solutions even if it isn't in their job description," Chait said. 

Equity of voice. With more open channels and sharing of ideas through SaaS, Chait said there is an opportunity to give more parts of the team the chance to be heard. He particularly cited how this can help signal boost underrepresented members of the team and possibly allow their perspective to even reach the c-suite. "The right SaaS tools enable equity of voice," Chait said.
Never Miss a Beat: Get a snapshot of the issues affecting the IT industry straight to your inbox.
You May Also Like
---