The Search for One Truth
The Search for One Truth
Master data management answers the call for better data quality and real-time information, meets the demands of service-oriented architecture initiatives, and shields your customer and product information from changes in systems and processes. The hardest part is getting stakeholders to agree to terms. We all desire truth, but for C-level executives, one strategy after another has failed to provide the one version of truth they seek. Truth in this case is consistent, real-time information — about customers, products, locations, employees, manufacturing, financials and any other core business element — that spans all systems and divisions.
Getting functional areas to share data and create a consistent resource drove huge investments in customer relationship management (CRM), enterprise resource planning (ERP), data warehousing and similar technologies. Millions of dollars later, enterprises still struggle to integrate departmental and functional data stores to get to a single, comprehensive view. Each enterprise application engenders its own account of information tied to transactions, so enterprises end up with multiple versions of data. And the data takes many forms, structured as in databases and spreadsheets, and semistructured or unstructured, as in Office documents, e-mail, PDF files, blogs and document images.
Enter master data management (MDM), a practice and technology that helps business and IT improve data consistency and accuracy across all systems and divisions while also identifying and managing interrelationships of core data. The technology consolidates and cleanses data from disparate systems. That concept is not new, but in contrast to past efforts, MDM actively synchronizes and distributes consistent "master data" to target systems so information is harmonized continually. Further, MDM manages the full information lifecycle, so you define data as it is created, monitor exceptions as it changes, and deliver reports and alerts on data quality as needed.
MDM may be the right approach at the right time, answering calls for better data quality and real-time information, meeting the demands of SOA (service-oriented architecture) initiatives and abstracting and shielding your data from changes in applications and business processes.
Take the Journey
"Creating a 360-degree view of a customer is a journey rather than a destination," says Jan-Willem Beldman, team lead for analytical applications and data quality at Mentor Graphics, a global supplier of electronic design automation software. "No matter how much pain you go through, that can't be the Holy Grail."
With ERP systems, many instances of CRM and numerous homegrown systems for sales and marketing, Mentor had no single "golden" source of d ata against which all others could be compared. Rather than try to reach the unattainable, Beldman focused more on data accuracy and integration of financial, CRM and marketing data as part of the company's drive toward SOA.
"We needed to foster agility across the enterprise to unite operational systems and drive performance," Beldman says.
Agility would seem a difficult task for a $700 million company with nearly 4,000 employees in 28 engineering sites and 48 sales offices worldwide. Even more encumbering were the multitudes of financial, transaction, marketing, supply chain and order-management systems that had to somehow synchronize to a unified data set.
Like many enterprises, Mentor first tried to foster consistency through a data warehouse initiative.
"We marveled at how difficult it was to make data conform to the dimensions of the data warehouse and decided it might be better to do integration on the front end, where we'd also make better use of the data," Beldman says.
Serve the Master Data
MDM initiatives are meant to find synergies and rationalize overlapping data in disparate systems. They do so by establishing master data rather than focusing on transactional data. Master data is a widely used reference to data describing customers, products, suppliers, locations, materials, assets and other facets that are most important to the enterprise. MDM lets you define a given data element once, understand derivations of that element in different systems and create business rules so master data can be applied across the enterprise.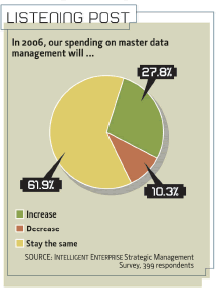 Of course, many of these entities are moving and changing targets, but, says Sunil Gupta, a director on SAP's NetWeaver MDM team, MDM is "an active attempt to rationalize and synch data as it is updated, with synchronization mechanisms that connect data from different systems across the enterprise. ERP projects required so much time to cleanse, analyze and run transaction data that once you could describe business events, the data was out of date."
MDM's active synchronization approach delivers clean, consistent data on demand, and it decouples the master data set from applications and processes so it is not subject to changes therein. Vasu Rangadass, a senior fellow with i2 Technologies, contends that enterprise data must become a service in and of itself for MDM to work.
"You cannot have SOA without having a data service, and MDM inherently creates a component within an enterprise SOA," he explains.
Decoupling data from applications frees information from departmental silos so it can be shared with other systems. Such silos are a chronic problem for retail banks, insurance companies, health-care providers and high-SKU retailers-they are overloaded with disparate legacy systems, each with its own data store.
Apply the Rules
Extracting information from silos is particularly complicated in organizations where changes to data are often communicated over phone, fax, spreadsheet or even Post-It notes. In such instances, MDM servers are the key to bringing intelligence to the approach.
"The servers are responsible for coordinating and synchronizing data across product data management, product lifecycle management, ERP and CRM, as well as across spreadsheets, e-mail, images, video clips and other unstructured data," says John Kopcke, CTO at Hyperion.
Most MDM servers include rules engines and algorithms that help determine how changes in master data will affect various systems, while adding checks and balances to ensure changes are authorized and validated. "There can be rules to determine whether a change [to master data] will break or affect systems or validation rules," says Kopcke, noting that rules about ETL (extract, transform and load) scripts can ensure that data updated in one script is also updated in another.
"That way errors aren't kicked out all over the place just because someone forgot to update a script," he explains. Once all is authorized, validated and approved, changes can then be automatically populated to all related systems defined in the rules.
Automate Hierarchies
The business process component of an MDM solution is in many ways more important than its technical characteristics. Part of ensuring that changes go to appropriate channels is hierarchy management — automating comparisons of account charts, organizational structures, and product revenues and costs.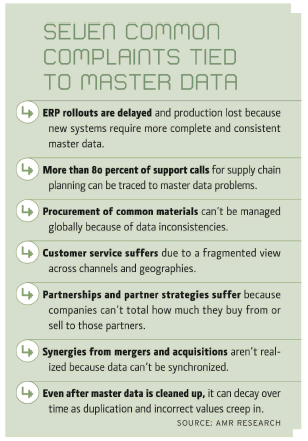 Because hierarchies are the core of reporting, the ability to give business users access to hierarchies within a central system is empowering, as it frees IT to focus on its core competencies. By integrating disparate systems into a single hub that houses the dimensions, rules, mappings and namings for all pertinent data, automation lowers the cost of replicating changes and gives business users a clearer picture of what's happening without burdensome phone calls, faxes and e-mails to IT.
"One person now does what many full-time employees had to do to manage and process the thousands of changes in data every month," says Beldman of Mentor, which tapped Hyperion's MDM server. "We automated many financial hierarchies for different structures, such as statutory, management, work location, responsibility, workflow for reporting, head counts, budgets and HR stats."
Beldman notes that head count has been reduced drastically. "Rather than search for the right person in IT to enter the information in SAP and then find another person to enter that information into the Calibus commission system, one person makes cost center, finance or report changes in the sales agent account-management process," she explains. "Most important, we no longer have fires to put out at the end of the month because we've eliminated multiple entries. The numbers and language are far more consistent and accurate." Beldman adds that business users combining data from ordering systems and the general ledger now see consistent structures. That means reports and balance sheets can be pulled with consistent revenues across the board.
In addition to reducing costs, the hierarchies have let Mentor establish a history of changes in its master data, providing an audit trail that satisfies ever-important compliance requirements for Sarbanes-Oxley, Basel II, the TREAD (Transportation Recall Enhancement, Accountability and Documentation) Act and other regulations.
Take a Cultural Approach
To create hierarchies, there must be consensus on the master data and the dissemination of that data. Yet old habits are hard to break in any organization, so automating hierarchies requires more negotiating prowess than technological know-how.
"We hadn't anticipated that the hardest part of our MDM initiative was going to be negotiating hierarchies with various parts of the organization and assigning people to take responsibility for maintaining the data," Beldman says.
Mentor employed a governance program to back up overall master data decisions when politics began to hinder the overall strategy.
"Rather than look at data as something that is 'owned,' each facet of an organization has to learn to shift focus to maintaining the processes that create and manage the lifecycle of the master data," says Bill Swanton, vice president of research for AMR.
In a report titled "MDM Frameworks: Begin With an End in Mind," Swanton recommends that enterprises assign employees to be "data stewards" in charge of certain master data elements for legal, compliance and business issues. "You set a KPI, and when input of accurate data goes below that threshold, you have to respond immediately." That, he says, helps maintain a consensus of what the data looks like (see "Master Data Management Framework," below).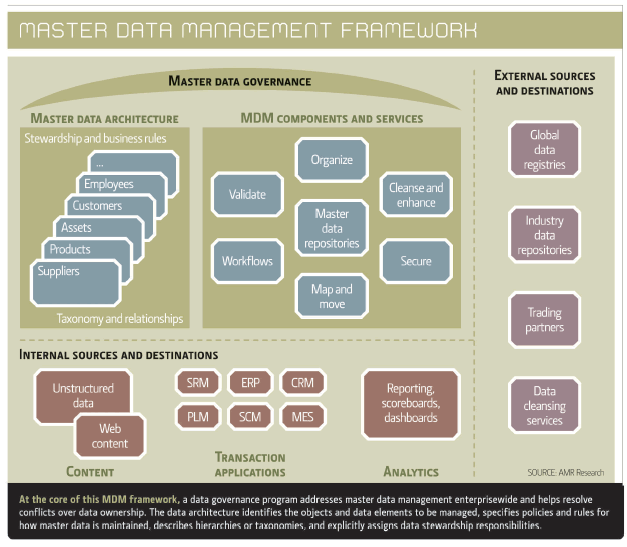 Data stewardship may require strong workflow tools in instances where several people will be moving, validating or enhancing new information.
MDM workflows and application data models differ according to their focus. Some models and workflows are prebuilt and prepackaged with user interfaces for customer data as a master data element. Other products focus on product or supplier data. Still others claim to be customizable to any and all types of master data.
"The general rule seems to be that companies that focus on customers need more structure in the data, but less structure in the process around managing that data," observes Arvind Parthasarathi, director of solutions at Informatica. "Conversely, companies that focus on data stewardship for compliance with strict regulatory environments tend to focus more on the processes and tracking who touched the data and when."
Choose the Technology
If data warehouses, ERP or data-management systems aren't giving business users the information they need, it's often because business people aren't doing whatever is possible to maintain data accuracy. Yet it's IT that usually feels the heat when frustrations from business users reach a fever pitch. To get users the required data, IT will have more and more "noise" to sort through in the MDM market. For that reason, analysts are trying to break out the market into clearly defined segments.
"MDM really is centered around the capability to coordinate operations, in addition to reporting," says IDC analyst Henry Morris. "MDM has been around for years, but using master data for specific domains, such as customers, products or financial accounts, is giving rise to Applied MDM and Infrastructure MDM."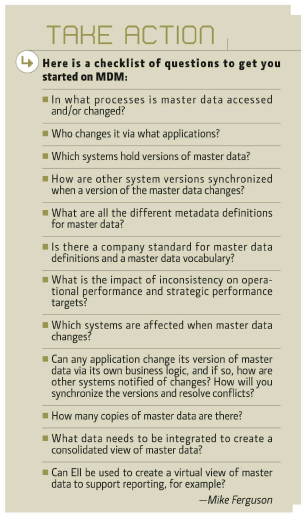 Applied MDM, explains Morris, refers to applications that are purpose-built for rationalization of data through management of specific classes of master data. Examples include product information-management software used to coordinate, manage and share product data throughout the product lifecycle. There's also customer data-integration software used to define and maintain a single view of a customer across multiple systems. Location software defines and maintains reference geospatial data for entities sharing across multiple systems. Financial accounts software supports a consolidation process for a unified chart of accounts, mapped to multiple financial systems for integrated reporting and performance management.
Infrastructure MDM (also known as "enterprise MDM"), on the other hand, supports the processes for establishing and maintaining a policy hub for master data. These products usually go beyond a single type of master data or beyond a single department, business unit or application. This category includes data integration technologies for data movement, such as ETL, data management and data quality when the tools are used to maintain a single view, according to IDC. There's also a subsegment of content technologies used to map documents, text in databases or rich media to reference sets or knowledge bases to rationalize unstructured information.
Be Realistic
Some believe companies must employ a single set of master data tools and repositories for all information, but AMR's Swanton says that's impractical for most enterprises. ERP or product information management systems may be able to serve as the system of record for master data, but "companies may need external tools to manage workflow and analytics," Swanton says.
The alternative is embarking on an MDM initiative one business object at a time. By tackling a series of technical solutions — each using a set of master data components — you won't be forced to resolve all data consistency problems at once. What's most important is that enterprises carefully consider connections among departments and data objects so the master data works for everyone and will be supported over time. "The goal is to avoid surprises and instill stewardship," Swanton says.
Susana Schwartz is a freelance writer and technology editor at Telestrategies Billing World & OSS Today.
Master Data Management: The Players
The market for master data management (MDM) software and services will reach $10.4 billion by 2009, according to IDC.
Already, Hyperion, IBM, Informatica, Oracle, SAP and Teradata, among others, have jumped on the MDM bandwagon. Here's a brief rundown of developments and offerings in the MDM arena:
Hyperion acquired Razza's Dimension Server and now offers it as the Hyperion Master Data Management (MDM) Server, an integrated module for the Hyperion Business Intelligence Platform.

IBM, with its WebSphere middleware, has strengthened its MDM capabilities through acquisitions of Ascential, DWL, Trigo and Venetica. Its MDM offering is one of the more comprehensive.

Informatica provides an enterprise data integration foundation for MDM applications.

i2 Technologies optimization software fosters synchronization among ERP systems, supply chain management, relationship management, service parts management and transportation systems. The company has also partnered with Teradata to enhance analytics in MDM.

Kalido builds and maintains enterprise data warehouses that serve as repositories for storing and managing master data.

Oracle is supporting CRM and MDM through its Customer Data Hub. Oracle has been relatively quiet about MDM, but with a portfolio comprised of PeopleSoft, JD Edwards and Siebel, it should be a contender.

SAP launched MDM tools in 2002 but then dropped them and acquired A2I, a content/catalog management company that combines transaction strength with product lifecycle management capabilities around merchandising, marketing and promotions. With that acquisition, SAP synchronizes product master data, a subset of its original strategy to go across customer, product, supplier and a breadth of other data elements. SAP's NetWeaver MDM is marketed for global data synchronization (GDS).
Never Miss a Beat: Get a snapshot of the issues affecting the IT industry straight to your inbox.
You May Also Like
---