Big Data Salaries Top BI, Data Warehousing
Salaries for business intelligence and data warehousing pros are stagnating. But big data analytics experts and data scientists are cleaning up, surveys show.
You say you're an old-school business intelligence or data-warehousing professional? Well, like many technology professionals, you're likely to be treading water when it comes to salaries and total compensation.
This is just one of the conclusions of InformationWeek's new BI & Analytics Salary Survey 2014. Data from our survey, conducted from November 2013 to February 2014 among 410 staff and 336 managers shows BI/analytics staff reporting a median base salary of $87,000 and a median increase of 1.9%, and management base salaries at a median level of $110,000 with a median increase of 1.7%. Data integration/warehousing staff, while faring better than their BI/analytics counterparts with a median base salary of $100,000, report a median change of 0%. Data integration/warehousing managers are seeing a healthier median increase of 2.8%, with a median base salary of $120,000.
[Want more on all 23 categories in our main report? Read the InformationWeek 2014 Salary Survey.]
These categories and almost all others in our IT-wide survey -- with 11,000-plus respondents across 23 categories -- are, at best, keeping pace with inflation. It's a different story for big data practitioners and data scientists, two emerging categories that, as yet, are not consistently defined. Our survey didn't cover these very new categories -- but according to recently released reports by Burtch Works, these new-era data professionals are at the top of the pay scale reported in InformationWeek's research.
Table 1: Salaries For Data-Savvy Professionals

| | | |
| --- | --- | --- |
| Job Title | Median Staff Salary | Median Mng. Salary |
| BI/Analytics | $87,000 | $110,000 |
| Data Integrating/Warehousing | $100,000 | $120,000 |
| Big Data Professionals* | $90,000 | $145,000 |
| Data Scientists* | $120,000 | $160,000 |
In its July 2013 "Salaries for Big Data Professionals Report," Burtch Works defines big data practitioners as "individuals who can apply sophisticated quantitative skills to data describing transactions, interactions, or other behaviors of people to derive insights and prescribe actions." Surveying 2,845 big data professionals from a Burtch Works HR database, the study found that the median 2013 base salary for staff in this category is $90,000, while manager median base salaries are $145,000.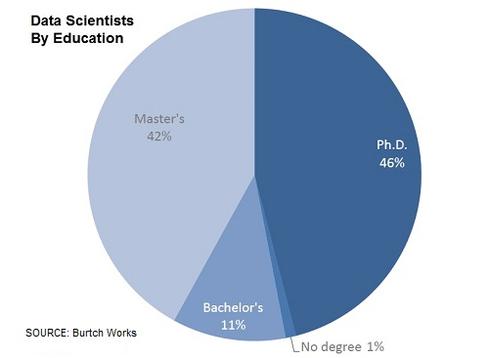 Burtch Works' April 2014 "Salaries of Data Scientists" study paints an even rosier picture. This study defines data scientists as professionals who "apply their skills to enormous sets of unstructured data, [and who] also have the skills necessary to efficiently store, retrieve, and exploit such data." Based on interviews with 171 data scientists from a Burtch Works employment database, the study finds that the median 2014 base salary for staff is $120,000, while manager median base salaries are $160,000. These salaries are way above the scale of the 23 categories in the InformationWeek Salary Survey, and they even top the $150,000 median base salary reported by CIOs in our study.
How do big data professionals and data scientists differ from the BI, analytics, data-integration, and data-warehousing types we've been following for years? Join InformationWeek Radio on Tuesday, May 27, at 2:00 p.m. ET (11:00 a.m. PT), as Linda Burtch, the founder of Burtch Works and author of its reports, explains the skills and experience employers are looking for. She'll also discuss how the talent pool is evolving, and where Burtch Works is finding and placing big data and data science pros.
Burtch has more than 30 years of experience placing analytics professionals, so register for this 30-minute InformationWeek Radio show and plan to be part of the online chat and Q&A session that follows.
You can use distributed databases without putting your company's crown jewels at risk. Here's how. Also in the Data Scatter issue of InformationWeek: A wild-card team member with a different skill set can help provide an outside perspective that might turn big data into business innovation. (Free registration required.)
Doug Henschen is Executive Editor of InformationWeek, where he covers the intersection of enterprise applications with information management, business intelligence, big data and analytics. He previously served as editor in chief of Intelligent Enterprise, editor in chief of ... View Full Bio
We welcome your comments on this topic on our social media channels, or
[contact us directly]
with questions about the site.