Interop ITX Reflections: Expert Advice, Predictions, and More
There was no shortage of expert advice and sage predictions as takeaways from last week's Interop ITX conference. Here are some examples.
Life in an IT group never has been simple. Whether your IT "group" is one manager wearing many hats or 10,000 professionals embedded within a dozen business units spread across the globe, the core concepts, technologies, opportunities, and issues are largely the same.
IT pros, as individuals and in aggregate, are tasked with helping their organizations run efficiently to better serve their customers and employees. A day in IT is about using data in new ways, doing more with less, understanding how emerging technologies can support an ever-changing business, and keeping important company and customer data secure. Oh, and still making sure that payrolls run, email works, and otherwise "keep the trains running."
There are other common threads in the IT role: cloud and the IT infrastructure, the emergence of DevOps, adoption of analytics and AI, leadership, and cybersecurity. Those were the key themes addressed, often in parallel, over the course of the five-day Interop ITX conference at the Mirage in Las Vegas last week.
The InformationWeek editorial team was on site throughout the event, and we want to share some snippets of what we heard and saw in the way of expert advice and predictions for where the IT world is heading.
[InformationWeek editors Jessica Davis and Emily Johnson contributed to this report.]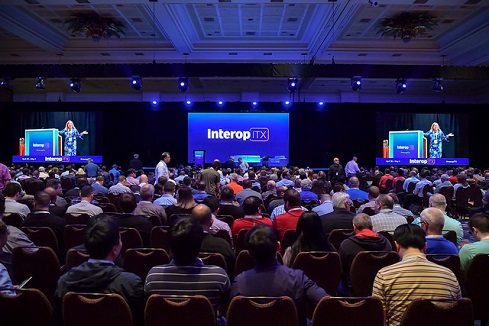 DevOps Evolving, Seemingly by the Day
DevOps is no longer just about teaming up developers and operations professionals to generate a stream of code updates that is exponentially greater than what could be done with waterfall development.
In the session DevOps Today: What Does It Mean to You, Rosalind Radcliffe, distinguished engineer at IBM, said DevOps extends beyond the IT group. "It fundamentally changes the way you do business," involving roles from top executives to everyday end users. She said the data produced offers a "single source of truth".
In highlighting how many variations of DevOps exist -- for example, DevSecOps, SecDevOps, DataDevOps, and SciDevOps -- Radcliffe noted that it's all still DevOps. One reason she says to stick with "DevOps" is that it fits nicely on Twitter.
Andi Mann, chief technology advocate for Splunk outlined eight steps in the typical DevOps process, the software development lifecycle (SDLC) that runs from "idea" through "build" up to "deploy" and "monitor". At each of those stages, he listed three or four commonly used tools.
"Each tool is giving off data, like which developers are doing how much work on which system," he said. The tools also provide data on things like the quality of the application and where issues and delays may crop up. "That data adds value across the software development lifecycle," he noted.
In Modern Skills for IT Professionals, Jayne Groll, CEO of the DevOps Institute, said that Site Reliability Engineer (SRE) will be the next big job in IT.
The Right Culture: An Integral Part of IT Leadership
In Need to Change? Harness Your Culture!, Kathryn Brett Goldman, director of KBG Solutions Ltd., said, "Measure your culture." Surveys of employees can reveal your corporate culture. Once you learn about it, you can use the knowledge to decide the best approach for digital transformations, agile transformation, mergers and acquisitions, IT outsourcing cultural fits, and many other types of projects.
"If you are going against the cultural orientation of your team, you will feel it."
Finding and retaining talent was another key theme in the IT Leadership and Career Development track. The importance of a culture -- formal best practices or individual efforts by managers -- of listening and caring about employee needs and career goals came up throughout the week.
During the IT Leadership Summit - Day 1, Esther Frey, senior manager, talent acquisition at Amazon, emphasized the importance of employee surveys in her company. "This is different from an employee satisfaction survey. It's finding out what is important to people and make sure that we are providing the right things to them."
The bottom line when it comes to dealing with people, according to Frey, is "investing in them."
Build a Couple Dozen Major Applications in Just 4 Years, in a Bankrupt City
Keynoter Beth Niblock, CIO of the City of Detroit, inspired a sense of awe when she listed off at least two dozen applications -- from a new payroll system to a complete 911 emergency system remake -- built out by a dedicated IT team in just four years. True, the city had some help from private agencies and the federal government, but that's a ton of code to develop from scratch.
She shared a bit of career advice with attendees: "Consider coming to government for a bit." Government service offers valuable experience, across many different domains and functional areas from police, to animal control to the health department. "Come, and you will get the experience of a lifetime."
Speaking of Government IT
This advice came from two other municipal IT leaders: "Think big, start small, scale fast."
The Cary, North Carolina, CIO and Mayor Pro Tem wanted to create their own Silicon Valley-like project, so they branded the development team as GovRebels. Lori Bush, Mayor Pro Tem, and Nicole Raimundo, CIO, decided to take the technology to meet the citizens where they already are -- Waze, text messages, and Amazon Alexa.
In a recent interview, Bush said, "We'd rather reach them through the devices in their pockets or in their homes rather than forcing them to drive to town hall or look something up on a website. Everyone is already using other tools, and to be frank, it's cheaper for us to use those than to create an app."
Infrastructure Will Become Invisible
There was plenty of discussion throughout the week about everything-as-a-service, software-defined systems and networks, and serverless computing. In the Cloud 2025: What Will the Future Look Like? session, Janakiram MSV, analyst, advisor, and architect with Janakiram & Associates, said, "Cloud will become boring. Anything that becomes mainstream becomes boring. It'll become invisible infrastructure. By 2025 we'll have a radical way of connecting these devices [like a smartwatch, Alexa, etc.,] as a logical extension of the cloud…and lead to a lot of new use cases. [We'll see] infrastructure becoming more and more invisible."
In an earlier session, Janakiram told attendees that one day they won't be tied to a single cloud service, "Imagine with cloud you can go compute roaming, like with your cell service. It's the next logical step for the cloud." Enabling that will be a shift from centralized clouds to clouds at the edge, truly distributed clouds.
So, Have You Heard About This Thing Called AI?
AI and machine learning references flowed almost as steadily as the break-time coffee.
For those getting started with their first AI projects, Sam Charrington, founder of CloudPulse Strategies and chair of the AI Summit, said that even though your competitors might have a head start on you it's not too late to adopt AI. He said businesses have to view AI along the lines of a Chinese proverb, "The best time to plant a tree was 20 years ago. The second best time is now." In other words, get rid of the defeatist attitude and get moving.
Where to start with AI? Businesses have to be proactive with AI and machine learning, seeking out the business challenges where the new concepts can help, and not waiting for problems to appear, according to Charrington, who suggested, "Toss a dart at the org chart." You're sure to hit a department that needs AI in some way.
As for AI's Impact in the Workforce?
Brian Gracely, director of product strategy for Red Hat Openshift, added, "We're a very unique industry in that we can be workload mobile without having to physically pick up and move. If you're a coal miner you can only go where the coal is. We don't have that limitation. [You have to ask yourself:] Am I willing to do this? [Emerging technology] takes away your job if you don't want to change, but if you don't want to change then you probably shouldn't be in IT."
"AI is actually going to create more [opportunities] for humans. [AI will lead to a level of] productivity that we can create off of that is something we don't have full visibility into today," said Cathryn Valladares, director of engineering at Nextiva in the Cloud 2025 program.
One takeaway: People, especially executives, want to believe that AI and automation will lead to better opportunities for their employees (because they don't want to say that jobs will be lost) but no one really knows what will happen.
It's About the Business, Not the Technology
It's easy to view a conference such as Interop ITX as a technology event. No doubt about it, there was plenty of talk about tech -- be it evolving technology, legacy technology, or tomorrow's tech -- but the bottom line is still based on what a business does with that tech, and what the tech does for the business.
Keynote presenter Joe Barkai, a consultant and author, discussed the Internet of Things, with an emphasis on what the IoT means to the business and to its customers. The two are inextricably linked. He highlighted the estimates that 20 to 50 billion devices will be connected to the Internet in 2020. It's the type of market research figure that IT pros hear every day. His comment: "But who cares?" Allowing that devices makers and telecom companies care, he went on to say that the numbers don't matter to the average person. What really matters is the connected customer will change the way all types of companies do business.
David Chou, chief information and digital officer for Children's Mercy Hospital in Kansas City, commented: "There are at least four ways to define the 'I' in CIO now, and I'm adding a fifth one: chief influence officer." The role Chou describes, based on his personal journey as CIO of a major metropolitan hospital in the Midwest, deals less with technology and more with managing people and perceptions to implement change in the organization. If that sounds political, you're on the right track. "My job is 80 percent politics," Chou said.
Similar themes emerged throughout the week. The cloud may be viewed as a tech tool to reduce IT costs, but the real benefit is to open new business opportunities for the business. Data analytics -- which generate AI in the end -- don't get done for the sake of the technology, but to help a business run better or serve customers better. Finally, the CIO has to be a business leader, a people leader, not just a technologist. That CIO has to be working with business leaders to identify challenges and opportunities where technology and data can make the business more efficient and more effective.
Jim Connolly is a versatile and experienced technology journalist who has reported on IT trends for more than two decades. As editorial director of InformationWeek and Network Computing, he oversees the day-to-day planning and editing on the site. Most recently he was editor ... View Full Bio
We welcome your comments on this topic on our social media channels, or
[contact us directly]
with questions about the site.