How To Spot An Obsolete Communications Strategy
Consider these topologies and approaches to lower costs, improve productivity, and drive new business.
If your PBX is obsolete, your communications capabilities are probably obsolete, too. Consider these questions:
Are you still using telephone company trunks for all your employees' external calls?
Are you still paying for telephone lines for remote workers?
Are you still connecting to your mobile workers through the PBX?
Is telecommunications still a separate department from IT, in charge of only voice and video?
If you answered yes to any of them, it's time for a change.
The new, optimized communications network topology is based on the dramatic technology advances described in my previous three commentaries for InformationWeek. The new model, which defines communications in terms of IT architectures, usage profiles, and applications, provides compelling reasons to change your topology to lower costs, improve productivity, and even drive new business.
• By creating usage profiles, for example, you might find that half of your employees aren't in the office when they communicate, so why haul their communications traffic through the firewall or provide all those T1 or newer SIP trunks to serve them? By moving their communications services to the cloud or to cellular networks, this traffic disappears from your network, dramatically reducing your on-premises telco trunks.
[Don't let your company lapse into digital inertia. Read 5 Ways To Beat The Digital Disruption Curse.]
If you have an Ethernet backbone or MPLS connection to a cloud service provider, the calls between the mobile teams and the on-site workers will be charged at the low rates for IP bandwidth, not at the rates for SIP trunks, which can be 300% higher. Some mobile carrier services, such as Sprint's Mobile Integration (SMI), let the cellular phone look like an endpoint on your MPLS network. Calls from and to on-premises employees arrive as IP backbone calls, rather than as tariffed calls across the public network and the telco trunks.
• If your mobile and remote users and administrative/information workers already do their work from cloud-based applications such as Salesforce.com and Microsoft Dynamics, you can embed communications tools directly into those apps and effectively move those communications workloads off the enterprise network.
If you have a cloud-based conferencing service, there's no need to have another peak capacity conferencing system in your data center for conferences between mobile teams or between mobile workers and their customers or partners. With innovative options from Microsoft (Office 365), Cisco (WebEx), Vidyo, and other vendors, a conference can be split between a cloud service and an on-premises server with only one high-bandwidth IP backbone connection between the two. Then each participant doesn't have to join the conference across telco trunks or through the firewall.
• Unified communication (UC) federation can also lower costs. Federation -- the ability for two UC systems to share presence, instant messaging, and voice or video calls securely -- can provide a rich, encrypted IP connection to trusted customers or partners. These federated sessions will flow across the Internet or Ethernet backbone services, not over the more expensive public switched phone network. A company can also connect its UC system with a cloud federation service, which then connects to any number of other UC systems and users.
• Savings are also possible if voice calls to and from major customers or partners can flow across a specific carrier's MPLS network to which both parties subscribe, effectively bypassing the public phone network.
• If you can change how people communicate, as shown in the 7 Ways and Usage Profile articles, you can lower costs by reducing major bandwidth or trunk capacity. Having employees use the presence feature to find only those people who are available before placing a call can typically cut a company's voice traffic load by 20%. Using IM or text messaging instead of a phone call can cut another 20% from busy hour traffic and bandwidth needs.
Savings opportunities like these are made possible by major communications technology advances. For example,
gateways from vendors such as AudioCodes, Cisco, Oracle (Acme Packet), and Sonus route traffic inside and outside the enterprise, based on directories and other defined rules. These gateways include the session border controllers needed to secure the signaling and media streams across both telco trunks and Ethernet backbone services, and they can manage traffic between a mix of conventional PBXs or IP-PBXs and UC systems.
Another key is the proliferation of computers, tablets, and smartphones. When equipped with standards-based or proprietary communications clients, they're all IP-based replacements for the desk telephone. Even where a user prefers to use a telephone handset, the telephone can be a simpler and cheaper model, because the more advanced UC applications will be accessible on the user's computing device.
A third key is the modular, virtualized software design of most UC systems and services, which lets companies deploy them easily in the cloud or on the premises. Since most vendors sell their software on a per-user license or subscription basis, there's usually no software cost difference and minimal hardware cost difference between the modes of deployment for the new communications topologies.
You can read more about the new network topologies in our white paper, "Transformation of Enterprise Communications Topologies." Shown below are the before (No. 1) and after (No. 6) illustrations from that paper, indicating the topology evolution from conventional TDM trunks to Ethernet-based IP backbone services.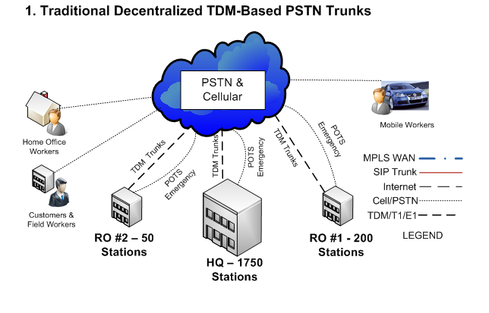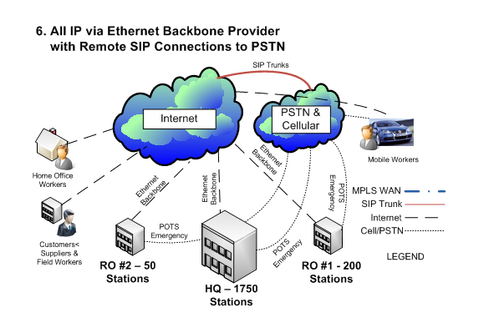 For a typical 2,000-line enterprise configuration, the "before" topology (Figure 1) has a communications bandwidth and trunk cost of $324,000 per year. The "after" topology (Figure 6) has a communication bandwidth and trunk cost of $92,160 per year. That's a 70%-plus cost reduction, not even factoring in all the other UC-based benefits. It makes a compelling case for a topology change.
Every enterprise is different, but any major network topology change along these lines will make your communications more robust, better suited to user and business requirements, more flexible for the future, and less costly.
Next in the series: How to organize your IT team to get the greatest benefit from UC systems.
In its ninth year, Interop New York (Sept. 29 to Oct. 3) is the premier event for the Northeast IT market. Strongly represented vertical industries include financial services, government, and education. Join more than 5,000 attendees to learn about IT leadership, cloud, collaboration, infrastructure, mobility, risk management and security, and SDN, as well as explore 125 exhibitors' offerings. Register with Discount Code MPIWK to save $200 off Total Access & Conference Passes.
Marty Parker, Principal and co-founder of UniComm Consulting, has more than three decades of experience with computing and communications technologies. He has been a leader in strategic planning and product line management for IBM, AT&T, Lucent, and Avaya. Now, as ... View Full Bio
We welcome your comments on this topic on our social media channels, or
[contact us directly]
with questions about the site.