Telemedicine's Appeal Grows For Employers, Individuals
The ability to virtually connect patients and physicians is shaking up healthcare and dialing up a host of new opportunities.
Telemedicine is reshaping the healthcare industry, giving employers an additional (and less expensive) way to provide care and disrupting roles that have lasted centuries.
This year, 28% of companies with more than 1,000 employees offer telemedicine as a benefit and 24% expect to add that capability in 2015, said Dr. Allan Khoury, senior health management consultant at Towers Watson, in an interview.
"That's a sea change in our world," he said. "The return on investment, while not huge, is relatively assured. The employees who use the service, which may be 20% of employees and dependents, like it a lot. They also like it because dependents can use it."
[Seeking clarity: Telemedicine Guidelines Tackle Patient Safety, ICU Operations.]
Employer costs typically depend on volume but new pricing models and providers are opening this model to smaller organizations, said Khoury. In some cases, employees share no burden; in others, the co-payment is lower or similar to that paid for an in-office visit to a physician or walk-in clinic, he noted. And while some patients use telemedicine only in the case of an emergency -- such as after-hours or on weekends -- a growing number view these services as their primary caregivers, Khoury said.
"Many people don't even have primary care doctors. Many people with insurance don't have primary care doctors. They tend to be younger. They desire to have a medical visit via their smartphone. That visit will become more and more robust as time goes by," he said. "Within five years, you'll be able to plug a supersensitive microphone into your smartphone and a doctor will be able to listen to your heartbeat."
InstaMD, for one, has an Indiegogo campaign for its Multi-Use Headset that works with "any stethoscope to record amplified, high-quality sound that can be archived for independent patient tracking or shared with a patient's medical provider," Dr. Subbarao Myla, co-founder and chief marketing officer, told InformationWeek. "It's a great tool for prevention and early detection for those who may have certain types of heart conditions that run in their families. It's also great for patients with chronic diseases who need long term care. They no longer have to waste so much time and money on commuting to medical appointments because they can see their doctor for a quick check from the comfort of their sofa."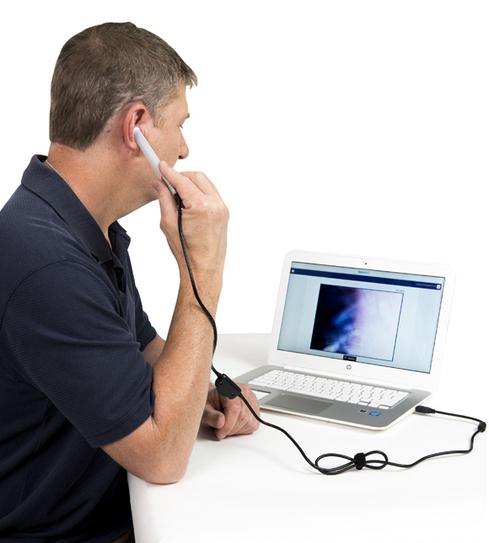 For healthcare organizations to thrive they must do more than adapt, said Matt Zubiller, vice president of strategy and business development at McKesson, in an interview. "It's really important to think about opportunities for disruption or how be disruptive," he said, especially for older, larger organizations.
As providers address value-based instead of fee-based care, they need new partners, agility, and a willingness to experiment with creative thinking, Zubiller said. McKesson's Better Health Tour, initially held in three cities, brought together members across the healthcare spectrum to discuss challenges and opportunities, like telemedicine.
"In the face of all this change, it's very easy to get discouraged and basically put your head in the sand. In order to move forward it may mean the way you're currently making money today and the way you're providing care today, may not work anymore," said Zubiller. "In order to avoid being
disrupted, what is the job to be done and am I doing it?"
Out with the old
Thomas Jefferson University and Jefferson Health Systems were successfully treating patients and educating the next generation of healthcare professionals, but board members realized complacency was their biggest foe. Wanting to run toward an opportunity rather than from danger, they recruited Dr. Stephen Klasko to disrupt their effective model and shake up the status quo.
Telemedicine's ability to reduce wait times, bring care to remote areas, enhance physicians' efficiency, remove costs, and improve patient satisfaction is now reshaping how the 190-year-old organization operates. Under Klasko's steerage, the academic organization will launch an ambitious series of telemedicine-focused initiatives this fall.
"The difference between us and other folks tinkering with this is it's at the keystone of our strategy," said Klasko, who joined Jefferson in September 2013.
This strategy includes virtual rounds -- to begin in September, whereby patients' family members can participate in meetings with healthcare providers to deliver clearer communications about treatment and post-release care. In addition, the referring doctor can hear discharge instructions, Klasko said. Post-discharge monitoring, which allows the provider to monitor a patient's progress remotely after release, enables a patient to be more comfortable at home with the security of continued medical oversight, he said.
"A good part of readmissions are based on a lack of communications in the handoff," said Klasko, noting clarification and monitoring should reduce readmissions, improve outcomes, and enhance patient satisfaction.
Jefferson also will debut a mobile health initiative, allowing patients to see a doctor via smartphone or computer, he said.
"Health is all we do and anything that's important to health in the next 10 years we ought to be doing," Klasko said. "If I can arrange a trip to Italy on kayak while I talk to you, I should be able to arrange an appointment with a gastroenterologist. We're going to be the place anyone can access healthcare the way they want to access it. If you still want to call and wait and get an appointment, you can do that, but you're also going to be able to get an appointment from an iPhone."
Next fiscal year, the organization plans a Virtual ER -- "its real Holy Grail" -- to save patients time and a lot of money, in an age of increasing ER deductibles, Klasko said. In addition to the much larger co-pay, tests and treatments cost more at an ER than at a clinic or physician's office, he said. So if patients don't need emergency treatment, they can choose alternate -- less costly -- care.
In addition to its extensive investment in telehealth, Jefferson uses mathematical modeling and medical analytics to reduce uncertainty in medicine, said Klasko. By looking outside healthcare and seeing how other markets -- such as sports and finance -- use analytics, healthcare organizations should see the potential big data provides, he said. "As much as people talk about big data we haven't really gone outside healthcare to talk about the modeling and data," said Klasko. "It would be nice for patients to know, with my disorder, what are my chances of getting out of hospital or going to hospice? I don't think anyone should make that decision for them, but they have the right to know."
An avowed admirer of Steve Jobs, Klasko recommended healthcare leaders look beyond their organization's history and turn to external experts for guidance and suggestions. Through Jefferson Startup Health, the organization now includes a heavy entrepreneurial focus; it also requires students to take several weeks of art study in order to learn observation, Klasko said.
"You'll be able to advance at Jefferson in entrepreneurial ways," he said.
Has meeting regulatory requirements gone from high priority to the only priority for healthcare IT? Read Health IT Priorities: No Breathing Room, an InformationWeek Healthcare digital issue.
Alison Diana is an experienced technology, business and broadband editor and reporter. She has covered topics from artificial intelligence and smart homes to satellites and fiber optic cable, diversity and bullying in the workplace to measuring ROI and customer experience. An ... View Full Bio
We welcome your comments on this topic on our social media channels, or
[contact us directly]
with questions about the site.