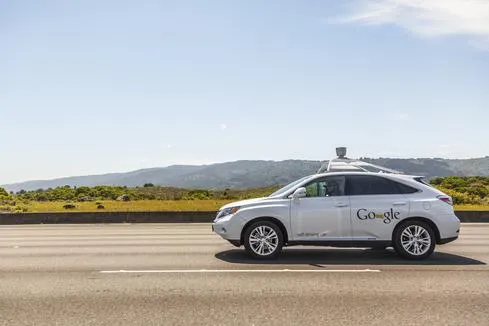 Google, Tesla, Nissan: 6 Self-Driving Vehicles Cruising Our Way
(Click image for larger view and slideshow.)
Further blurring the boundaries between Silicon Valley, Detroit, and science fiction, on Tuesday Ford reinforced its commitment to autonomous vehicles, announced smart home integration plans, and launched a developer challenge to turn its F-150 truck into an aircraft carrier for drones.
Speaking at CES 2016 in Las Vegas, Ford CEO Mark Fields said, "I predict that 2016 is going to be a revolutionary year for the auto industry and transportation, a year [in which] we're going to see major breakthroughs, breakthroughs that change the way the world moves."
At CES last year, Ford signaled its intention to transform itself with its Smart Mobility initiative. The plan involves expanding beyond automaking to find revenue opportunities in transportation services. The auto industry generates about $2.3 trillion worldwide annually, said Fields, while transportation services -- taxis, ride sharing, and the like -- generate about $5.4 trillion annually. That figure is expected to grow over the next 15 years.
"Ford and all of our industry competitors receive almost none of the revenue from transportation services," said Fields. "And that's about to change."
That change will be driven by technology, population density, and environmental reality, which together are making car ownership less attractive in major urban areas. Private car ownership is declining in the US, according to a recent report from global consultancy McKinsey. In 2000, 76% of 16- to 24-year-olds had a driver's license, compared to 71% in 2013.
Fields said that people searching for parking cause an estimated 30% of urban congestion. In San Francisco, he said, only 14% of people can find parking immediately. Because car ownership is increasingly expensive and impractical in major cities, car companies are exploring transportation alternatives like car sharing services and self-driving cars.
For Ford, this means tripling the company's fleet of fully autonomous Ford Fusion Hybrid test vehicles. The company said it will increase its autonomous vehicle fleet from 10 to 30 this year, adding that it intends to continue testing its self-driving cars on roads in Arizona, California, and Michigan. Most major automakers, along with technology companies like Apple, Google, and Microsoft, are exploring autonomous vehicle systems.
Phoning (a Smart) Home From the Road
Ford also said it is looking into linking smart devices like Amazon Echo and the Wink smart home platform to its SYNC-equipped vehicles. Introduced in 2007, Ford's SYNC in-vehicle technology platform is now in its third major release. Fields said there are currently 15 million SYNC-equipped vehicles on the road. That number is expected to reach 43 million by 2020, he said.
Ford executive director Don Butler said in a statement that a growing number of consumers want to remain connected to their homes while on the move. "Linking smart devices like Amazon Echo and Wink to vehicles via SYNC would fulfill that desire, and allow consumers to connect with their vehicles even when they aren't behind the wheel," he said.
[Read CES 2016: Microsoft Partnerships Drive Connected Cars.]
When the integration is enabled -- no delivery date has been announced -- Ford owners with suitably equipped cars and Amazon Echo will be able to interact with certain vehicle systems using voice commands. Possible commands might include, "Alexa, ask my Ford to unlock doors," for example. ("Alexa" is the default name by which Amazon Echo can be addressed.)
Wheeled Launchpad for Drones
In another development, Ford, in conjunction with drone-maker DJI, invited software developers to participate in the DJI Developer Challenge to create a search-and-rescue system that coordinates drone-to-vehicle communications through Ford SYNC AppLink or OpenXC. Ford said the contest represents a continuation of the Ford Developer Program, launched at CES in 2013.
The challenge, intended to allow the United Nations Development Program to rapidly deploy drones in emergency zones, requires developers to create software that can launch a drone autonomously from a vehicle in a disaster area, gather information (such as the location of survivors), transmit the data back to the launch vehicle, and then automatically return the drone to land on the moving launch vehicle. Ford sees its F-150 truck as a launch platform for the drone, a wheeled aircraft carrier of sorts.
The challenge winner will receive a $100,000 prize. DJI says the developer package will be sent out to 25 teams on March 19. On May 10, 15 teams will receive DJI drone hardware. On July 17, 10 finalists will advance to autonomous landing and object recognition capabilities. The finals will be held on Aug. 27-28 in the San Francisco Bay Area.
**Elite 100 2016: DEADLINE EXTENDED TO JAN. 15, 2016** There's still time to be a part of the prestigious InformationWeek Elite 100! Submit your company's application by Jan. 15, 2016. You'll find instructions and a submission form here: InformationWeek's Elite 100 2016.