10 Analytics and AI Startups You Should Know About
These young companies are examples of how startups are helping enterprises harness the power of artificial intelligence and machine learning.
Every organization that reports on tech trends has artificial intelligence (AI) near the top of the list, and enterprises are rushing to capitalize on the benefits promised by the technology. They hope that machine learning, chatbots, and other AI technologies can help them develop new products, improve customer service, and surface valuable insights that could help them become more profitable.
Gartner forecasts that in 2021, AI augmentation (that is, humans and intelligent machines working together) "will create $2.9 trillion of business value and 6.2 billion hours of worker productivity globally."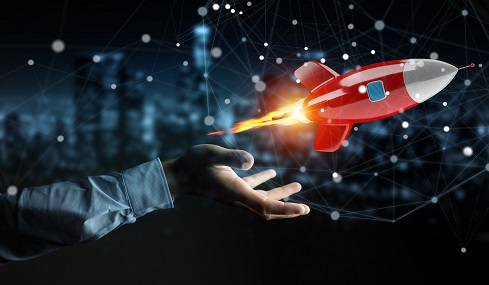 According to Forrester, "53% of global data and analytics decision makers say they have implemented, are in the process of implementing, or are expanding or upgrading their implementation of some form of artificial intelligence."
And the market analysts at IDC predict that by 2022, spending on AI could hit $79.2 billion, achieving a compound of annual growth rate (CAGR) of 39.0% between 2018 and 2022. "Significant worldwide artificial intelligence systems spend can now be seen within every industry as AI initiatives continue to optimize operations, transform the customer experience, and create new products and services," said Marianne Daquila, an IDC research manager.
With so many enterprises interested in purchasing AI products and services, a host of startups have rushed to fill the need. By some counts, hundreds of young companies are currently vying for a piece of the AI market, and many of those have products designed for enterprise users.
This slideshow focuses on 10 AI and analytics startups that seem particularly noteworthy. All have raised a considerable amount of funding from investors, and many have very impressive customer lists. In addition, most have received significant industry awards and/or accolades. And their products fill common enterprise needs.
In order to be considered for this list, startups had to be less than 10 years old. They had to have an enterprise-focused AI, machine learning, or analytics product available in the market today. They had to have attracted significant investment, and they had to offer a product that stands out as unique in some way. Also, note that this is not a ranking, the startups are listed in alphabetical order.
1. Alation
Alation's product is a data catalog powered by machine learning. The company says it boosts query discovery speed by 20% to 50%. This startup has an impressively long list of customers that includes American Express, College Board, Avista, PNC, General Mills, MassMutual, LinkedIn, Mailchimp, eBay, Salesforce, Go Daddy, and others. Gartner and Forrester both named Alation a leader in its market, and it also has earned several other industry accolades. Headquartered in Silicon Valley, it also has locations in London and India.
Website: Alation.com
Founded: 2012
Founders: Aaron Kalb, Feng Niu, Satyen Sangani, Venky Ganti
Headquarters: Redwood City, California
Funding: $82 million
2. Anodot
Anodot describes its product as "autonomous analytics." Its artificial intelligence platform can detect anomalies and forecast growth and demand, and it integrates with a wide range of popular tools, including Amazon S3, Google Cloud Storage, MySQL, Oracle, Microsoft SQL Server, Salesforce, Slack, Jira, and more. Its customer list contains well-known brands like Waze, Microsoft, Atlassian, King, Overstock, Pandora, Foursquare, and many others. And it has won awards from CRN, Gartner, Ventana Research, and other tech industry watchers.
Website: Anodot.com
Founded: 2014
Founders: David Drai, Ira Cohen, Shay Lang
Headquarters: Ra'anana, HaMerkaz, Israel
Funding: $27.5 million
3. Dataiku
Boasting customers like Unilever, Comcast, Premera Blue Cross, GE, Ubisoft, and other household names, Dataiku offers a data science platform designed for enterprise users. It aims to enable self-service analytics that allows ordinary business users, as well as analysts and data scientists, harness the power of artificial intelligence. Use cases for the platform include marketing, customer service, HR, recommendation engines, fraud detection, predictive maintenance, and much more. It employs more than 350 people in offices in New York, Paris, London, Munich, Sydney, and Singapore.
Website: Dataiku.com
Founded: 2013
Founders: Clement Stenac, Florian Douetteau, Marc Batty, Thomas Cabrol
Headquarters: New York City
Funding: $146.8 million
4. DataRobot
This unicorn company says that it offers "the world's only trusted enterprise AI platform." Its platform simplifies data science model building with drag-and-drop tools and user-friendly interfaces for evaluating, managing, and monitoring artificial intelligence. According to the DataRobot website, customers have built more than 1.61 billion models with its tools, and they create 2.5 million new models every day. Its customers include Accenture, BlueCross BlueShield, Deloitte, Greyhound, Harvard Business School, Kroger, Lenovo, PWC, and many others. In the past couple of years, it has acquired several other companies, such as Paxata, ParallelM, Cursor, Nexosis, and Nutonian. And if you're looking for a job, the company had 307 open positions listed on its website at the time of writing.
Website: DataRobot.com
Founded: 2012
Founders: Jeremy Achin, Thomas DeGodoy
Headquarters: Boston, Massachusetts
Funding: $430.6 million
5. Domino Data Lab
Domino unites two popular tech trends: data science and DevOps. It centralizes the many different tools that data scientists, analysts, and developers use in order to improve collaboration and knowledge access. Enterprises that use the platform include Red Hat, Bristol-Myers Squib, S&P Global, Bayer, Postmates, Allstate, Zurich, Dell, and others. In addition to its headquarters in San Francisco, the company has offices in Chicago, New York, Stamford (Connecticut), London, and Bengaluru (India).
Website: DominoDataLab.com
Founded: 2013
Founders: Chris Yang, Matthew Granade, Nick Elprin
Headquarters: San Francisco, California
Funding: $80.6 million
6. H2O.ai
While most of the startups in this slideshow offer proprietary products, H2O.ai provides an open source machine learning platform and focuses on democratizing AI. The free H2O platform provides the foundation for its enterprise products: H2O Driverless AI, H2O Q, Enterprise Steam, and Enterprise Puddle. Its more than 5,000 customers include PWC, Wells Fargo, Stanley Black & Decker, Tech Mahindra, Intel, and others. And the company has earned numerous awards and accolades from Forrester, Gartner, CRN, and others.
Website: H2O.ai
Founded: 2012
Founders: Cliff Click, SriSatish Ambati
Headquarters: Mountain View, California
Funding: $146.1 million
7. People.ai
People.ai offers an AI-powered sales and marketing platform that it describes as a "revenue intelligence system." The company says that it has analyzed $176 billion worth of deals and increased its customers' bookings by 42%. It integrates with other popular enterprise tools, like Salesforce, LinkedIn, Webex, GotoMeeting, Slack, Marketo and others, extracting and analyzing data and surfacing valuable insights. The startup's customers include VMware, Splunk, Nutanix, F5, Dropbox, Zendesk, Lyft, and others. In addition to its headquarters in San Francisco, it also has offices in Toronto, New York, Atlanta, London, and Kyiv (Ukraine).
Website: people.ai
Founded: 2016
Founder: Oleg Rogynskyy
Headquarters: San Francisco, California
Funding: $100 million
8. Signifyd
This SaaS company applies artificial intelligence to the area of fraud protection. It was founded by veterans of PayPal and FedEx, whose mission is "to make commerce safer for online retailers." Its portfolio of products includes Guaranteed Fraud Protection, Seamless SCA (Strong Customer Authentication), Chargeback Recovery, and INR (Item-Not-Received) Protection. It serves a wide variety of ecommerce companies, such as Mitchell & Ness, Jet, Crown & Caliber, Build.com, and others. The company has received awards from Gartner, Forbes, Bloomberg, and others, and the company's website says it is "the world's largest provider of guaranteed fraud protection."
Website: Signifyd.com
Founded: 2011
Founders: Michael Liberty, Rajesh Ramanand
Headquarters: San Jose, California
Funding: $185 million
9. SparkCognition
Serving organizations in the aviation, cybersecurity, defense, financial services, manufacturing, maritime, utilities, and oil and gas industries, SparkCognition wants to use AI to solve the world's most difficult problems. Its products include Darwin machine learning for data science, SparkPredict asset protection and optimization, DeepArmor AI-powered endpoint security, and DeepNLP deep learning for analyzing documents and unstructured data.
Website: SparkCognition.com
Founded: 2013
Founders: Amir Husain
Headquarters: Austin, Texas
Funding: $175 million
10. Tamr
Many experts rightly note that AI and analytics are useless without clean, well-prepared data. Tamr is applying machine learning to the data cleansing problem -- in other words, using AI to help solve some of the biggest problems associated with AI. It says that its products have helped enterprises save up to 92% of the time that they otherwise would have spent on data unification. Those customers include Thomson Reuters, Societe Generale, Toyota, Amgen, GlaxoSmithKline, Hewlett Packard Enterprise, and the Department of Homeland Security. In addition to the headquarters near Boston, it also has offices in San Francisco, New York, Seattle, and London.
Website: Tamr.com
Founded: 2012
Founders: Andy Palmer, Ihab Ilyas, Mike Stonebraker
Headquarters: Cambridge, Massachusetts
Funding: $69.2 million
**
Read more of our articles on emerging technologies:
AI & Machine Learning: An Enterprise Guide
Restart Data and AI Momentum This Year
Cynthia Harvey is a freelance writer and editor based in the Detroit area. She has been covering the technology industry for more than fifteen years. View Full Bio
We welcome your comments on this topic on our social media channels, or
[contact us directly]
with questions about the site.