Pebble and Apple both have steel smartwatches, but one costs a lot less than the other. The Pebble Time Steel goes for $249, while pricing for Apple's steel-clad wearable starts at $549. Availability of both timepieces has expanded this week.
Pebble relied on Kickstarter to get the Pebble Time Steel off the ground. The smartwatch is a classier version of the Pebble Time, which was first revealed in February. Pebble broke Kickstarter records with the Pebble Time. It set the crowd-funding platform ablaze and blew through its modest funding goals in mere minutes. The new Pebble Time Steel features a color screen and Pebble's overhauled operating system, though its best feature is the 10-day battery life.
People who backed the Pebble Time Steel through Kickstarter should expect to see their device arrive soon. The first batch of smartwatches left the manufacturing facility late last month and is already shipping. The basic version of the timepiece, which includes the steel frame and leather band, costs $249. Steel bands for the Pebble Time Steel won't be available until later this year. They cost an additional $50.
With the Kickstarter campaign fully funded and shipping, Pebble has opened up orders to anyone through its own website. Consumers interested in the Pebble Time Steel can now order directly from GetPebble.com. The Steel is available in black, silver, and gold finishes.
Pebble now offers four smartwatches: this year's Pebble Time Steel ($249) and Pebble Time ($199), and the older Pebble Steel ($149) and Pebble ($99). The older two, which are widely available, have monochrome displays and boast two weeks of battery life.
Orders placed today for the Pebble Time Steel won't ship for six to eight weeks. The regular Pebble Time is already shipping.
[Read about smartwatches and cyberattacks.]
Aug. 7 marks the first day Apple's smartwatch is available anywhere other than in Apple's own retail stores. Consumers can now walk into Best Buy stores around the US and snap up the Apple Watch. The wearable is also listed for sale on Best Buy's website.
Best Buy is selling the entry-level Apple Watch Sport and the mid-range Apple Watch. The high-end Apple Watch Edition is not available from Best Buy. Pricing for the Sport starts at $349 for the 38mm size and $399 for the 42mm size, while the Watch costs $549 and $599 for the 38m and 42mm sizes, respectively.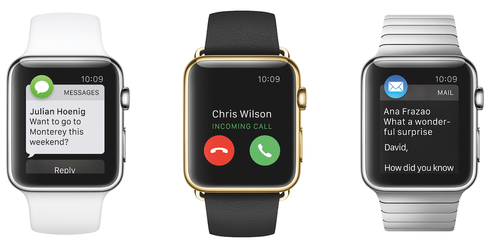 Best Buy's web site offers a wide selection of straps and colors, but there's no word on what the selection will be like in Best Buy's brick-and-mortar stores.