Software Is Key For Wearables In The Enterprise
Devices look cool on one's wrist, but it's the functionality of the software that will make or break wearables in business.
Whether it was BlackBerry BBM messenger, early email systems, or even Microsoft Excel, business has been primarily driven by software.
The potential for wearable devices in the enterprise has been covered a lot by pundits and analysts. Although wearable hardware is exciting, such devices are not commercially viable without well designed software. For many business people, technology has been taking a cue from consumers for at least five years. And with this trend come new expectations for an application's ease-of-use, a trend summed up with the popular term "The Consumerization of IT."
With enterprises already building custom internal app stores, businesses will feel the impact of the wearables movement rather quickly. Gartner is predicting that wearables "will drive 50% of total app interactions by 2017."
[Smartglasses, smart ID badges, and activity trackers will all find a home in the enterprise. Read 7 Ways Wearables Will Go To Work.]
In the workplace, bad software can disrupt operations. Avon recently shelved a $125 million software implementation due to process disruption. Sales representatives went so far as to quit their jobs over the new software system that was central to their day-to-day tasks. The point is that while a device may fit comfortably on one's wrist and look cool, the look and feel of software are critical for the success of wearable devices in business.
New screen size and a fresh interface
One of the greatest limitations when developing for wearable hardware involves limited screen real estate. The Samsung Galaxy Gear smartwatch boasts a 1.6-inch screen. The Pebble clocks in at just under 1.3 inches. In the same way that developers struggled to acclimate to 17-inch desktop displays and 4-inch smartphones, they will again be forced to evolve when working with wearables, which are a natural progression from smartphones.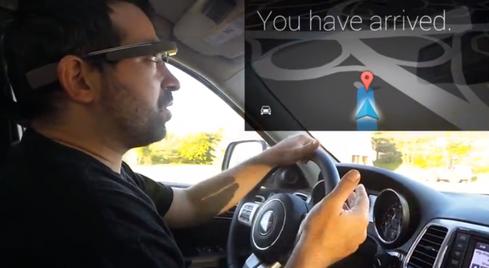 In some cases, like with the FitBit fitness tracker that tracks metrics for employee activity and health, there is no interface at all to design for. However, extended software applications are needed to interact with and analyze data recorded by FitBit. FitBit is currently used by 30 companies in the Fortune 500 for their corporate wellness programs and is a good example of how to integrate wearables in the workplace.
Part of the attractiveness of FitBit rests with the backend software system used to monitor and aggregate large amounts of biometric data. Users that purchase the device get access to the analytics platform that makes troves of health data easily consumable. Through the use of visualizations and dashboards people do not have to struggle to extract insight. The software development team behind FitBit's backend system understood fully how the software would make or break the device.
Displaying and interacting with content
Filtering content and displaying information when it is needed will also be central to wearables. Sergey Brin described the vision for Google Glass as making it so "you wouldn't have to have a search query at all -- the information would just come to you as you needed it." Software developers and designers will need to focus on contextualized delivery of information for wearable apps.
Google Now is a great example of how contextual computing can arise. With Google Now, users receive content that aligns with their search histories. If you spent the day searching for vacation deals or researching a product, Google Now will
send you an alert regarding any new content related to the product. The processes that power Google Now could very well be applied to wearable apps.
But instead of celebrity gossip and sports updates, the notifications will alert to potential dangerous scenarios in the workplace (such as employees in proximity to a malfunctioning steam pipe). Sensors embedded in a pipe can communicate with employee wearables to stay away from the area.
Ensuring a capacity for the influx of data
Disseminating activity information from an entire factory workforce equipped with wearable devices such as Google Glass or an activity tracker is a legitimate challenge. Hundreds of vital signals and audio or video feeds create a serious infrastructure issue with such an increase in data. Hours of video feed and biometric streams will need to be accurately managed, secured, and delivered.
Although wearables will involve an element of big data, only the largest enterprises will produce enough data to face the associated data challenges. In the case of thousands of factory workers equipped with wearables, there would be significant need for advanced data analytics and big data integration. For straightforward projects such as streaming video wearables on an HVAC technician's hat, the system would be less complex.
Software applications for wearables will be needed for the back-end administrators as well as front-end users. Managers and supervisors will need dashboards for analysis, while employees will require bite-sized portions of information that can be seen at a glance.
When it comes to biometric tracking, the factory manager will not need to view every heartbeat. Displaying all of that content will disrupt processes, given that users would waste time searching through countless feeds. The manager only needs to be alerted when there are abnormal spikes in blood pressure, heartbeat, or audio feeds.
If an accident occurs there will assuredly be verbal cues from workers. But such scenarios can also trigger alerts that automatically go to the manager through an app on a wearable device. Considering that 12 people die every day while working in the United States, such analytics software would be ideal for dangerous occupations.
If businesses hope to improve productivity with wearable devices, IT managers should keep a firm eye on the software that will drive real value.
WebRTC, wireless, video, unified communications, contact centers, SIP trunking, the cloud: All of these topics and more make up the focus for Enterprise Connect 2014, the leading conference and expo on enterprise communications and collaboration. Across four days, you'll meet thought- and market-leaders from across the industry and access the information you need to implement the right communications and collaboration products, services, software, and architecture for your enterprise. Find out more about Enterprise Connect and register now. It happens March 17-20.
Himanshu Sareen is responsible for the strategic development of Icreon Tech, which specializes in IT consulting, application development for the web and mobile, digital marketing, custom software development, and design and usability. Sareen founded Icreon in 2000 ... View Full Bio
We welcome your comments on this topic on our social media channels, or
[contact us directly]
with questions about the site.