Ever since Microsoft unveiled the features of Windows 10 for its consumer audience, enterprise customers have been thinking about what the new OS might bring to businesses. They got an update this week, when Microsoft announced how businesses will receive feature and security upgrades through Windows 10.
Microsoft announced two update tracks for businesses running Windows 10. While consumers will receive monthly fixes through Windows Update, businesses can pursue the Current Branch for Business or Long-term Servicing Branch. The former gives IT departments time to test updates before they're rolled out to the business; the latter is intended to keep mission-critical systems secure by withholding new features throughout mainstream and extended support.
In keeping with its enterprise focus, Microsoft also announced details on the upcoming SharePoint Server 2016, which is expected to debut in the second half of this year. Despite rumors that Microsoft would phase out its on-premises system and emphasize SharePoint Online, news from Redmond confirms that the SharePoint Server will see another upgrade.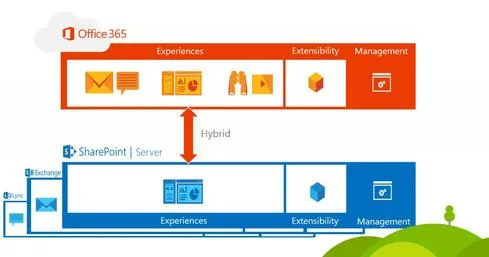 Acknowledging the fact that not all companies innovate at the same pace, Microsoft has chosen not to push the full cloud product just yet. Instead it's narrowing its focus on customers using SharePoint in hybrid form between on-premises and cloud. The capabilities already inherent to SharePoint will be enhanced with newly released features of Office 365 such as Office Delve and Power BI.
Windows Insiders had a new product to test this week when Microsoft released the preview version of Office for Windows 10. The latest editions of Word, Excel, and PowerPoint are available for download in the new Windows Store Beta and are reported to work on PCs, laptops, and tablets running the Windows 10 technical preview.
The entire Office suite is optimized for touch-screen and mobile devices, and will come pre-installed for free on Windows 10 smartphones and small tablets when the new OS is released in full later this year. As they currently exist, the apps allow users to create, review, and edit Word documents, compile and annotate PowerPoint presentations, and build and format charts and graphs in Excel.
[Is Windows entering the smartwatch race?]
Microsoft also kept up its acquisition spree by purchasing Sunrise, a startup that produces calendar apps for iOS and Android. The transaction is reportedly worth $100 million and comes shortly after the release of Outlook for iOS and Android, which was preceded by its acquisition of email startup Acompli. It looks like Sunrise could help further enhance the functionality of Outlook's calendar.
In other Microsoft-related news, this week we also predicted the future of conference calls with HoloLens and shared our love for the Surface Pro 3, which editors think will stand strong even as tablet sales decline.
Attend Interop Las Vegas, the leading independent technology conference and expo series designed to inspire, inform, and connect the world's IT community. In 2015, look for all new programs, networking opportunities, and classes that will help you set your organization's IT action plan. It happens April 27 to May 1. Register with Discount Code MPOIWK for $200 off Total Access & Conference Passes.